It has been one heck of a week.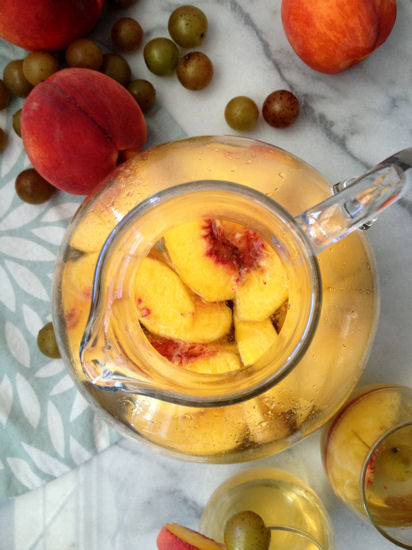 One where you wake up in the morning with burning ribbons slicing trails of pain behind your left shoulder blade.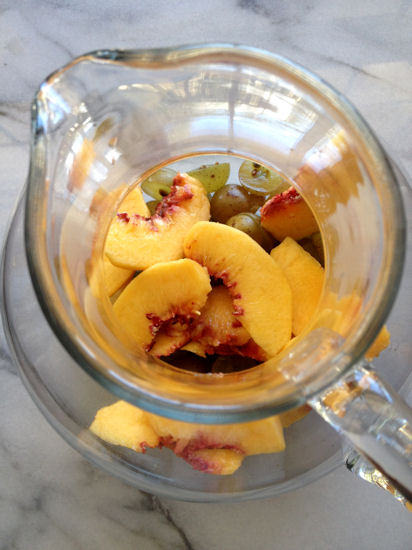 The following morning greets you with the inability to turn your head any further left than 10 o'clock. What you don't use clock face scales to explain neck mobility. Pfft! You're missing out on the myriad facial expressions forthcoming from your chiropractor when you toss him that analogy.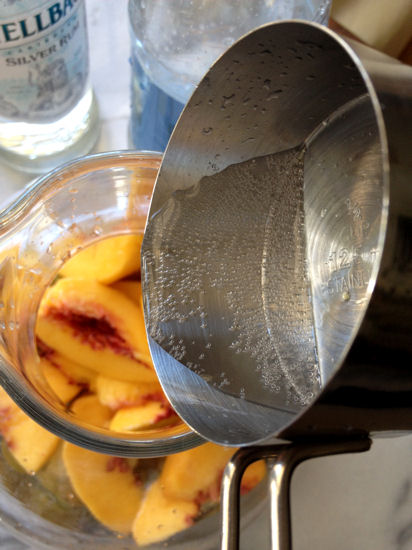 You'll really get his attention when you tell him that it feels like he's grinding away the Hunchback of Notre Dame's hunch as he presses that spinning gizmo deep into the knotted tissue of your tweaked out neck and shoulder.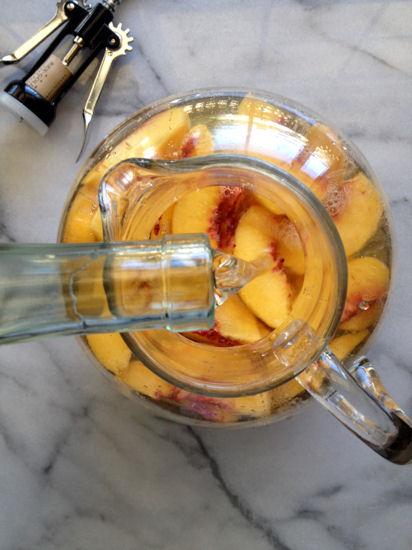 Yeah, it's been a week for sure! This one deserves to end on a high note, one that is fruity and has been soaking up booze for a couple of hours. Did I mention cold, can't forget nice n' cold seeing as how it's sweating dump truck loads of humid here on the coast. We are hangin' onto summer as long as we can, which is why I went for this particular sangria. My little brother's buddy passed along a bag of home grown muscadine grapes and fortunately there are still fresh peaches to be had so volia' Muscadine Peach White Sangria.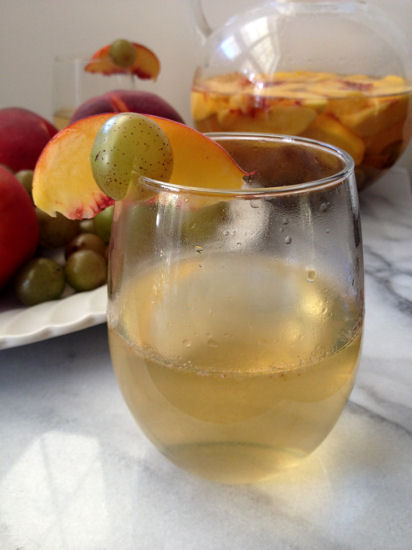 So on the way home from work grab all the ingredients you will need and whip up a fresh batch of sangria this weekend.
If y'all need me, I will be lying flat on my back with an ice pack sipping sangria through a straw and counting clouds until I can no longer feel my toes. Don't tell Dr. Sean, he might not approve of the self medication. Then again he might who knows.
Love ya,
Shari
Muscadine Peach White Sangria ~ Serves 4-6

What You Will Need
1 bottle (standard size) pinot grigio
2  cups white grape peach juice
1 cup club soda
1/2 cup Shellback Silver Rum
3 peaches, peeled & sliced
2 cups muscadine grapes, sliced in half
*You can use white concord grapes if you don't have access to muscadine*
What You Will Do

Combine all ingredients together and stir. Then stir some more. Refrigerate for an hour or longer! before serving.
Serve in chilled glasses and enjoy!
{ 2 comments }