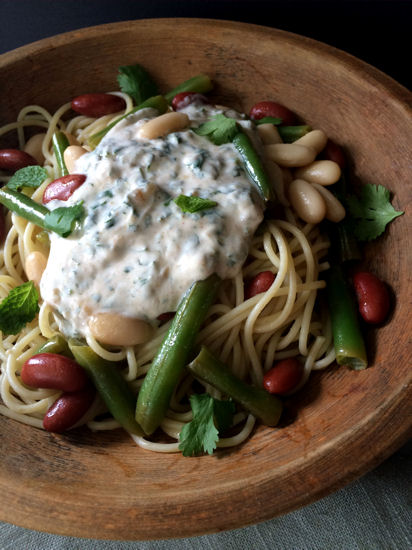 Did you all know that October is National Pasta month? I'll admit that I am not one who typically keeps up with all the various national what have you's, which by the way to some is tantamount to sacrilege. As my girlfriend, Tammy likes to say," Your hard drive is already full Red." Well I do have a few themed months that make me giddy with anticipation, such as chocolate month, peanut butter month, those two months combined daily totally works as well, egg month (if you don't know why you need to follow my Instagram), cheesecake month and yes pasta month!
If there is pasta anything within a 500-yard radius, I am generally giddy.  Trust me even though I have to be vigilant with which grains I now eat I still make room for a pasta dish or two as a reward. Hey, I am part Italian and zero pasta is not an option in my family. Like me, you may not be able to over indulge as you used to but that's all good especially if you are being conscientious and eating healthy carbs such a Dreamfields Pasta.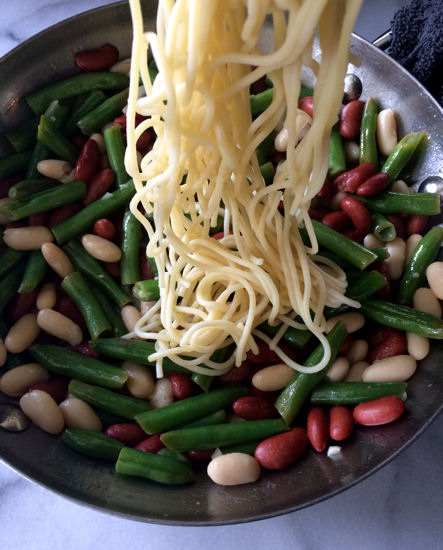 Dreamfields is made using durum wheat semolina in North Dakota. That's why it has the same delicious taste and texture of traditional pasta.
One cup cooked serving of Dreamfields pasta (2-oz dry) provides 5 grams of dietary fiber and 7 grams of protein per serving.
Dreamfields also adds a natural plant fiber called inulin that helps support better digestion.
Visit Dreamfields Pasta to learn more about the brand and get more fantastic recipes!
Now don't worry y'all I'm not just waxing poetic today about my DNA based need for pasta or passing along useful healthy info I am also sharing that delectable THREE BEAN SPAGHETTI SALAD WITH CREAMY CHUTNEY pictured above.
It's a snap!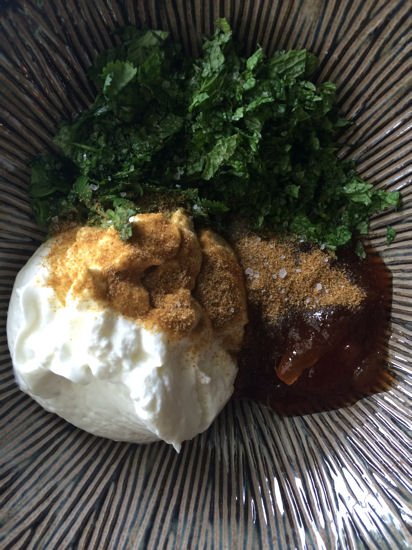 First cook your spaghetti!
Then in a bowl stir together some cool Greek yogurt, sweet mango chutney, fresh cilantro & mint, a dash or two of cumin and salt. Squeeze in a little lemon juice, stir some more and refrigerate.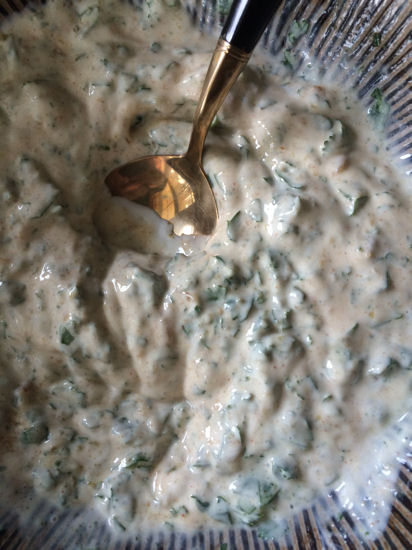 You'll end up with this luscious sauce, which is the perfect dressing for the crisp Three Bean Spaghetti Salad that comes next!
For the salad blanch your green beans, then sautee them in butter, lemon juice & garlic. Yum! Add the cannellini beans and kidney beans. Toss it all together with the spaghetti. Don't forget to top the salad with the creamy chutney.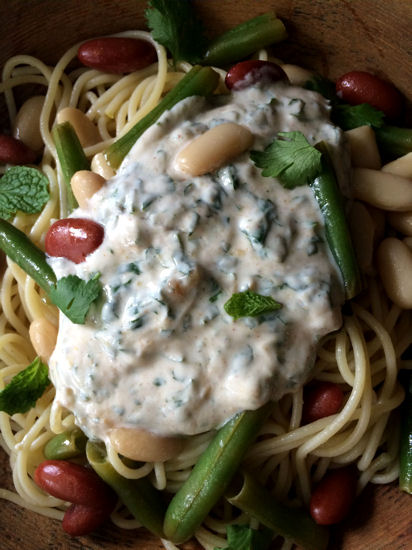 There you have it a fresh, healthy, protein packed DELISH supper in under 30 minutes! If you want to keep it vegetarian you can or you can indulge as we do by adding Harissa Blackened Salmon to the plate.
To help you guys celebrate #HealthyPastaMonth Dreamfields is graciously giving away a Family Pack of Pasta which includes 1 box of each of their 7 pasta shapes, as well as a $25 Gift Card! Simply enter via PromoSimple below the recipe.
Enjoy!
Hugs & Love,
Shari
THREE BEAN SPAGHETTI SALAD WITH CREAMY CHUTNEY – Makes 6 servings
Preparation Time: 25 minutes
Cook Time: 17 minutes
What You Will Need
1
box Dreamfields Spaghetti
CREAMY CHUTNEY:
1/2
cup plain Greek yogurt
1/4
cup mango chutney
1/4
cup finely chopped fresh cilantro
2
tablespoons finely chopped fresh mint
1
tablespoon fresh lemon juice
1/2
teaspoon ground cumin
1/4
teaspoon sea salt
THREE BEAN SPAGHETTI SALAD:
8
ounces fresh green beans, cleaned and trimmed
3
tablespoons extra virgin olive oil
1
teaspoon salted butter
4
teaspoons fresh lemon juice
2
cloves garlic, pressed or finely grated
1/2
can (15 ounces) cannellini beans, rinsed and drained (about 3/4 cup)
1/2
can (15 ounces) light kidney beans, rinsed and drained (about 3/4 cup)
What You Will Do
Cook pasta according to package directions.
For chutney, in small bowl combine yogurt, chutney, cilantro, mint, lemon juice, cumin and salt. Stir to combine completely. Refrigerate until chilled.
For salad, place green beans in saucepan; add water to cover. Heat over high heat until water boils; reduce heat and simmer 3 minutes just until crisp-tender. Drain beans; transfer to bowl of ice water to cool completely.
Heat olive oil in large skillet over medium-high heat. Add green beans and butter, tossing to coat. Add lemon juice, garlic, cannellini beans and kidney beans. Continue to toss, cooking 3 to 4 minutes, or until green beans are tender. Remove from heat.
Add spaghetti; toss to combine. Add creamy chutney; toss to combine.
Note: Salad is delicious topped with sliced grilled or roasted chicken breast or salmon that has been seasoned with harissa paste prior to cooking.
Nutrition information (1/6 of recipe): 390 calories; 13 g protein; 64 g carbohydrates; 11 g total fat; 3 g saturated fat; 10 mg cholesterol; 230 mg sodium; 10 g total dietary fiber.
{ Comments on this entry are closed }