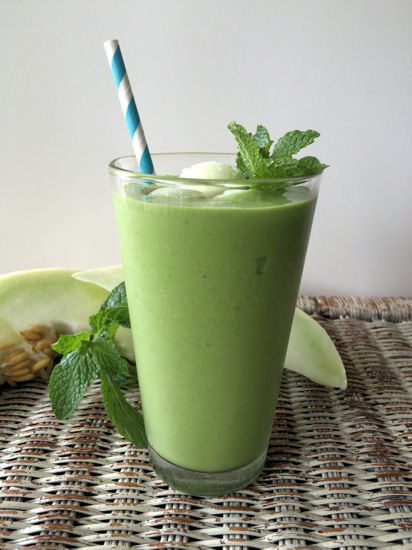 Per the norm, I do things in reverse. Where I should be telling you all about how I changed my eating habits the last three months and what I didn't eat instead I'm jumping ahead just a bit with a "reintroduction" recipe. I can't help myself, I am a little excited about this one. I made my first green smoothie…EVER! I have been scared of green smoothies up until now, a silly fear which I am laying at the feet of my elders.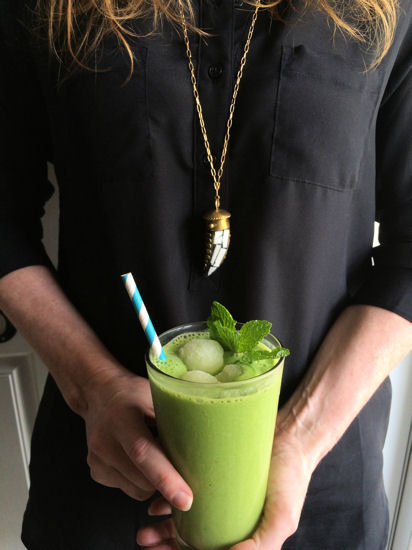 In the word's of my mom, "Ewwww, was it any good?" As you can see my palate even though more mature now was heavily influenced by my parents, who were in turn influenced by their parents. All the good ole' boys n' girls who had a hand in my southern upbringing were not prone to blending their greens. That would have been a sacrilege of the highest degree! Greens are a holy side, lovingly simmered with ham hocks and doused with vinegar. No blenders allowed! The aversion to green smoothies may also be a generational hang-up as much as it is a cultural one, but this is my own personal experience. I can't speak for the rest of the southern population.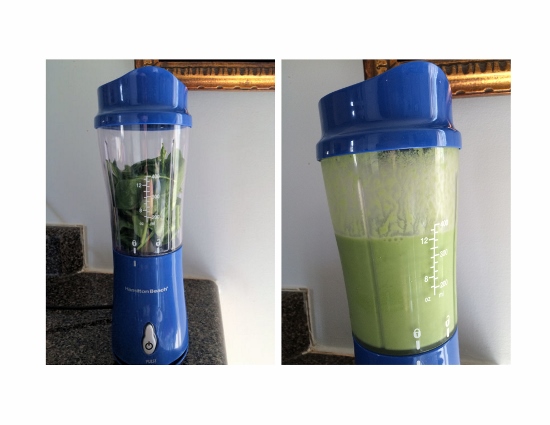 This past week I reintroduced dairy back into my diet. It was a surprise last year when I discovered that I am slightly lactose intolerant however; cheese and good Greek yogurt are two of my loves. So far, everything has been well with the reintroduction, as with most things nummy and delicious in moderation! All that being said I braved the intimidating thought of consuming a massive dose of "baby food" for adults, breaking the familial mold and allowing my blender to go green. Thanks to Stonyfield who encouraged me to come up with a fresh healthy smoothie this month.  How was it? My reply to mom and you guys is, "Not too shabby!"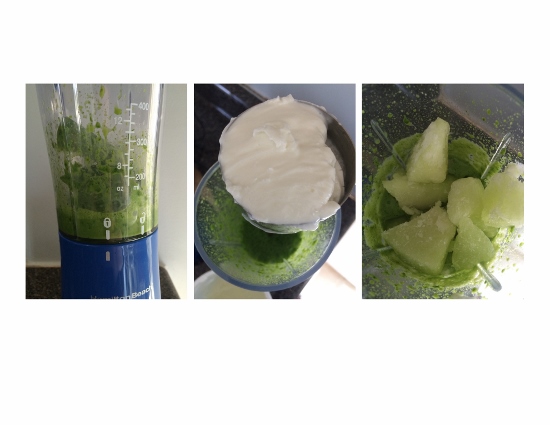 I am on the way to being a greens drinking convert! During my exploit I discovered that I like my green smoothies on the sweet side but I also want to make sure it packs a nutritious punch.
Spinach: 100 g of fresh spinach contains about 25% of daily intake of iron, vitamin A, vitamin C, flavonoid poly phenolic antioxidants such as lutein, zea-xanthin and beta-carotene, vitamin k, 100 g of fresh spinach has 47% of daily recommended levels of vitamin C, vitamin B6, vitamin B1, and it also contains a good amount of minerals like

potassium

, manganese, magnesium, copper and zinc.
Coconut Milk: Each cup of coconut milk contains over 5 grams of fiber, which is 18 percent of the 28 grams of fiber you need.
Greek Yogurt: Protein power house
Honeydew: Replete with vitamin C and vitamin B6, one serving also has 15.5 grams of natural carbohydrates.
Mint: Provide a considerable amount of vitamin A.
Banana: A good source of potassium, dietary fiber, manganese and vitamins B6 & C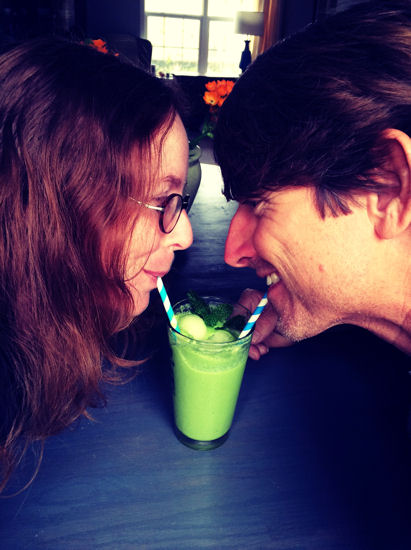 It also doesn't hurt to have a cute California, knows his way around some health food, Surferboy to give you encouragement. Sharing a smoothie with your honey while you get your flirt on, nope not too shabby at all folks!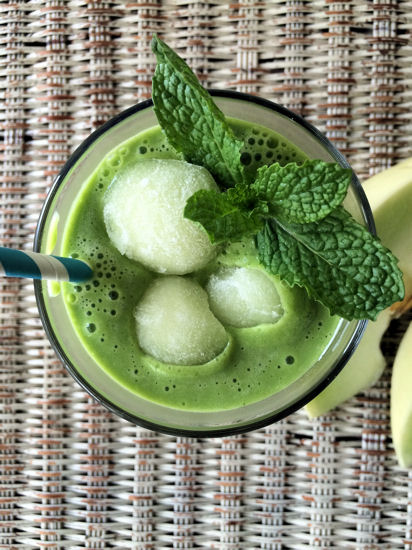 Fresh Mint & Honeydew Smoothie – Serves 1
What You Will Need
1 cup fresh spinach
10-15 fresh mint leaves
1/3 cup coconut milk
1 teaspoon vanilla
1/3 cup Greek Yogurt
1 cup cubed honeydew melon, frozen
1/2 banana
What You Will Do
In a blender, combine the spinach, mint leaves and coconut milk; secure the lid on top of the blender and pulse until well blended. Remove the lid, add the vanilla and Greek Yogurt, reattach the lid and pulse until well blended. Remove the lid once more and add the honeydew and banana to the spinach mix, secure the lid and pulse until well blended and there are no chunks.
Pour and enjoy!
Shari
Did you guys notice the cute little blender up there? Well how would one you like to win one? I was pretty excited when Stonyfield offered to let me review and give away to one lucky reader the new Hamilton Beach Single Serve Blender. It comes in four colors: blue, red, green & black and it is the perfect size for making your very own individual smoothie.
Enter to win a Hamilton Beach Single Serve Blender AND Stonyfield Yogurt Coupons!
Let me know what you think of the smoothie, but be gentle if you don't like it seeing as how it is my first and all.
Chat Soon!
Shari
Disclosure: I am honored to be a member of the Stonyfield Clean Plate Club. This is a collaborative effort and compensation was provided in the form of product and coupons by Hamilton Beach and Stonyfield. As always the photography & opinions expressed herein are solely my own. Giveaway prizes are sponsored by Hamilton Beach and Stonyfield. Affiliate links included. Giveaway restricted to United States residents only; ends April 7th, 2015.