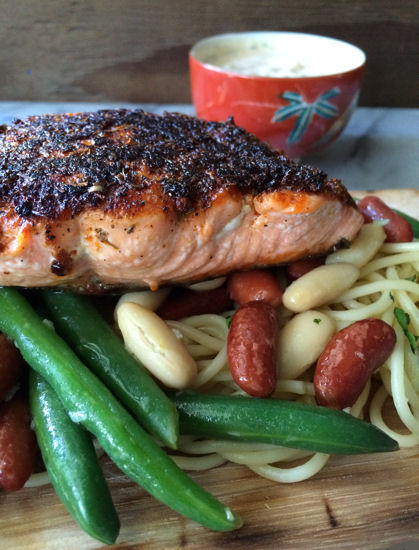 There are suppers and then there are, "Welcome home baby I missed you so much!" suppers. This is definitely the later. You know you want some so read on loves.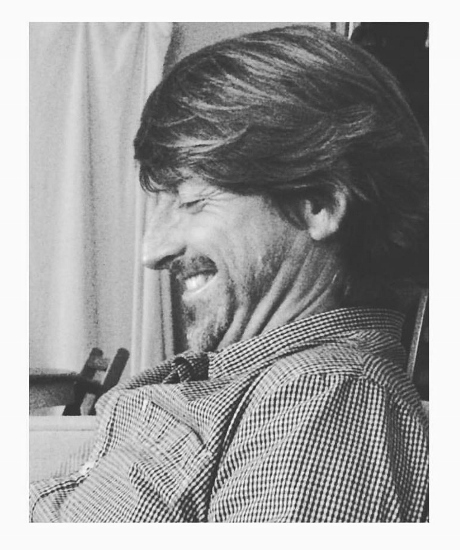 My traveling gypsy is home again, three cheers and kisses for that cutie being back in time for Haunted Homecoming. Per the norm, he was in California…working, surfing, working, biking, working, yada yada. Sometimes when he is gone, it feels like no time is passing and the boys and I go about our business as usual. Mom sleeps well, keeps the schedules on track and all is well. Other times he will be out of town and the world's axis shifts sideways and all "you know what" breaks loose.
Schedules? What are those again? We're supposed to be where when!?! Sleep? Who said sleep! Shhh you'll wake the monster. Does 3hrs on the couch count? Yeah, this trip albeit shorter than most was one of those hair raising weeks. Therefore, Surferboy will be getting a well deserved welcome home supper for sure, because I am handing him the reigns for the next 48 hours while I crash/prep for the homecoming dance in unison. Don't ask.
This is a quick, OH SO easy, "I made you salmon baby!" dish that your spouse will love! Well I hope they will love it. My guy does then again it hits 3 out of 3 on his check list.
Best of all it checks off my #1 requirement, done in under 30!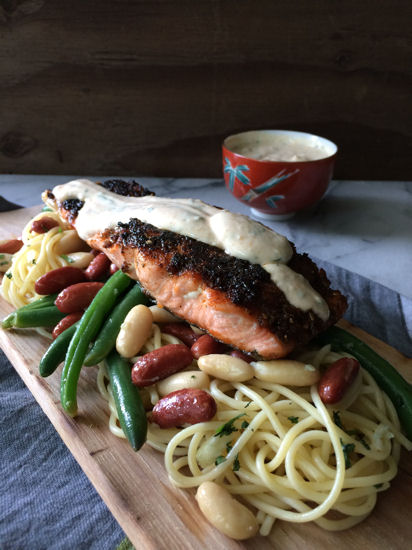 Did I mention that it's pretty when plated? I have this thing for pretty food (swoon). Give it a try the next time your significant other is gone for a while, they will adore the surprise!
HARISSA BLACKENED SALMON – SERVES FOUR

What You Will Need
2 tablespoons dry Harissa spice
4 teaspoons sea salt
1 teaspoon dry thyme
1 teaspoon dry oregano
4 whole garlic cloves, pressed or finely grated
2 tablespoons extra virgin olive oil
4-6.5 ounce wild salmon filets*
2 tablespoons avocado oil*
What You Will Do
Prep your salmon fillets, check for pin bones. You will be able to feel a row of these. You can remove them by using tweezers or pliers (strictly used with food prep). Skin On: Take a knife and run it along the skin with a bit of pressure, scraping the scales off. Give the salmon a quick rinse to remove the scales, or simply brush them off. Dry the salmon very well with paper towels. Skin Off: Hold one end of the salmon with a towel and gently slice along the filet just above the skin, as you pull, removing the skin.
In a small bowl combine all of the ingredients for the Harissa Blackened Rub, using a fork blend well. The rub will be thick, but should stick together. If dry, add an extra 1/2 teaspoon of extra virgin olive oil ¼ at a time. Spread a layer of the rub on the flesh side of each filet, I find my fingers work best. Set aside until you are ready to sear.
Heat a large cast iron** skillet over medium high heat. The skillet will not take long to heat, test the temperature with a "few drops" of water from your fingertips. If the drops sizzle, your pan is ready.
Add the avocado oil the pan; make sure to coat the bottom of the pan. Add the salmon fillets skin side down. If the fish does not sizzle, your pan isn't hot enough. Cook skin side down for approx. 4 – 5 minutes, or until a soft pink line is visible mid way up. Gently flip and cook 3 – 4 minutes, until the blackened spice has darkened but has not burned.
Serve with fresh veggies, over a scrumptious pasta salad, better yet drizzled with a cool creamy chutney sauce and  most of all enjoy!
Hugs,
Shari
*Salmon may be substituted with an equally thick, fast cooking fish such as halibut or tuna.
*Avocado oil may be substituted with equally high temperature oil such as grape-seed or vegetable oil. 
**Cast iron skillet may be substituted with a stainless skillet. However I would not recommend a non-stick, it will not get hot enough. Depending on the size of your skillet, you may need to cook the fillets in batches. Overcrowding will reduce the heat of your oil and affect the sear on your fish.