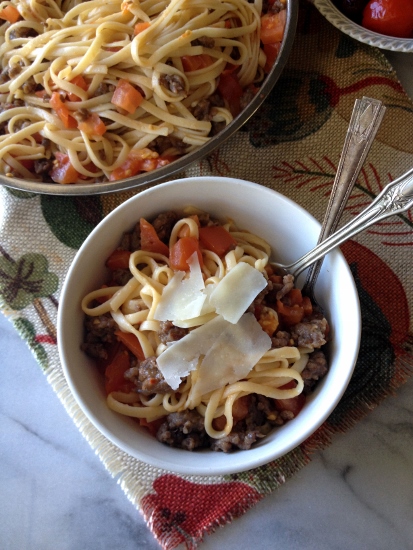 Oh how time flies when you're having fun, working, chasing kids…just plain living! It has been a while I know and I apologize. We have some fun times to catch up on here soon such as my trip to Big Harvest Potluck, Surferboy's endless travels and Patch's first Homecoming but until I catch my breath how about we share one of my favorite quick and easy meals. Best of all it fits in perfectly with National Pasta Month, which happens to be in October who knew!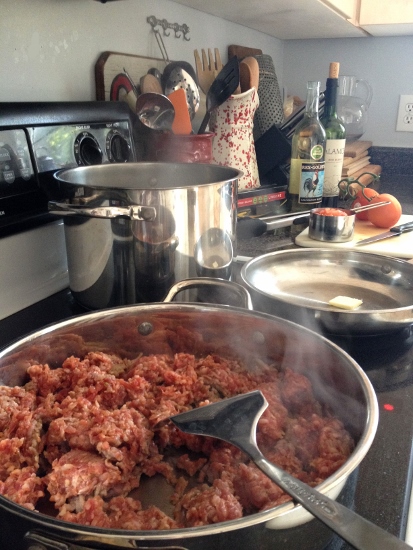 Honestly, I make a couple variations of this ragu throughout the week. It's my go to savory, protein packed, done in a flash meal be it lunch or supper! See it's a simple three skillet/pot meal that even the boys can whip up. Ignore my messy kitchen pretty please.
Along with sharing one of my favorite recipes I am partnering with the folks at Dreamfield's Pasta. Each day this month they've invited 31 bloggers from  around the country to come up with delicious pasta recipes for everyone to share and enjoy. You can keep up with all of these amazing recipes by following the hashtag #IHeartDreamfields on social media. Each week has a different theme, and each day has a different cut of pasta, so there will be plenty of delicious recipes to choose from.
Pop on over to www.DreamfieldsFoods.com to learn more about their pasta and find more fantastic recipes.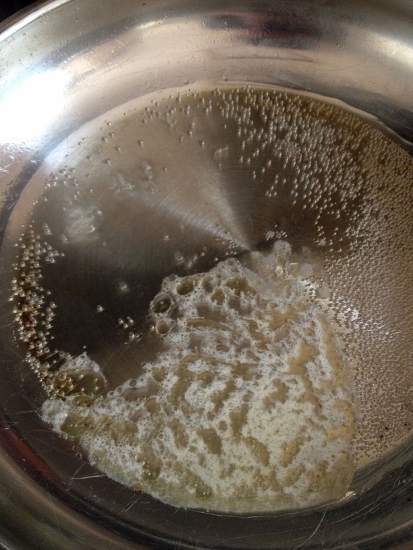 The hardest part of this recipe…letting the butter melt and waiting for the wine to simmer.
This is a meal where you can simultaneously boil linguine, stir browning sausage and simmer tomatoes without breaking a sweat. Talk about a triple threat move! If you're really talented you'll sip on a little wine while twirling those spoons.
My favorite part of the process is drenching the linguine in all of that hot garlic and tomato infused wine sauce. Aw yeah! Do you know what else I love about this linguine? It happens to have 7g of protein per serving plus it provides 20% of your daily fiber intake.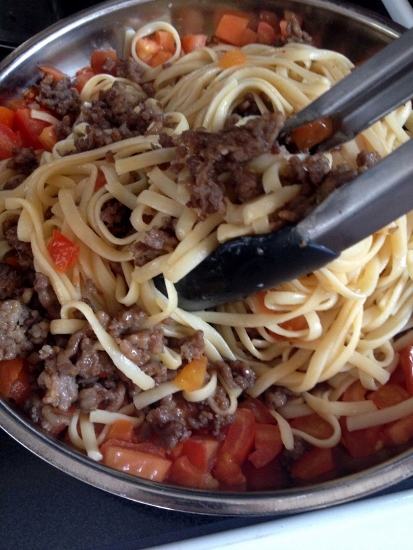 I did mention that this is a protein packed meal! High protein meals that are not high in fat are a win win for us with two growing boys. One of the many reasons I look for Dreamfields Pasta when I am shopping.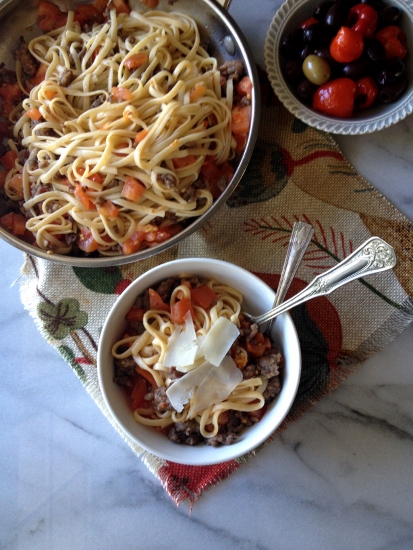 There you go…gorgeous, healthy and done in 30!
In case y'all are perplexed as my sweet hubby was with this sauce being referred to as ragu, let me explain. All of us are familiar with a certain jar located in the grocery store, well that is not the be all and end all of ragu. Per Wikipediea, "in northern Italian regions, a ragu is typically a sauce of meat, often minced, chopped or ground, and cooked with sautéed vegetables in a liquid".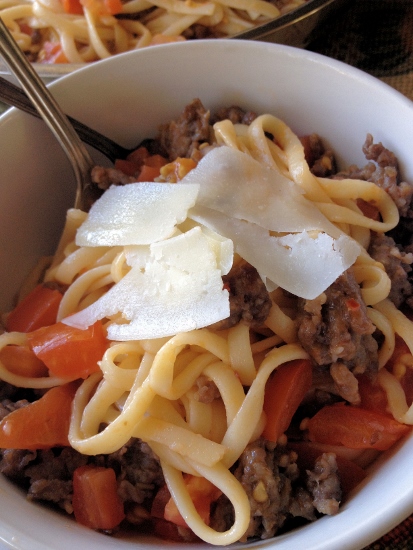 "Bo-YAH!" may or may not have resounded through the house after that little tidbit of info was verified.
Enough chit chat, time to eat! Enjoy guys (wink).
Giveaway Info!
One lucky reader will receive a Dreamfields Family Pack which includes, one box each of the 7 cuts of pasta + $25 gift card!
To enter the giveaway simply tell me your favorite cut of pasta or linguine recipe in the comments section below.
For bonus entries "like" or "follow" Dreamfields on Facebook, Twitter and Pinterest for an increased chance to win.
*Look below the recipe for the Giveaway form*
Quick Easy Rustic Ragu ~ Serves 4
What You Will Need
1/2 package Dreamfields Linguine
1 (1lb) package ground mild Italian sausage
3 tablespoons red wine
3 tomatoes, diced (approx. 3 cups)
3 cloves of garlic, pressed
1 tablespoon of butter
1/4 cup white wine
1/2 cup Parmesan
What You Will Do
Set both skillets and stock pot on the stove at the same time.
Fill the stock pot with approx. 2 quarts water, set the heat to high. Once the water has begun to boil add the linguine and cook until "al dente". ** See note**
In one skillet set to medium high heat, begin browning the Italian sausage. Stir in the red wine with the sausage during the last five minutes, continuing to brown until done.
In the other skillet set to medium high heat, add the butter and white wine. Once the butter has melted and the white wine has begun to simmer, add the pressed garlic and diced tomatoes. Saute until the tomatoes are soft but still slightly firm, skin intact.
Drain the linguine and add directly to the sauteed tomatoes, add the browned sausage and toss together.
Top with Parmesan cheese, serve and enjoy!
Shari
**Bring water to a rolling boil before adding the pasta, and then add the pasta slowly to help keep the water boiling. Stir frequently during cooking to prevent it from sticking together.**
Disclaimer: This post and giveaway are sponsored by Dreamfields. I was compensated for my time. Opinions are my own. Always have been. Always will be.