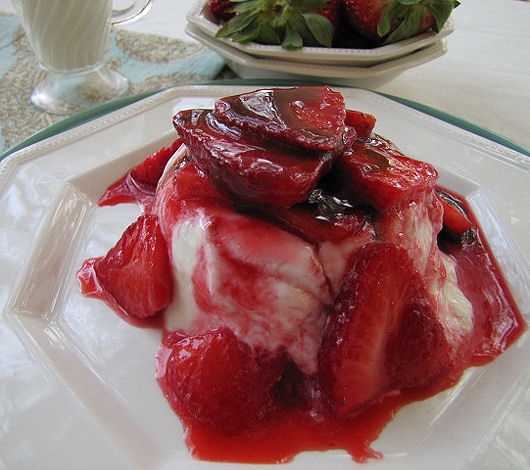 Mornin' guys! I hope that your Monday is off to a good start. Mine is already in spaz mode but that's nothing new. This week is a little extra crazy as we add in preparations for a trip that we are taking this week. However, who wants to talk about that when there is something luscious and sweet right there in front of us. Every so often, I make something for a buddy of mine and the strawberry decadence you are ogling is for my pal Susan over at She's Becoming Doughmesstic.  I had the chance to meet Susan last year in Atlanta. Then again when she and the family happened to pass through town. We had a lovely day letting our monkeys explore the local children's museum together.
Seeing as how I am always channeling summer I had to send Suz some fruity love right? Well if you want to see more sweet creamy custard smothered in strawberries liqueur you'll have to pop on over to She's Becoming Doughmesstic. I know, there I go teasing y'all again. While you're there take a look at some of Susan's desserts if you haven't already. She seriously has some mad baking skills guys. Suz always motivates me to bake more and to challenge myself. Now all I have to do is find the time to bake like I used to right.
By the way, who else is counting down the days until flip flops, sunblock and picking fresh strawberries from the garden are here?
Catch y'all a little later today xoxo,
Shari-Tickled Red