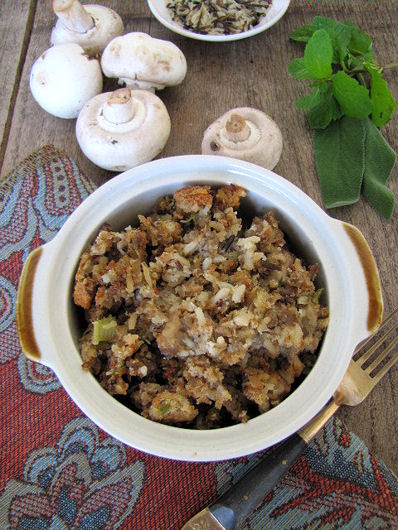 This is my absolute favorite dish during Thanksgiving. The holidays simply would not be the same without it, in truth my siblings and I would hold a Thanksgiving strike if it didn't make an appearance. There was a time my wedding dreams were centered around this dressing. A fall harvest wedding adorned in autumn's colorful blaze and laden with her savory bounty.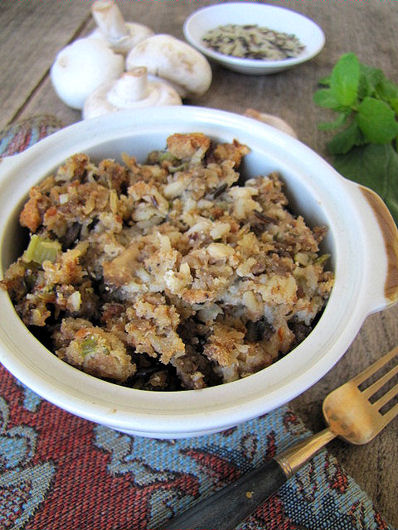 Even though I had a summer wedding, my parent's spicy wild rice and mushroom dressing still took center stage at the reception. We are not sure where mom found the recipe, Southern Living is a possibility but as far back as I can remember it has filled up a quarter of my plate, absorbing turkey gravy while I saved it for last. Always save the best for last.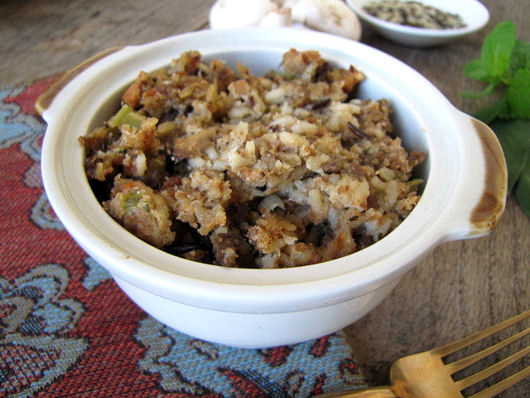 It has taken me thirty plus years to get this recipe seeing as how I am still not allowed in dads kitchen during Thanksgiving so I hope that y'all enjoy it. As for me, I will be blissfully enjoying fluffy wild rice baked to perfection with spicy hot sausage and mushrooms.
In fact you won't see me for days, dad still makes an extra dish just for moi'. Yes, I'm spoiled.
All my love,
Shari-Tickled Red
[print_this]
Wild Rice, Hot Sausage & Mushroom Dressing–Serves 10-12
Ingredients:
1 box Uncle Ben's Wild Rice, (original long grain)
1 package Jimmy Dean Hot Sausage
1 cup shallots, diced (including green)
1 small yellow onion, diced
2 celery stalks, diced
1 1/2 cup mushrooms, diced
1 bag Pepperidge Farms Herb Stuffing
1 teaspoon sage, freshly chopped
1 teaspoon thyme, freshly chopped
2-3 cups water
salt & pepper to taste
Directions:
Preheat oven to 350 degrees F.
Cook the rice as directed, omitting the suggested butter/oil.
In a skillet on medium high heat brown the sausage. Remove sausage, drain, save sausage drippings and set aside.
In the same skillet with the remaining sausage drippings saute the shallots, onions, celery and mushrooms until soft but not wet.
In a large mixing bowl stir together the herbs, sauteed celery, onions and mushrooms along with the bread crumbs and wild rice. If the dressing is dry add water to the mix 1/2 cup at a time until moist but not wet.
Salt and pepper to taste.
Bake for 20-30 minutes or until the top turns golden brown.
Enjoy!
Shari/Red
[/print_this]