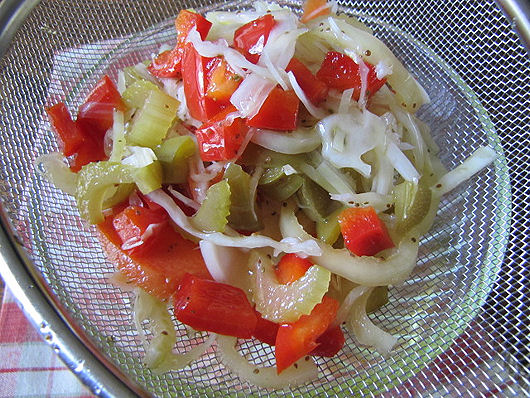 Pickles, one of the best snacks placed in a jar if I do say so myself. You may not agree but that's okay, I'm slightly biased ever since my granny introduced me to pickled corn mixed with green beans I was little. Seeing as how I love them so much you would assume that I make pickles often but you would be wrong. Somehow, I missed that family culinary lesson. Must have been the day the cat jumped from the roof and broke the porch light. Crazy cat was all ways distracting me (wink).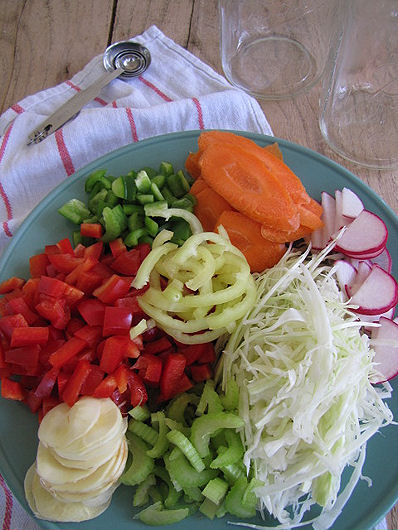 However, this year I finally played around with pickles taking Granny's recipe for pickled beans with corn and changing it up a bit. Probably because I was fresh out of both corn and green beans when I got the wild hair to pickle a few weeks back. Seeing as how I am a novice pickler I decide to start off easy by making refrigerator pickles using all of the fresh veggies I had lying around, including a banana pepper. Best decision I ever made guys! Granny would be so proud of me, confused by the "kitchen sink" combo but proud nonetheless.
Want to make some spicy mixed pickles as well, here's what you do…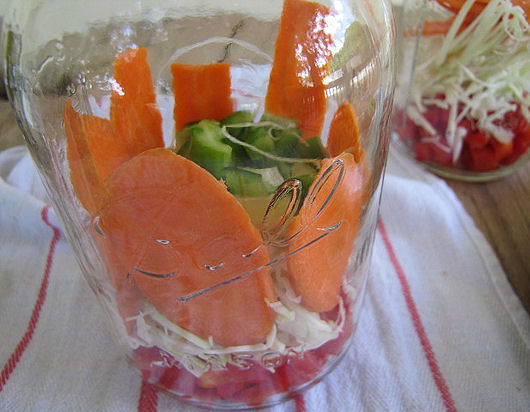 Go to your fridge and pull out your favorite veggies. Make sure you have the secret ingredient, banana pepper. Slice, dice, chop then layer them so that they look all purty.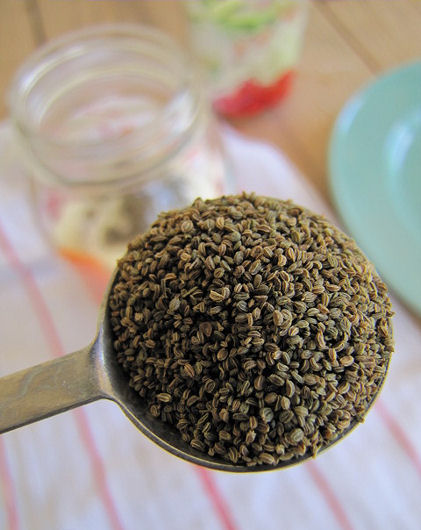 Toss some celery seeds on top.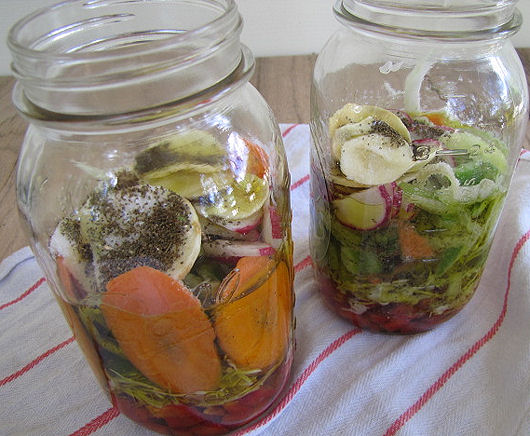 Pour in a little extra virgin olive oil. Okay pour in a lot of extra olive oil but who's keeping tabs right.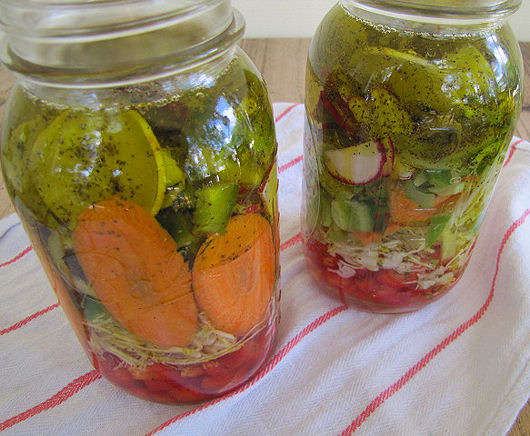 Fill them to the top with white wine vinegar. Turn upside and mix.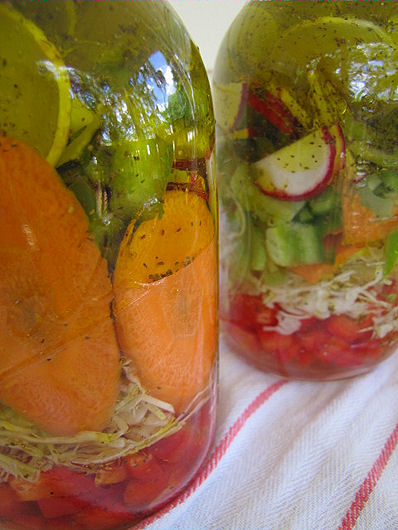 Then all you have to do is wait…three long excruciating weeks. You will feel the urge to pop them open sooner but trust me they are worth the wait and I should know because patience is not my strong suit, one of these days I will learn to wait. That extra time for the banana pepper to marinate throughout the pickle juice really does make a difference!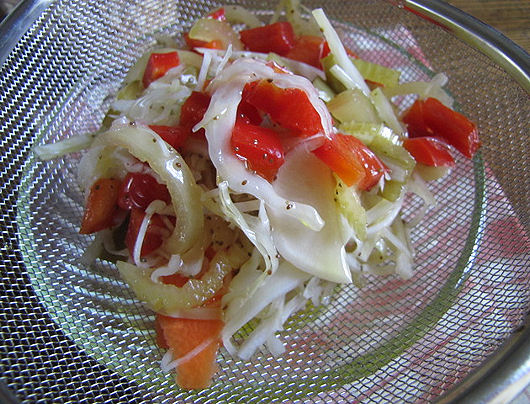 Sliced, shredded, diced you name it these pickles have it all. Strain them and begin building the joy.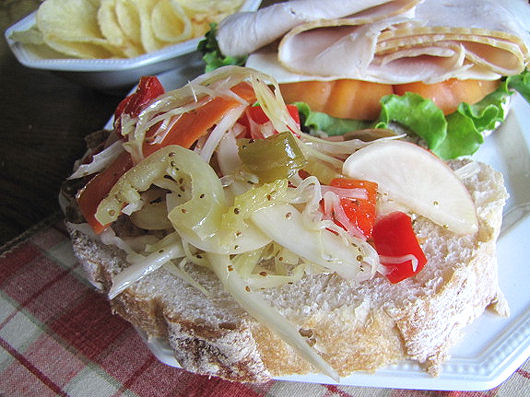 This is what the perfect marriage of spicy pickled crunchiness looks like guys. Packed full of flavor from all of those lovely pickled veggies my sandwiches will never be the same again.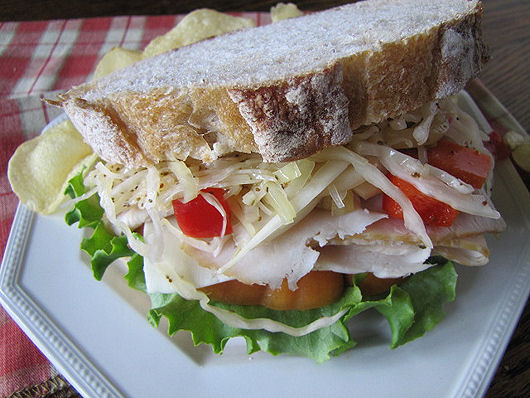 What if you are having burgers and dogs, here's what you do take your hotdog and add the shredded cabbage along with the diced peppers. Then take the sliced carrots, parsnips and radishes stacking them on top of your burger. Oh yeah! Y'all will thank me later I promise.
If you happen to be like me though your spicy pickles may not make it much further than your counter going straight from the jar to your mouth. If that's the case have a towel handy because they are a wee bit oily compared to other pickles but I'm not complaining one bit.
I'm off to pucker up and grin!
Love and Hugs,
Shari-Tickled Red
[print_this]
Spicy Mixed Pickles–Makes Two Full 3 cup Mason Jars
Ingredients
1 cup cabbage, shredded
1/2 cup carrots (shredded or sliced)
1/2 cup celery, chopped
1/2 cup green bell peppers, diced
1 1/2 cup bed bell pepper, diced
1/4 cup radishes, sliced
1/4 cup parsnips, sliced
1/3 cup banana pepper, seeded & diced
1/2 teaspoon celery seeds
2 tablespoons kosher salt
1 cup extra virgin olive oil (approx.)
1 cup white wine vinegar (approx)
Directions
Wash the chopped vegetables and allow to dry before pickling.
Place all of the vegetables into a large bowl and sprinkle with the salt, toss to combine.
Layer the vegetables in two 3 cup mason jars, leaving approx. 3 inches of space on top. Add celery seeds.
Pour the olive oil approx. halfway up the jar, then fill the rest of the jar with the vinegar.
Close and turn the jars upside to thoroughly combine. Refrigerate for a minimum of three weeks before serving.
Enjoy!!
Shari/Red
[/print_this]