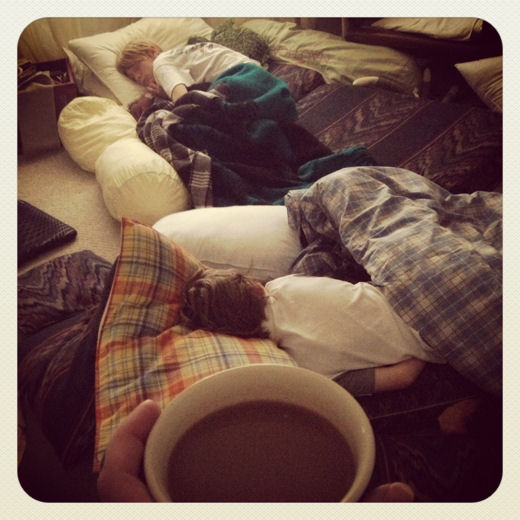 Our boys will probably never sleep in their rooms again and it's all my fault. Yes siree, I have started something that is going to be difficult to break purely out of selfish reasons. As y'all know, I do not sleep well when Surferboy is traveling. His trips typically result in a sleep-deprived zombie due to weeks of paranoid sofa crashing Netflix marathons. However this time around I came up with the brilliant idea of Camp Monkey.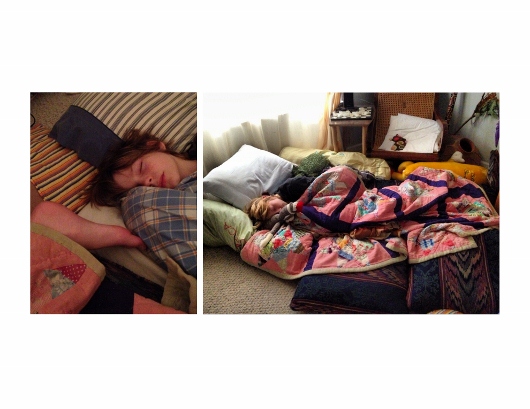 What is Camp Monkey? It's basically a free for all where we are all in one room so that I'm not loosing sleep over the boogie man. Since mid November, the boys have been camping out in the living room and my bedroom amid a plethora of cushions, pillows and blankets. Basically enjoying the life of Riley as Persian Princes among comfy toshaks. That is until a foot whacks someone across the nose. The perils of camping.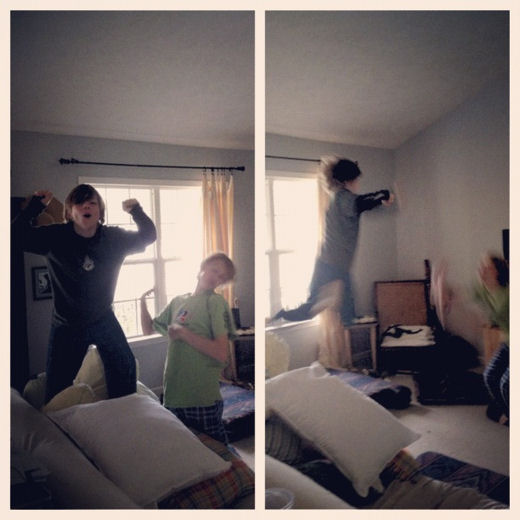 Of course Camp Monkey has lead to a few shenanigans. Ah the many possibilities boys will inevitably dream up when mountains of cushions are involved. What can I tell you other than they come by their daredevil shenanigans naturally, don't look at me more like dear ole' dad.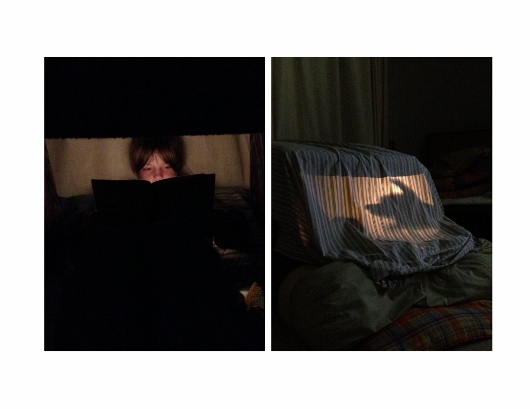 My favorite part of camping out in the living room so far has to be the nook the boys built out of the cushions. Both a cozy spot to read books by flashlight and entertain one another with finger puppet shows.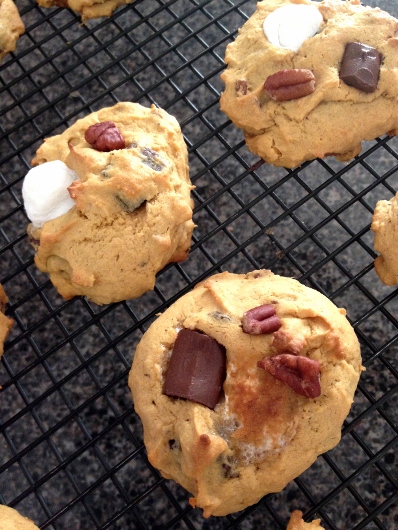 Now what camping excursion would be complete without s'mores? Seeing as how ours has been an indoor adventure, the boys and I whipped up some s'mores cookies. Not just any s'mores cookies mind you ones with a nod to our southern heritage with the addition of mashed sweet potatoes and pecans. The sweet potatoes make these cookies so light and moist while the pecans replace the crunch of the graham crackers that you might be missing otherwise.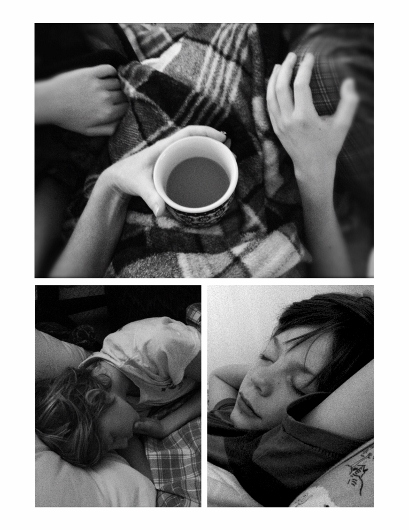 I know as a parent that consistency is the best policy when it comes to raising children and I am usually not one to bend the rules too far but I have to admit Camp Monkey has been a pure joy in more ways than reducing my sleeplessness. The boys and I have been on some grand adventures the past four weeks while creating irreplaceable memories all from the comfort of our living room. The cherry on top of the whole experience is that I have been able to capture so many sweet photos of them sleeping which is an addiction of mine.
If you're daring enough to disrupt the norm I highly suggest camping out with the kids indoors, at least for the weekend.
Whether we are traveling or just hanging out at home life is always an adventure just waiting for explorers.
Love,
Shari-Tickled Red
**All photos are via Instagram**
[print_this]
Southern S'mores Cookies~Makes approx. 36 cookies
Ingredients:
1 1/4 cup all purpose flour
1 1/2 teaspoon baking soda
1 1/2 teaspoon baking powder
1/2 teaspoon salt
1/4 teaspoon nutmeg
1 stick unsalted butter, room temperature
3/4 cup light brown sugar, firmly packed
1 large egg, room temperature
1 cup mashed sweet potatoes
1 teaspoon pure vanilla
1/2 cup mini marshmallows
1/2 cup semi sweet chocolate chunks
1/2 cup pecans, chopped
**Reserve approx. a tablespoon of each; marshmallows, chocolate chunks & pecans**
Directions:
In a large mixing bowl sift together the dry ingredients, flour, baking soda, baking powder, slat and nutmeg. Set aside.
In a separate bowl attached to an electric mixer cream together with a paddle attachment the butter and brown sugar. Beat in the egg, sweet potatoes and vanilla until thoroughly combined. Gently fold in with a rubber spatula the marshmallows, chocolate chunks and pecans.
Drop teaspoonfuls of cookie dough onto buttered or lined cookie sheets approx. 1 1/2 inches apart. Bake for 12-15 minutes or until golden brown. Cool on a baking rack.
**NOTE~ If you wish to show off the ingredients incorporated in the cookies add the reserved marshmallows, chocolate chunks and pecans during the last 5 minutes of baking. You'll have show stoppers for sure!**
Serve and enjoy!
Shari/Red
[/print_this]