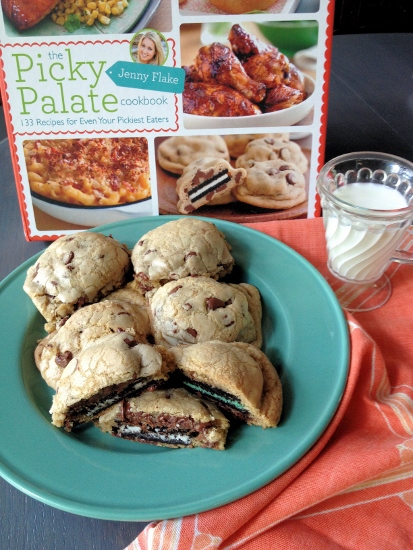 Mother's Day this past weekend was sweet in so many ways. Usually the guys "surprise me" with breakfast in bed but this year my siblings and I went to our favorite breakfast house with mom. To have all nine of us together sleepy eyed and snuggled into a corner booth is a memory that will warm us for years to come. All of that love and cheer had me thinking about the wonderful women I have befriended in my life. Some fresh to motherhood and others full of experience whom I draw inspiration from, my sweet friend Jenny is one of those experienced moms. You may know Jenny as the wonderfully talented Picky Palate.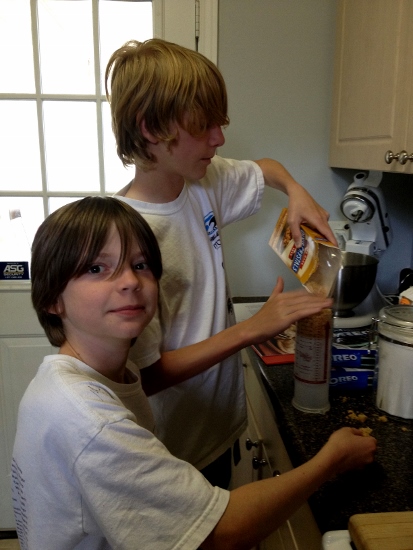 As I was piddling around the house after lunch boyish giggles from the kitchen caught my attention. Whatever could those cute knuckleheads be up to in there? Discovering them with Jenny's cookbook working on a replacement treat for our annual breakfast in bed was utterly poetic and sweet beyond words. Whenever the boys and I are at our silliest Jenny and her three precious boys always come to mind. She and her boys simply light up a room.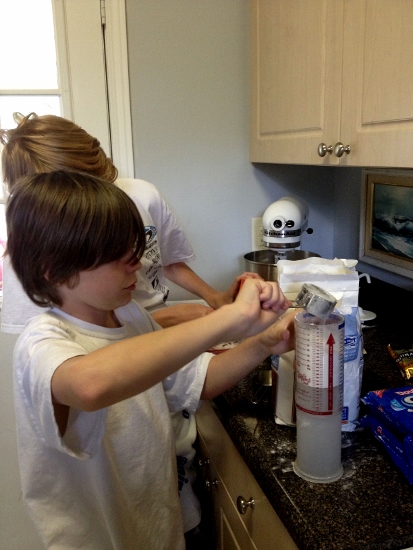 The monkeys had everything covered. Ingredients laid out, measuring cups and spoons on hand and best of all each other. They are getting older guys. They don't need me to supervise as much as I used to.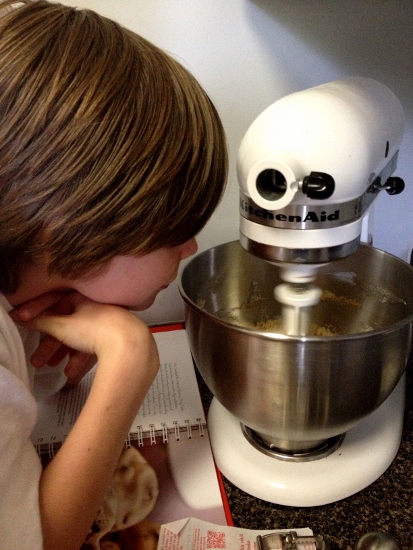 To say that they are comfortable with my beloved KitchenAid mixer would be a whopping understatement.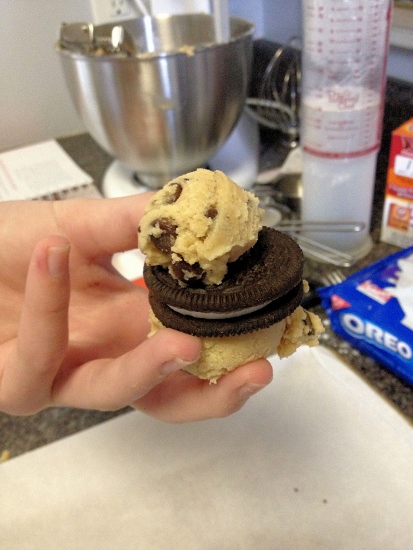 Jenny's recipes are so straight forward and well written that they really had no trouble working through each of the steps without any tips from me.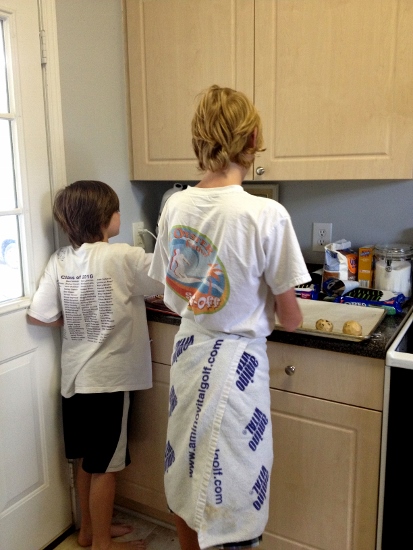 Basically I just sat back, took in the show (love the towel apron)…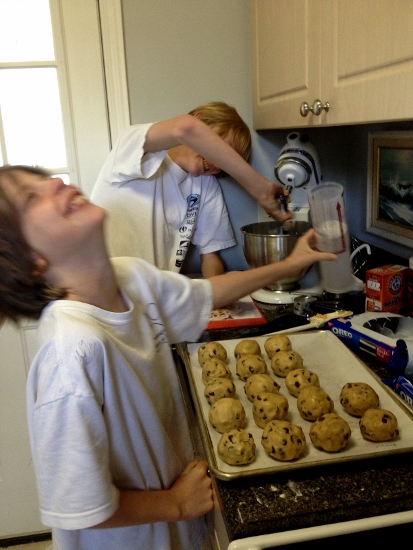 Enjoying the raucous laughter and silly jokes coming from my two loves.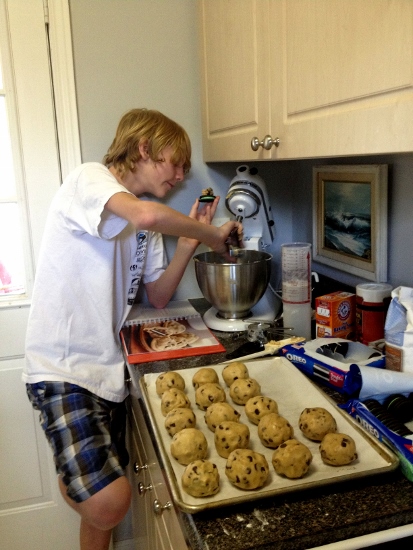 I couldn't help but notice as Patch worked on his assembly line of Jenny's cookies that I have evidently passed on the flamingo cooking stance gene. By the way don't those cookies look amazing!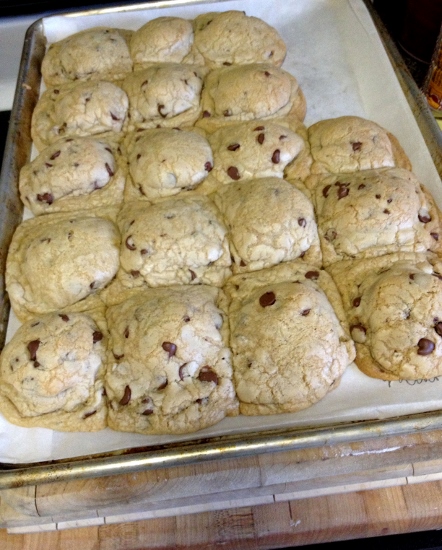 Maybe I should have mentioned a few spacing tips to the boys before baking but in all honesty I love these perfectly imperfect cookies that they made on their own with laughter and love more than any coiffed primped cookies.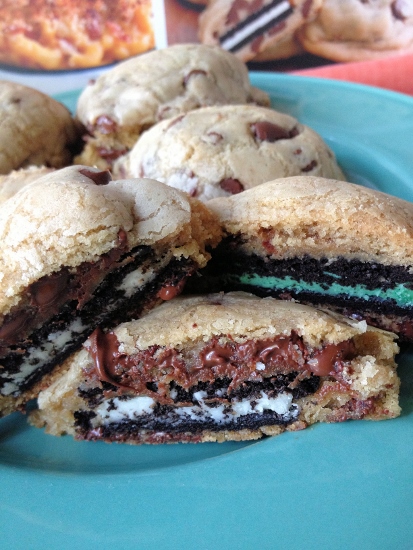 Besides Jenny's recipe is so crazy good you seriously won't care what they look like nor will your family. Just look at those ooey gooey Oreo stuffed beauties!! I don't know how she comes up with some of her glorious creations but to us she is one of the craftiest sugar fairies in the land aka you rock Miss Picky Palate. By the way Patch had to include some Mint Oreo's, he's a mint lover.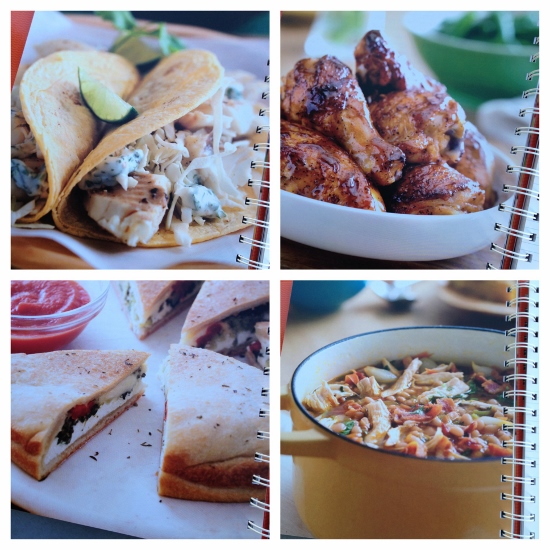 Jenny's book has more than just sweets though, her book is filled with all sorts of savory dishes that your family will love…even the pickiest ones. Our "Must Make" list is growing by leaps and bounds each time we browse through her book. Congrats sweet friend, we adore the cookbook that you have created which was inspired by the family you love so much.
It's such a well rounded, thoughtful cookbook that we wanted to share it with y'all, simply follow the directions in the below widget and one of you guys will be the lucky winner of a Picky Palate Cookbook!
Picky Palate Cookbook Giveaway
All of our love!
Shari & The Boys
*PS: Dunk these cookies in milk but more importantly coffee, trust me.*
[print_this]
Oreo Stuffed Chocolate Chip Cookies- by Picky Palate
 Ingredients
2 sticks softened butter
3/4 Cup packed light brown sugar
1 Cup granulated sugar
2 large eggs
1 Tablespoon pure vanilla
3 1/2 Cups all purpose flour
1 teaspoon kosher salt
1 teaspoon baking soda
10 oz bag chocolate chips
1 bag Oreo Cookies, preferably double stuff
Directions
Preheat oven to 350 degrees F. In a stand or electric mixer cream butter and sugars until well combined. Add in eggs and vanilla until well combined.
In a separate bowl mix the flour, salt and baking soda. Slowly add to wet ingredients along with chocolate chips until just combined. Using a cookie scoop take one scoop of cookie dough and place on top of an Oreo Cookie. Take another scoop of dough and place on bottom of Oreo Cookie. Seal edges together by pressing and cupping in hand until Oreo Cookie is enclosed with dough. Place onto a parchment or silpat lined baking sheet and bake cookies 9-13 minutes or until cookies are baked to your liking. Let cool for 5 minutes before transferring to cooling rack. Serve with a tall glass of milk, enjoy!
Makes about 2 dozen VERY LARGE Cookies
[/print_this]