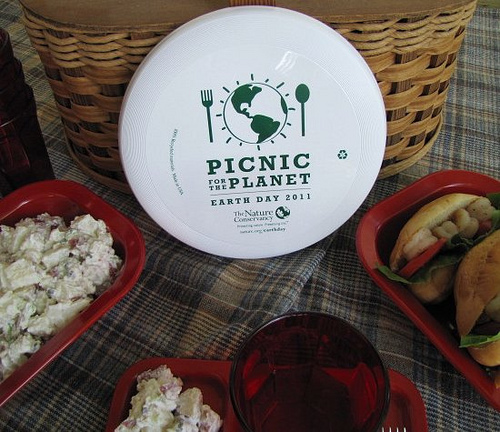 Happy Earth Day you guys!! What better way to celebrate our appreciation for the Earth and all that she gives us than to have a Picnic for the Planet? What exactly is a Picnic for the Planet you ask?
"Picnic for the Planet is a celebration of the planet we live on, the food it provides and the people we share it with. In short it, the planet does a lot for us, we should take it out for lunch." – Nature Conservancy
People all over the planet have heard the Nature Conservancy's call to gather, eat and be merry this week. There will be friends gathering globally for picnics together and you guys can join in the fun this week as well. All you have to do is Start a picnic, then invite your family and friends to meet you at the desired rendezvous point, be it a park or at the beach. If you're not up for starting your own fun little gathering you can go to their sight and see where some picnics have already been scheduled in your area. The guys and I will be hanging out at the beach enjoying a much need day off together surround by our beloved ocean. There's nothing better than lounging on a picnic blanket enjoying some delicious treats, listening to the waves crash and your families laughter surrounding you.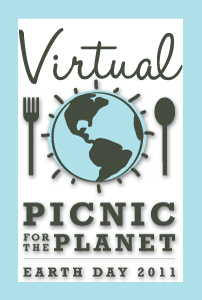 My group of friends and I though are actually having a Virtual Picnic for the Planet seeing as how we are scattered across the US and into Canada. Of course I would much rather have them all here with me at the beach, that way we could laugh and enjoy each others company under the sun together. Yet I'll take this fun filled adventure to connect with them through food any day of the week. I adore my blogger gal pals, they keep me smiling brightly all week long. I'll get them here for a visit sooner or later :) Until then I'll just have to enjoy them through their stories and delicious recipes for our picnic along with y'all.
Simple Bites | Pressed Sandwiches
My Baking Addiction | Mixed Berry Cheesecakes in a Jar
Bluebonnets & Brownies | Nanny's Potato Salad
Gourmande in the Kitchen | Honey Ginger Lemonade
Dine & Dish | Sangria
Add A Pinch | Herbed Tortellini Salad
Bakers Royale | Fruit Recipe Roundup
Three Many Cooks | Black and White Caviar
Food for My Family | Homemade Potato Chips and Avocado Ranch Dip
Sugarcrafter |Apple Hand Pies
Tickled Red | Tangy Potato Salad
What's Cooking with Kids | Kale Chips
Confessions of a Cookbook Queen | Mini Lemonade Cakes
TidyMom | Picnic Pies in a Jar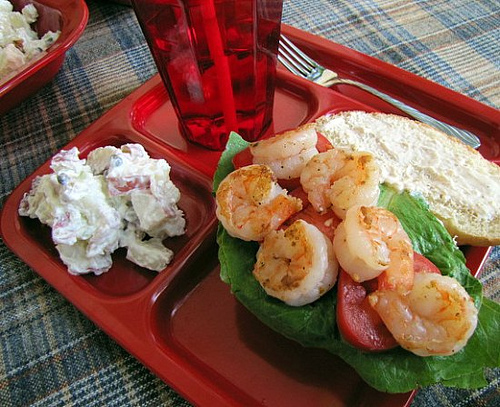 For my contribution to our virtual picnic I made my families favorite side dish Tangy Potato Salad that goes together beautifully with SLT's. It's made with Greek yogurt, sour cream and capers to give it that tangy flavor as well as a coastal vibe with the Mediterranean flavors. Perfect for any warm sunny picnic with family and friends at the beach.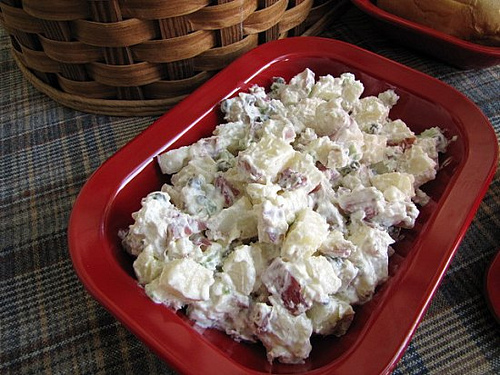 [print_this]
Tangy Potato Salad-Serves 4
2 pounds red potatoes, unpeeled
1/2 cup plain yogurt
1/4 cup sour cream
3 tablespoons fresh lemon juice
1 small scallion, finely chopped
1 celery stalk, finely chopped
3 tablespoons capers
2 tablespoons chopped fresh flat-leaf parsley
Salt and freshly ground pepper, to taste
First bring a large stock pot three-fourths full of water to a boil over high heat. Add the potatoes and boil until they are tender, approx. 15 to 20 minutes. Drain and let cool completely in the refrigerator for at least 1 hour. Dice the potatoes into 3/4-inch size pieces.
In a large  mixing bowl combine the yogurt, sour cream, lemon juice, scallion, celery, capers and the chopped parsley. Gently toss in the potatoes, add salt and pepper to taste.
Transfer to a serving bowl.
Enjoy!
Shari/Red
[/print_this]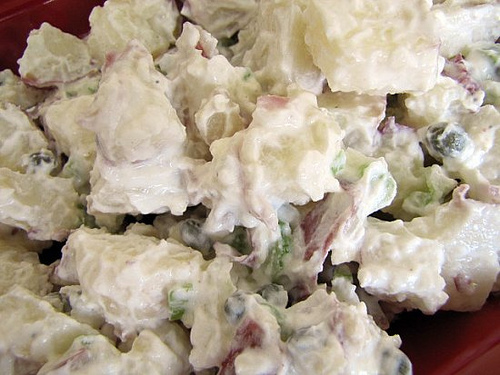 Remember when you are out this week creating your own Earth Day experience to consider shopping locally for your ingredients, traveling with dishware that you can rinse and reuse as well as taking along a couple of bags in order to pick up trash. It never hurts to turn a family picnic day into your very own "Adopt a Picnic Area" for the afternoon.
I would love to hear about what picnicking adventures y'all have planned for today. May you all have a wonderful time checking out all of my girls picnic recipes and enjoy Earth Day 2011 out in the sun. I know that my surfer, the monkeys and I will be at the beach up to no good :)
Love ya!
Tickled Red
*I would like to say Thank You to the Nature Conservancy for being kind enough to send us some tee shirts and frisbees that made our Earth Day celebration a family event to remember*