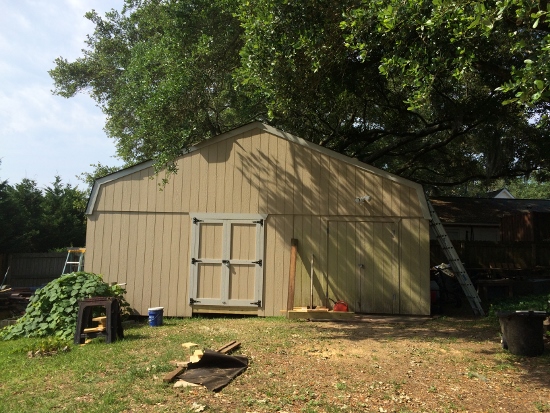 As some of you may have noticed this summer via Instagram & Facebook Surferboy added onto his little "toy" shed, building a big workshop area. Great for him and even better for me right! Oh, I cannot wait for the projects to come, when he has time of course. What you don't know is that we have another little shed in our backyard.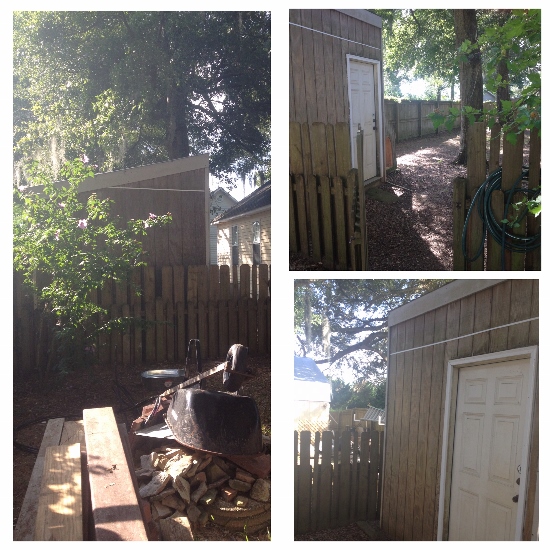 It is a pitiful little thing guys. Right now, it houses most of my prom props and other miscellaneous stuff that Surferboy does not want in his workshop. Now when my sweet hubby first started talking about the workshop expansion my first thought was a HUGE inward cheer of elation at getting rid of what I considered an overload of sheds in our yard. Seriously, I kept waiting for more to pop up like mushrooms. However my neighbors (both Kim) started something on Facebook around the time the workshop was being built with a little link and slight nudge for me to build a She Shed. "What in the world is a She Shed", I asked Daniel.  As usual, I am the last one to know about what's trending out there. After checking out the link on Facebook we both giggled and let the Kim's know that the odds of us having a girly shed were slim to none.
Well then, my wheels started turning. Visions of tiny living in that once annoying eye-soar began haunting me daily. A little 8×8 office/art studio where I could listen to jazz & 80's punk without raised eyebrows, paint until dark, create a giant inspiration wall if I wished, keep all my different interests organized, you name it and I could dream of it there. Best of all I would be able to decorate without any compromise on how I wanted to trick it out! Well Surferboy actually agrees.
Yep, you guessed it! That ugly mushroom will one day (hopefully soon) by my little Prephemian haven.
So what is Prephemian you ask?  That's about the only way that I can describe my personal style. It's my take on Shabby Chic, sort of a blend of my Catholic Parochial school days filled with plaids, neutrals and classic preppy styles along with my bohemian theater/art college era spent thrift shopping for period pieces. My tips for blending two styles would be to look at what they each have in common as well as what has stood the test of time for both…
Preppy
plaid
ticking stripe
masculine touch (leather & wood)
brass
crisp white
blues
pop color (pink, red, turquoise)
oriental rugs
neutrals (khaki, beige, sand tones)
nautical
Bohemian
tribal prints (Turkish, Persian, Ikat, etc.)
masculine touch (leather & wood)
lotus light (brass)
French antiques
crisp white
blues
pop color (pink, red, turquoise)
rattan
industrial signs
neutrals (khaki, beige, sand tones)
Then I sprinkle a little coastal love with seashells and beach treasures and Volia! Prephemian. That's how I roll. My best advice though is to just have fun blending which ever styles you prefer!
What do you think, is it She Shed worthy? Who wants to come over for cocktails and a little Jazz when it's done!
You guys know that I am big on re-purposing furniture but I also adore vintage finds that are great just the way they are. One of my favorite places to source ideas and affordable "splurge" pieces for our home is Chairish. If you love vintage finds as much as I do and are looking for some easy to style darling Shabby Chic pieces you must check out their site!
Happy hunting and She Shed Dreaming!
Shari
*This is not a sponsored post, however I was delighted to take part in Chairish's September "Shabby Chic" Blogger Design Challenge. PS: I created my idea board at Polyvore*