This morning it was 57 when we left for school. The crispness in the air had me tugging my sweater tight around my neck to keep the chill out. Most of you reading this will probably think that I've lost my mind for quibbling over a measly 57 degrees. However, the geese that flew overhead towards the south validated the change in the seasons. We're creeping slightly closer towards winter here in the south, but I like the change. For me the urge to hunker down and make a cozy nest kicks in towards the end of October
Soft snugly blankets have made their way to the living room, socks are being found more often than not under the sofa and we're craving warm sustaining dishes over lighter fare. Savoring a hearty bowl of soup, while we read a book or watch a movie together, is fast becoming a fall tradition for us. As a family we seem to gravitate to all things comfy and cozy, whether our days are lazy or hectic.
Soup that happens to be a flavorful meal in bowl also keeps my guys happy, especially when they're under the weather. This was M2′s soup of choice last week, he likes that we call it rustic. Don't ask me why he gets a kick out of it but it makes me grin nonetheless. I guess I'll be grinning some more when he gets home and sees that I've made "rustic" soup again for tonight.
This is a pretty simple soup to make guys. Here are a few easy tricks that will both add extra flavor to your fall soups, as well as save you time.
1.) Leaving the vegetables whole or cut into larger pieces will save you time in prep work.
2.) Briefly searing the carrots with the onions and garlic. Cooking carrots for a few minutes will release their sugary sweetness, which adds flavor to your broth.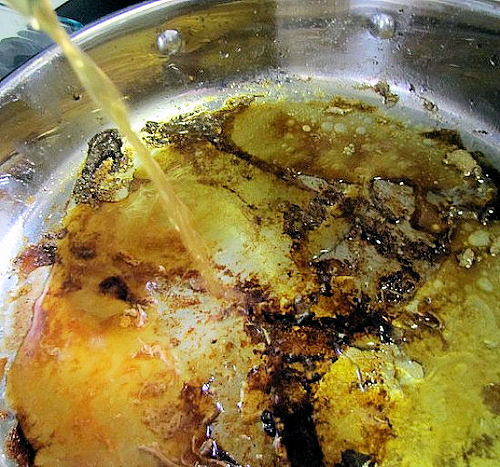 3.) In the same pot that you make your soup or stew, sear the meat (if you are using meat) on both sides with a little soy sauce. Partially precooking the meat will not only save time but it will help hold in the juices and keep the meat tender. Not to mention the drippings…they're full of flavor.
4.) Add well seasoned broth, it will also save you time and add flavor if you happen to be short on ingredients.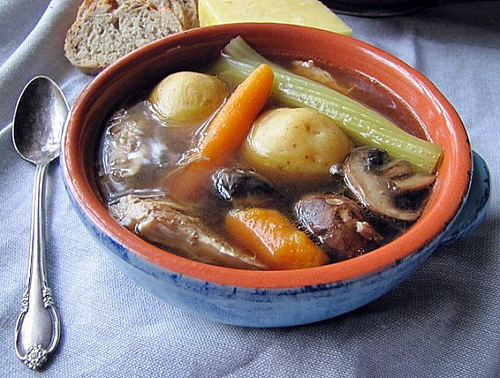 What you'll end up with is a soup that embodies all the flavors and aromas of chicken roasted in Chablis with hints of thyme, oregano and rosemary.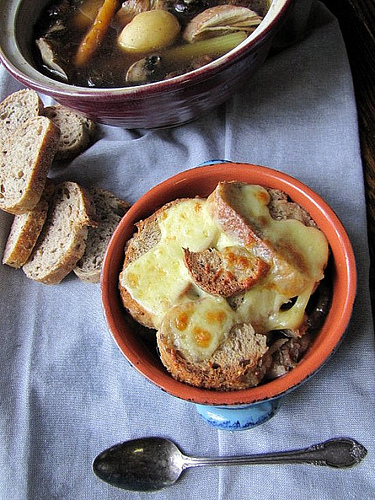 If you want to go over the top (and ya'll know that I do) top each bowl of soup with thin slices of homemade multigrain bread, Irish cheddar cheese and pop them under the broiler until the bread is toasty on the edges and the cheese is all golden and bubbly..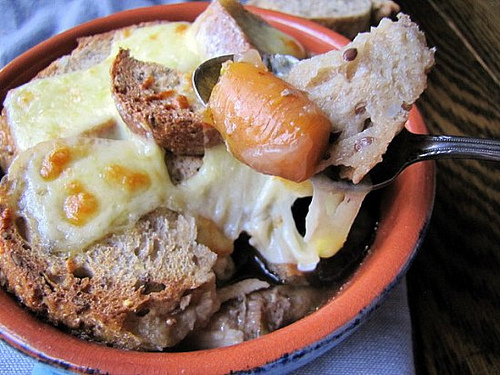 I'm so glad that dinner time is right around the corner, aren't you?
The lovely thing about this soup is that you can play around with the ingredients to suit your own tastes. Have fun playing in the kitchen y'all.
Warm snugly wishes to you all tonight,
Tickled Red
Rustic Chicken Stew-Serves approx. 6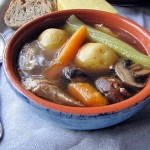 Ingredients
4 boneless skinless chicken breast
1 tablespoon extra virgin olive oil
2 tablespoons soy sauce
3 cloves of garlic
1/2 onion, diced
3 stalks of celery, cut whole and in thirds
11 oz carrots, cut whole and in thirds
1 1/2 lb baby potatoes
1 container baby portobello mushrooms, whole
32oz chicken broth (*see note*)
4 cups water
1 bay leaf
Prep:
In a skillet over medium high heat add one tablespoon of oil and saute the garlic, onions and carrots until the onions are almost translucent. Watch the carrots, you don't want to brown or burn them. If the onions are not done go ahead and remove the carrots after approx. 5 minutes, so that you can continue cooking the onions and garlic.
In a large stock pot or dutch oven add the oil and soy sauce. Sear the chicken breast for approx. 3 minutes on each side or until lightly golden brown. Remove the chicken, set aside. Work the drippings at the bottom of the pot loose with 1/2 cup of the chicken broth. Add the rest of the broth, all of the prepared vegetables and the chicken. Cook at a low simmer for 30-40 minutes or until the chicken and vegetables are all fork tender.
Top with hearty bread, cheese and enjoy!
Shari/Red
*Note: I used College Inn's Culinary Broth White Wine and Herb*