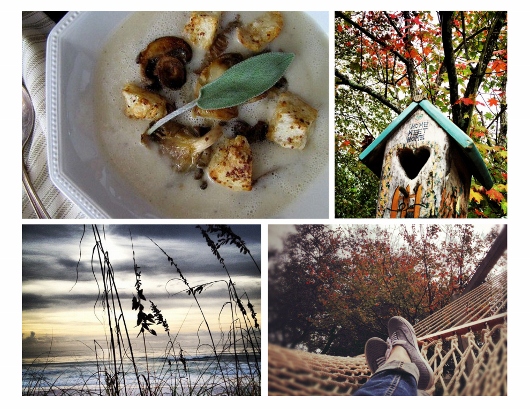 Who else besides me is enjoying the subtle drop in the temperature as of late? If by chance, you happen to live a breath or two further north than I do and are actually feeling winter blowing down the neck of your sweater please resist the urge to throttle me. Late summer/early fall is my favorite season here on the coast of North Carolina. The humidity has dropped below sweltering, our state bird has flown off to poke holes elsewhere and the tourists have abandoned the beaches. Can you feel the shift in the air? It's as if the land itself just inhaled a loooong refreshing breath and settled into a snuggled state of transformation. Grab a comfy sweater guys and take it all in, because the vibrant color guard ushering in winter will pass before you know it.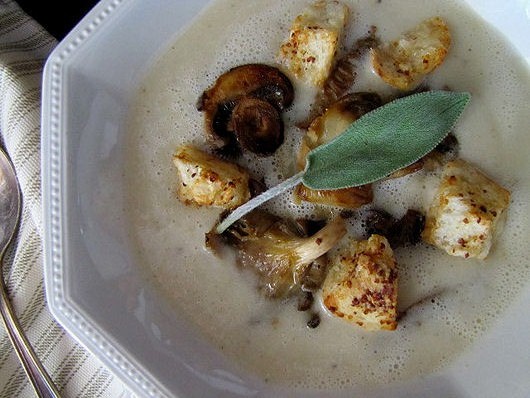 Another way to savor the leaves ebbing from green to umber is by sitting on the porch with a bowl of hot steaming soup. One that is earthy yet silky with each spoonful. You could not ask for a better accoutrement to fall than roasted garlic and acorn squash soup topped with rich meaty mushrooms and Spicy Creole Mustard Croutons. Mercy! Is it dinner time yet?
If making homemade soup intimidates you don't let it. There may be more time involved prepping but generally it's a snap.
First roast some garlic and acorn squash in the oven. You may have to wait 30-35 minutes on the squash but everyone will thank you. There is nothing like the aroma of roasting garlic and squash wafting through the house on a fall evening.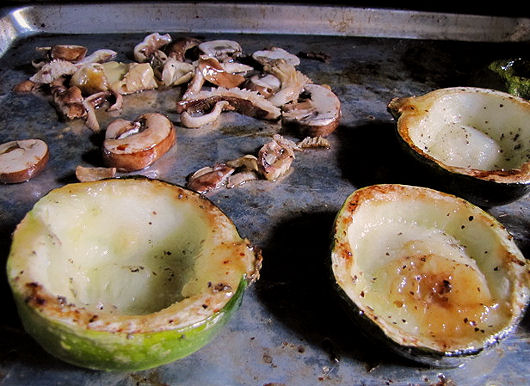 Don't forget to roast/saute some mushrooms as well. They are part of your texture tag team. One part soft flavor burst, one part spicy crunch!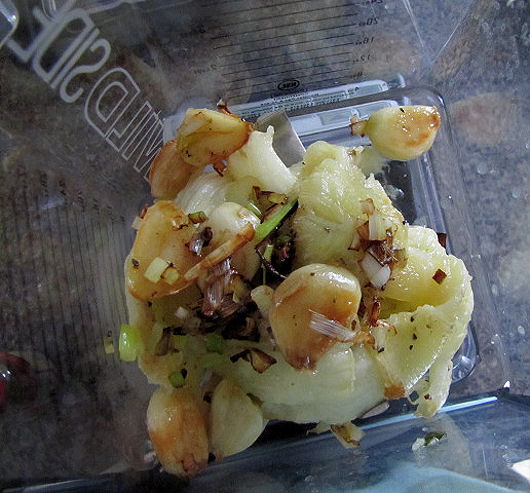 Then once everything is roasted and sauteed toss it in a blender. Now I won't fib, it's a little easier for me to do this with my Blendtec set on soup mode but you can do this with your regular blender as well. There's a little tip with the recipe below just in case, not to mention if you ever get in a pickle just email me.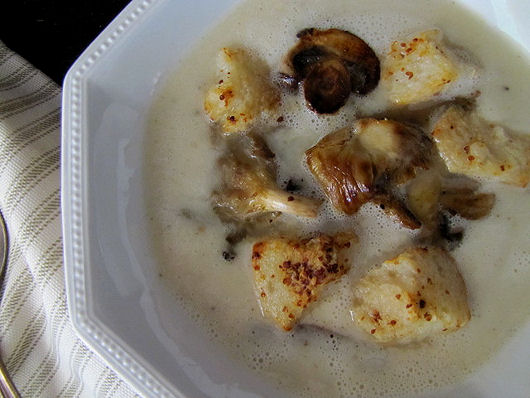 Volia! Rich, silky soup celebrating the wonder of fall. Oh and it's healthy, shhhh don't tell anyone.
If you are anything like Surferboy and I the smooth spoonfuls of roasted garlic and squash will ease away all your troubles after a long day at work.
Enjoy my darlins'!
Shari-Tickled Red
[print_this]
Roasted Garlic Acorn Squash Soup with Sauteed Mushrooms–Serves 4
Ingredients:
1/3 cup olive oil
3 acorn squash, roasted
4-5 cloves of garlic, roasted
1 package mixed mushrooms
1 tablespoon shallots, finely diced
3 cups chicken broth (can substitute with vegetable broth for vegan version)
1/2 teaspoon kosher salt
1/2 teaspoon cracked pepper
1/2 teaspoon dry sage
Directions:
Preheat oven to 350 degrees.
Coat a cookie sheet with olive oil.
Split the squash in half and scrape out the seeds with a spoon. Set the squash halves, cut sides up, on a baking sheet, drizzle with olive oil and sprinkle with salt, pepper and sage. Cut the bulbs of garlic in half crosswise into a top and bottom. Place the garlic halves on the cookie sheet, drizzle with olive oil and sprinkle with salt. Bake the squash and garlic together for approx. 10-12 minutes. Remove the garlic once golden and soft,set aside. Turn the squash over and continue to bake for approx. 20-23 minutes, until the squash is tender. Remove and let cool.
Place the mushrooms on the same cookie sheet and bake until tender and brown, approx. 5minutes. Set aside until needed.
In a small skillet on med high heat saute the shallots until tender and just caramelized. Add to the reserved garlic cloves.
Remove the squash from the skins and drop into a blender. Add the garlic and shallots. Pour the chicken broth over top and blend until smooth.*If you have any chunks, strain the soup through a wire sieve or even a colander placed over a large bowl.*
Taste, add any desired additional salt and pepper.
Serve warm topped with sauteed mushroom and Spicy Creole Mustard Croutons!
Enjoy!
Shari/Red
*Pssst…not a sponsored post by anyone, including Blendtec. Just me playin' in my kitchen*
[/print_this]