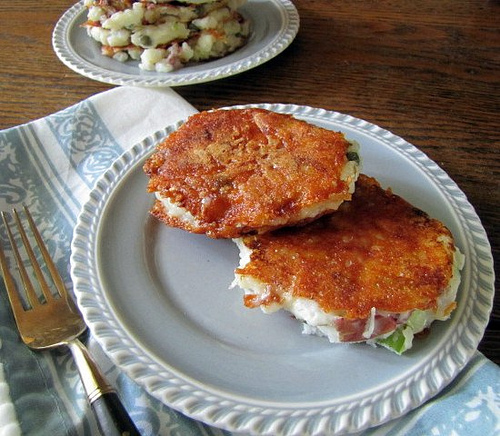 Lately our surf loving lifestyle has kicked into overdrive. It never fails, when April rolls around and M2 has his birthday we seem to jump from spring to summer in a flash. The boys sports teams are in full swing, school is focused on end of the year tests and Surferboy is burning the daylight hours between work, coaching and surf contests. This means we won't stop moving until mid October. Add my new schedule into the mix and you have the makings of a side show for Barnum and Bailey's, I call it Spinning Plates a la Red. I can envision a navy coat with tails, white sparkly leggings and blinged out red Vans. Throw in some fireworks shooting out of the plates and I may just steal the show from the clowns, watch out Bozo.
Let's see the last recipe that I shared with y'all was for my Tangy Potato Salad, I figure this is as good a place as any to pick up where we left off. During the summer with all of the many outings, picnics and get togethers we enivitably have some potato salad left over. I'm going to assume that you guys have the same conundrum in your house as we do, "What do we do with all of the leftover potato salad?" Well let me share with y'all what I do, I fry it.
Yes you heard me correctly, I fried my tater salad. My Tangy Potato Salad was healthy until I got my bored with leftovers mitts on it. Well okay, to be honest I actually pat it into little pancakes, lovingly add a fresh coat of shredded parmesan and then sear them in a skillet so technically they are not deep fried but still…OMW!! Talk about jazzing up your leftovers, they're off the hook nummy. They are super easy to make and here's what you do…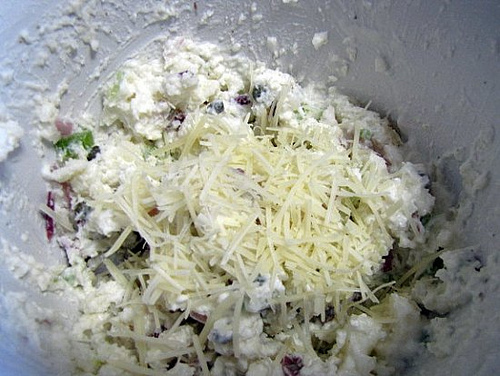 Mash your potato salad with a potato masher and add a little parmesan to the mix.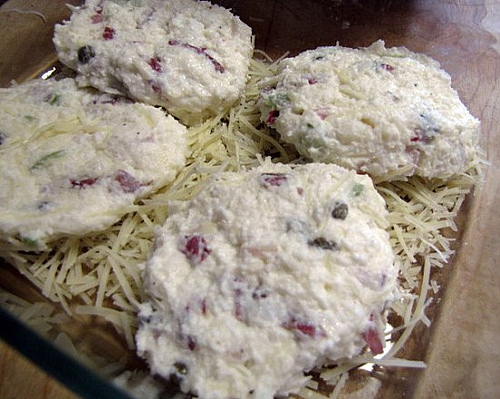 Form the potato salad into little pancakes. Layer the bottom of a glass dish with shredded parmesan and press your potato salad pancakes firmly down on top of the cheese. Coat the tops with more parmesan. Don't be stingy, you want a nice solid, crisp coat of cheese on your potato pancakes.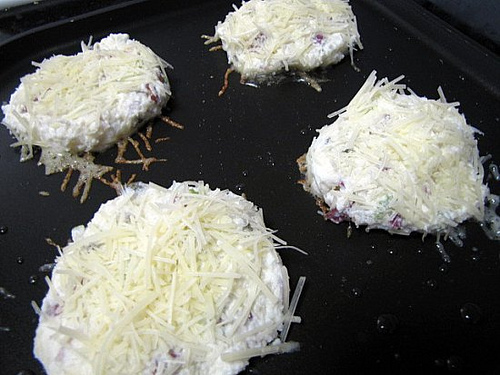 Gingerly place each pancake in a preheated nonstick skillet coated with olive oil.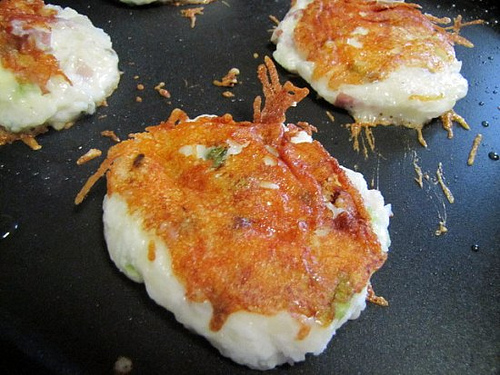 Let them sear on each side for approx. 4 minutes or until golden brown. Be careful when you go to flip them, they're delicate.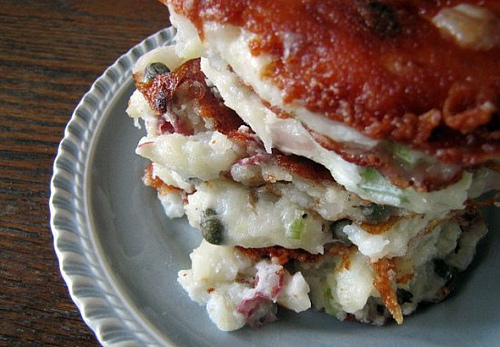 Oh yeah, now that's what I'm talking about kiddos!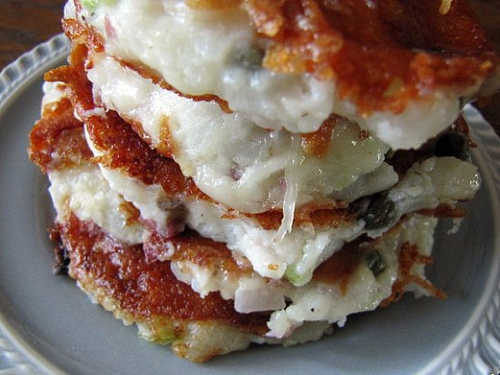 The crisp parmesan crust only enhances the mediterranean flavors already found in the potato salad.
So the next time that you're stumped this summer and can't think of what to do with all of your leftover potato salad simply add cheese and fry it up. I'm actually going to make another batch for frying purposes only.
By the way, how do y'all jazz up your leftovers?
Have fun playing around in your kitchen with this recipe and keep me posted on what new creations you come up with :)
Xoxo,
Tickled Red
Parmesan Encrusted Potato Salad Cakes–Makes Approx. 4-6 cakes
*This recipe depends on the amount of leftovers that you have*
3 cups potato salad
1 cup shredded parmesan cheese
1 teaspoon olive oil.
Prep: Coat a non stick skillet with olive oil and preheat on medium high.
Add approx. 2 tablespoons of parmesan to the leftover potato salad and mash with a potato masher or fork; some small pieces left whole are perfectly fine. Do not whip the potatoes or you risk the chance of creating moisture, this will cause your pancakes not to form or hold together as well.
Form small round cakes in your hand approx. 4″ in diameter, roughly the size of a hamburger patty.
Layer a square or rectangle baking dish with half of the parmesan cheese and press the potatoes cakes firmly in the cheese to throughly coat the bottom of the cakes.
Liberally coat the tops of the cakes with the remaining parmesan cheese.
Gingerly transfer the parmesan encrusted potato cakes to the preheated skillet and sear on both sides approx. 4 minutes or until golden brown. Be careful when you flip the cakes because they are delicate.
Serve warm and enjoy!
Shari/ Tickled Red
[/print_this]