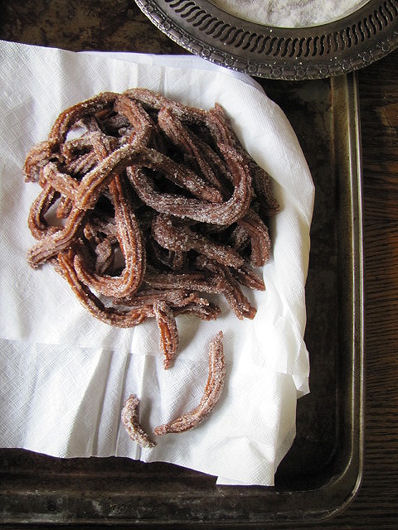 Are you a doughhead? You know, someone who loves all the myriad flavors, sweet and savory that soft dough can shelter. Even stirring it and kneading it brings you joy, basking in the heady aroma as it bakes. What about fried dough, does it push you over the edge from simple joy to ripples of rapture? Then this is the place for you today.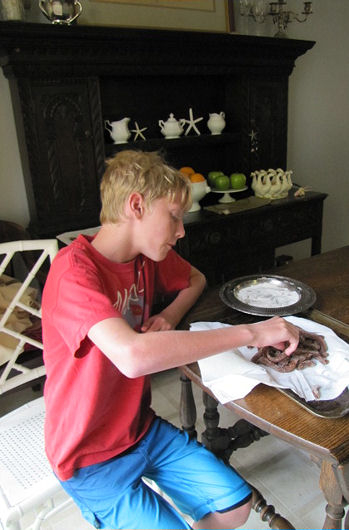 Guess who else gets all giddy over dough. If doughhead happens to wind up in the Webster's Dictionary, M1's photo will be right alongside it. To be sure he will be grinning from ear to ear as he munches on a doughnut, or some other doughy concoction. Yep, he is a proud card carrying member of the Doughhead Club and yes, I do add the word head to each of the fun adjectives I use to describe our boys…it's a habit. Guess what else he loves?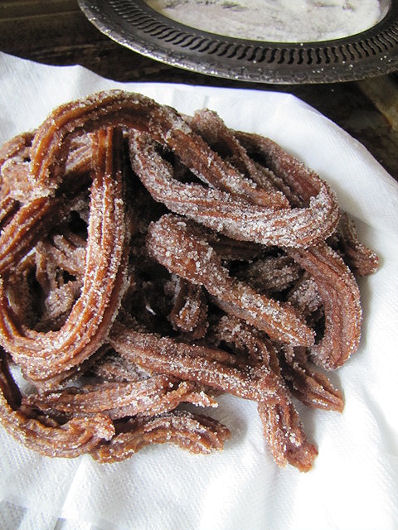 That's right Nutella. Now he has his little brother hooked on fried dough and ooey gooey, chocolate, hazelnut goodness! Before I started bopping back and forth across the country I promised them that we would make churros since they are both so enamored of fried dough. The boys have never had them before and I have never made them, so it was another great food adventure for us. Seeing as how you might not have made them before either I'm going to show you what we did step by step.
Before you begin making the dough heat 2 inches of vegetable oil in a deep skillet, preferably cast iron or one with sides that do not slope.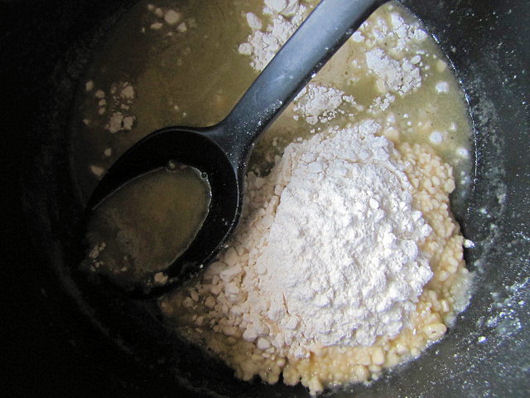 Step 1. In a pot bring the brown sugar, water, butter and salt to a boil. Add the flour and remove from the heat.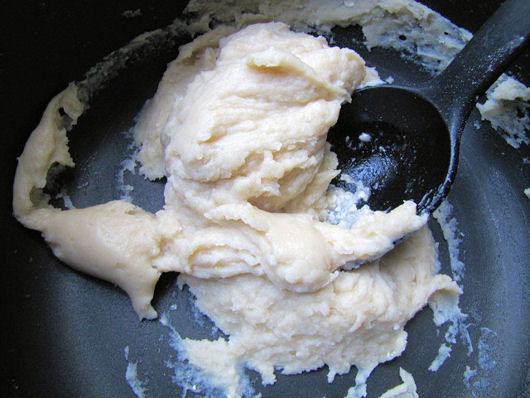 Stir vigorously until well blended.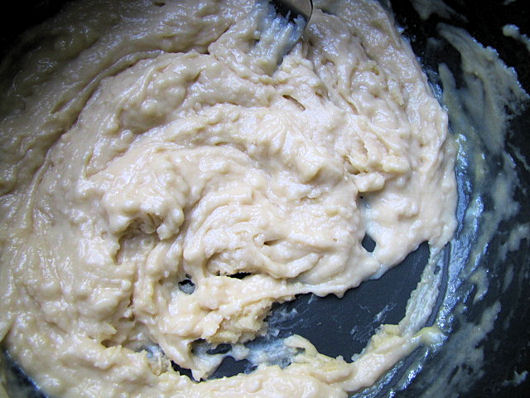 Add the combined egg and vanilla into the flour mixture.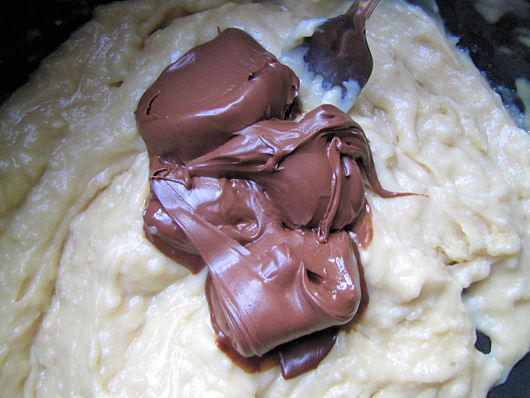 Then comes the fun part…adding the Nutella! Hello chocolatey hazelnut decadence.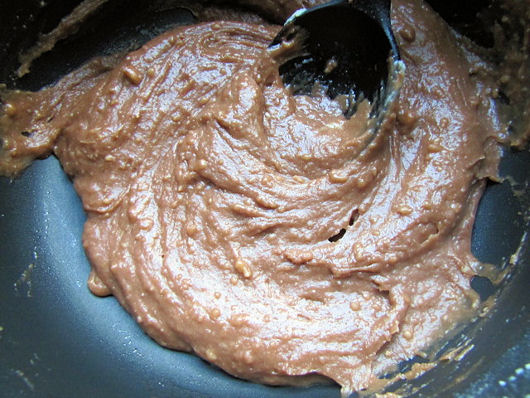 If you don't pause to take photos like we did your dough should be lump free *wink*.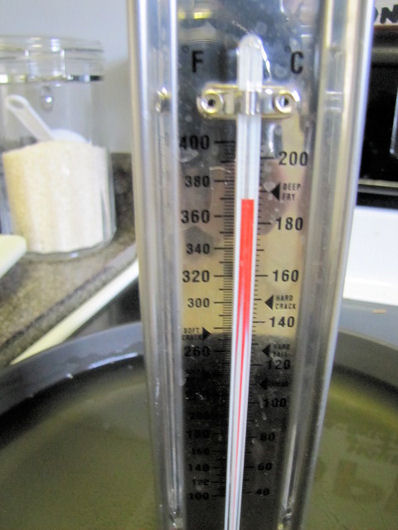 Check your oil; it should be at least 360-375. If you don't happen to have a thermometer handy, drop a small piece of dough into the oil to make sure it is at the right temperature. The bubbles that form around the dough should move rapidly. At this point, lower the heat a little so that the oil does not become too hot.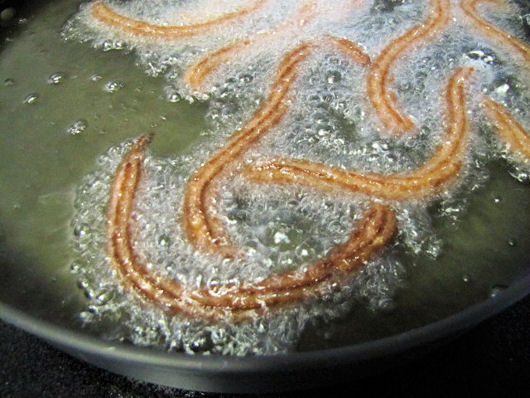 Drop and fry! Turning the churros so that they cook evenly on both sides. Here is where it can get tricky due to the Nutella. Typically you would look for a light golden color then remove them from the oil but the Nutella has already turned them a nice nutty color. My advice is to make a couple of test churros first so that you can tell which nutty brown color is done and which is crispy. That way you can get your timing just right for the rest.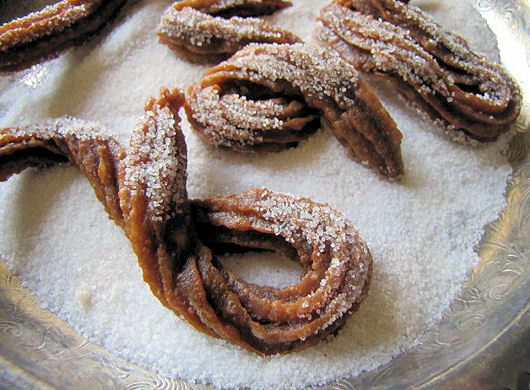 Once you are done frying all of the Nutella churros roll them in sugar and cinnamon…Double Joy! Then watch them disappear faster than you can say, "perfectamente"!
Thanks to the boys we'll be making churros all the time, they are super easy guys! Enjoy playing around with some yourselves this weekend. If by chance you don't have your membership cards yet to the Doughhead Club just let me know, I have a stack on my desk ready and waiting.
Love and Hugs,
Shari & The Monkeys
[print_this]
Nutella Churros –Makes about 2 dozen
Ingredients
1/4 cup sugar
1 teaspoon ground cinnamon
2 eggs
1/2 teaspoon vanilla extract
1 cup water
2 tablespoons brown sugar
1/2 teaspoon salt
1/3 cup butter
1 cup white flour
5-6 tablespoons Nutella
Directions
Preheat 1 1/2 to 2 inches of vegetable oil in a 10 to 12 inch frying pan to 375 degrees.
In a separate dish mix together sugar and cinnamon, set aside.
In a separate bowl, mix the eggs and vanilla together, set aside.
In a large sauce pan add the water, brown sugar, salt and butter and heat to a boil.
Remove from the heat and add the flour, stirring until well blended.
Add the combined eggs and vanilla to the flour mixture, stir until well blended and all of the egg is completely incorporated.
Fill a cookie decorating tool with the churro recipe dough, attach the largest star tip you have.
Test your oil by placing a small amount of dough in it. The dough should bubble up right away or the oil is not hot enough to fry the churro.
Once the oil is hot enough, squeeze some dough with the cookie decorator into the oil, approx. 4 inches long. Using your finger to release the dough from the tip of the decorator, being careful not to burn yourself.
Cook 4 to 5 churros at a time to avoid over crowding, too many churros at one time will lower the heat of the oil. Cook them for approx. 2 minutes, turning them over with a slotted spoon to cook evenly on each side. Look for a nice nutty brown color.
Remove the churros with a slotted spoon, placing them on a paper towel-covered plate to absorb the excess grease.
While they are still warm, roll each churro into the sugar and cinnamon until coated.
Serve and enjoy!
Shari/Red
[/print_this]