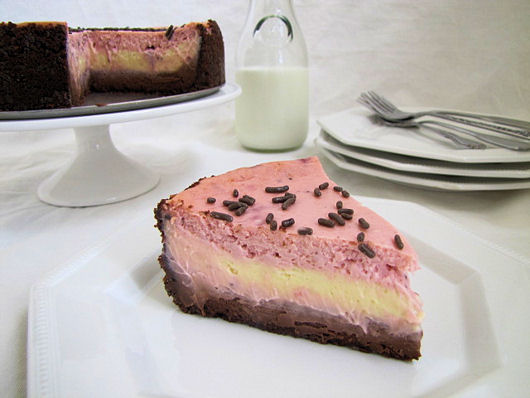 What do you get when you combine a fun surprise visit, a craving for ice cream and a pushy surfer? Why a fun cheesecake of course…duh! Ok, that's not fair how could you guys guess that without a little background info.
Part of my Mother's Day wish was to enjoy a fresh crisp waffle cone piled high with sweet sticky ice cream, dripping across our fingers. My initial plan was to take the boys to our favorite ice cream parlor but we had an unexpected surprise visit from our buddy Mike. We don't get to see him very often so that was a wonderful surprise during Mother's Day weekend. The more the merry at the ice cream parlor right. Not quite, DS being the supportive loving dear that he is had promised Mike an unbelievable, over the top cheesecake during his visit.
Y'all have noticed the absence of baked goods on the blog lately, well there is a reason for that. The words slump and block come to mind. We all go through creative highs and lows it's how we handle them that counts right? My way has been to channel an ostrich burying my head in the sand until my creative synapses started firing again. What can I tell you guys, the ostrich has been my totem of late. So Thursday night the conversation went a little something like this…
DS– Guess what babe Mike is coming to visit this weekend.
Me– That's nice, do you have anything fun planned for him while he's here?
DS– Oh you know the usual. Taking him surfing, wearing him out. Taking him to play paint ball and lighting him up with bruises. Oh, and one of your cheesecakes.
Me– Honey, now go easy on Mike he's not…Hunh, what!? Umm…I haven't made a cheesecake in like fo-evah! You know as in not since the last presidential election fo-evah…dude!
DS– 1.) It has not been that long. 2.) I know. 3.) Quit mumbling and shooting me evil looks from under the blanket. It has been too long, here's your push because I know you won't let me break my promise.
UGH! All I can say is that my surfer was right. He fights dirty with that anvil dropped on my Catholic guilt button but he was right.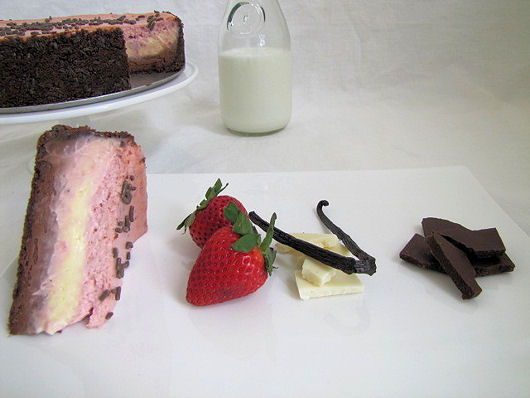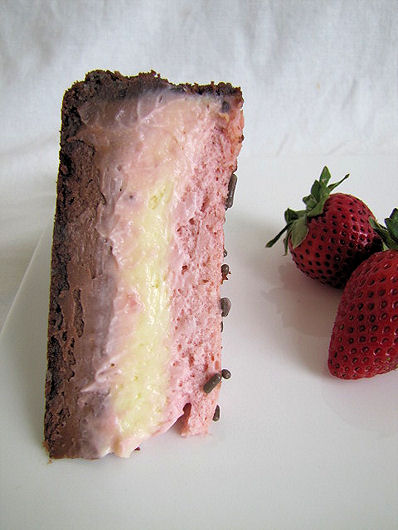 Dreaming about sweets, getting elbow deep in batter and seeing the end result makes the Christmas Sugar Plum Fairy seem as sparkly as a garden gnome.
If I'm being honest there are many aspects of my creative side that I have been ignoring lately. So rather than go into the lows that have had my head spinning out of it's normal sunny orbit, I'm going to go back to being cheesy instead. Cheesy is good right? George McFly falling out of a tree, stuttering his way through an explanation is my definition of  the perfect cheeseball. Him or Jim Belushi.
Whether it's cornball humor or cream cheese all decked out in it's finest, sign me up for cheesy any ole' day of the week! Both make me smile from ear to ear but hamming it up in the kitchen is the best! Boy have I missed baking, thanks for the push honey :D
Love, kisses and cheesy antics~
Shari-Tickled Red
[print_this]
Neapolitan Cheesecake-Serves 8-10 slices
Ingredients
Crust:
1 1/4 cups chocolate cookie crumbs (I used Teddy Grahams)
1/4 cup unsalted butter, melted
1/2 cup chocolate sprinkles
Filling:
3 packages (8oz) of cream cheese, softened
3/4 cup sugar
3 whole eggs
2 teaspoons pure vanilla extract
3 ounces semisweet chocolate, melted & cooled (see **note**)
1/2 teaspoon cinnamon
3 ounces white chocolate, melted and cooled (see **note**)
1/2 cup strawberries, crushed
3 drops red food coloring
Prep:
Preheat oven to 350 degrees
Coat an 8 or 9 inch spring form pan with cooking spray or butter.
Directions:
In a bowl thoroughly combine cookie crumbs, sprinkles and melted butter. Press cookie mixture into the bottom of the spring form pan and approx. 1 1/2 inch up the sides. Place in the freezer to cool.
In a mixing bowl, with paddle attachment, beat the cream cheese and sugar on medium speed until smooth. Add the eggs one at a time until fully incorporated, stopping in between to scrap down the sides. Add the vanilla extract.
Divide the batter into thirds. Incorporating one third into the prepared melted semisweet chocolate, one third into the melted white chocolate and one third into the crushed strawberries. Add three drops of red food coloring to the strawberry mixture and blend well .
Pour the semisweet chocolate batter over the prepared crust and place in the refrigerator to cool for approx. 5 minutes or until slightly firm. Pour the white chocolate batter over the semisweet chocolate batter and place back in the refrigerator to cool fro approx. 5 minutes or until firm. Pour the strawberry batter over the white chocolate batter  and smooth the top.
Bake at 350 degrees for approx. 45 to 55 minutes, just until the top is lightly golden brown and the center has a slight jiggle. Let cool on a wire rack for approx. 2 hours. Cover and refrigerate for at least 6 hours to overnight. Serve and enjoy!
Shari/Red
** NOTE** Does melting chocolate give you the willies? Check out David's super tips for melting chocolate over at Liete's Culinaria!
[/print_this]