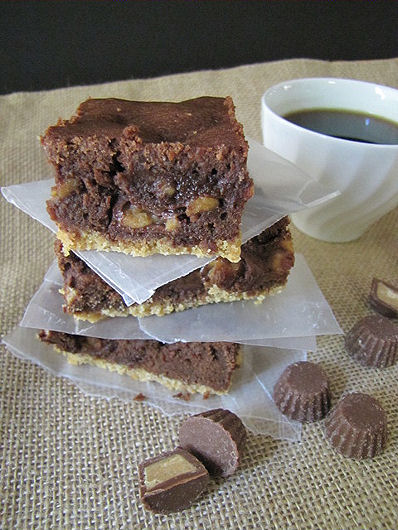 Back in April while I was suffering from ostrichitis, a bag of sweetness arrived at my door. I've been meaning to play around in the kitchen with it for a while now but as you all can imagine it took a little longer than I realized to shake the sand from my brain.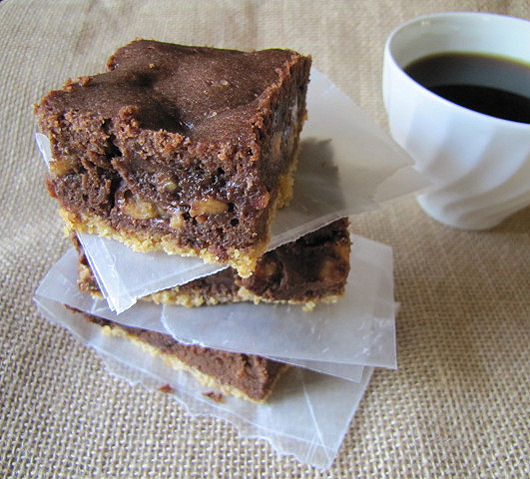 Those pesky little grains of sands have a knack for finding all sorts of nook and crannies to hide away in. Which is why I was thrilled to shake the last of them loose today, replacing them and my troubles with rich gooey chocolate brownies stuffed with my favorite peanut butter candy treat.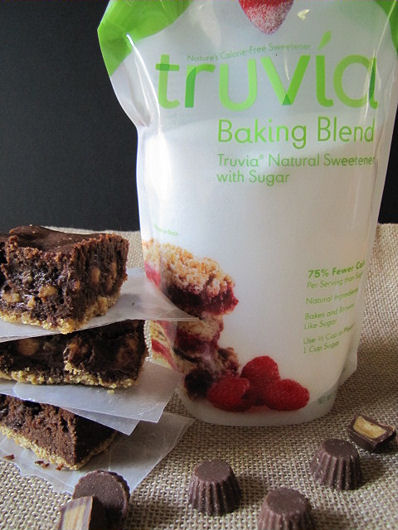 So what was that bag of sweetness that arrived? Truvia Baking Blend, along with some lip smacking recipes. I'll be honest with you guys, I'm generally not a sugar supplement girl but as you all know, I do try to watch what we eat which is why these grains of sweetness piqued my curiosity. The older that I get the more I've noticed how sugar is reacting with my body, where as I never used to notice anything before. Perhaps dad is right and I actually should have some coffee with my sugar in the morning, rather than the other way around.  That or take more notice of alternatives that are available.
Here are a couple of key points that I discovered while playing with Truvia Baking Blend…
Truvia® Baking Blend is a mix of zero-calorie Truvia® natural sweetener (stevia leaf extract, erythritol) and sugar (sucrose).
Erythritol is classified as a sugar alcohol. Sugar alcohols, also called polyols, are sugar substitutes that are either extracted from plants or manufactured from starches. Some of the more common sugar alcohol sweeteners are sorbitol and xylitol.
Truvia® Baking Blend is twice as sweet as sugar; therefore you only have to use half as much.
Has 75% fewer calories per serving than sugar.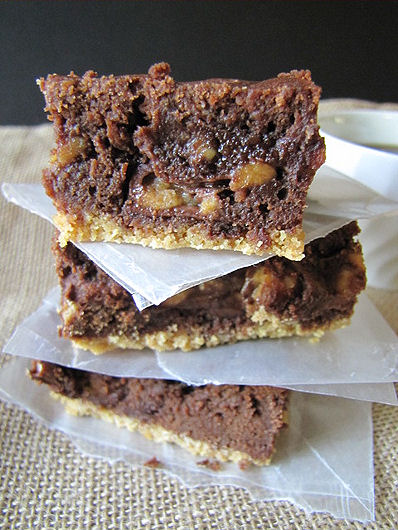 Now that is some SA-WEET info, especially when it comes to making desserts. Because my chase away the ostrichitis brownies just became 75% healthier. Okay, well maybe the addition of Reese's Cups tipped the scales back to the unhealthy side again but I had to play around with the recipe a bit, that's just me. I can't help but fiddle and have fun in the kitchen. If you prefer your brownies not to walk on the wild side just omit the candy and graham cracker crust.
I hope that you guys enjoy giving these brownies and Truvia a try, to my surprise we did. In the mean time, I'm off to have a evening snack with a cold glass of milk.
Love & Hugs,
Shari-Tickled Red
*I was generously provided with Truvia Baking Blend but this is not a sponsored post. Just me trying something new and having fun in the kitchen. All my opinions are my own. I am only ever influenced by the monkeys or surferboy ;D*
Mini Reese's Cup Brownies with Graham Cracker Crust-Makes 16 servings (2×2 inch sq.)
*Adapted from Truvia Baking Blend Brownie Recipe*
Ingredients-
1/4 cup unsalted butter, melted
3/4 cup graham cracker crumbs
1 tablespoon Truvia Baking Blend
3 ounces unsweetened baking chocolate
1/4 cup unsalted butter
1/4 cup canola oil
2 eggs, large
1/2 cup Truvia Baking Blend
1/2 teaspoon salt
1 teaspoon vanilla, pure extract
2 tablespoons skim milk (I used whole milk)
3/4 cup all purpose flour
1/2 teaspoon baking powder
1  bag of Mini Reese's Cups, 8 ounces
Directions-
Assemble all of the ingredients; preheat the oven to 325 degrees. Coat with baking spray an 8×8 square pan.
In a mixing bowl combine 1/4 cup melted butter, graham cracker crumbs and 1 tablespoon of Truvia Baking Blend. Pour crumb mixture into a coated baking pan and press down until firm. Bake crust for approx. 5 minutes until set. Remove crumb crust to cool.
Add baking chocolate, 1/4 cup butter and canola oil in a large microwaveable bowl. Heat for 30 seconds, stir. Repeat and stir to melt the chocolate.
Whisk together the eggs, Truvia Baking Blend, slat, vanilla and milk in a separate bowl. Add the egg mixture to the chocolate mixture and stir until well combined. Sift together the flour and baking powder. Fold flour mixture into the chocolate mixture, until just combined. Do not over mix. Add the Mini Reese's Cups.
Pour the batter over the crust which is in an 8×8 square pan. Bake for approx. 18  minutes, or just to the point when the wet surface disappears. Do not over bake.
Remove from the oven and place on a cooling rack for at least 20 minutes.
Enjoy!
Shari/Red