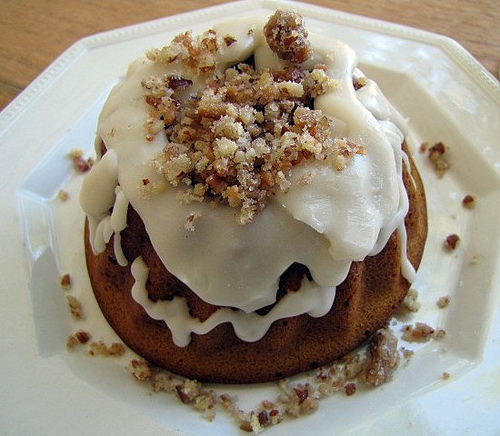 It's that time of year again. Time to pull our light sweaters and jeans from storage, but not quite time to ditch the flip flops. The beach has gone from crowds of summer fun, to serene long expanses. There are little signs all around that the seasons are changing. I don't know if I've ever mentioned this before, but fall isn't quite so easily defined here. It makes teaching young children about how the seasons change a little tricky.
We don't have an abundance of fall leaves painted in hues of the sunset or brilliant crimson. Summer holds on to the very end, with days in the high 70's through the end of October. Yet lately, in the early hours of morning, the air has become pleasantly crisp. You can smell fall on the breeze, and with it all the aromas of harvest time that envelope us in their warmth.
Of course with fall there's also the beloved pumpkin. Pumpkins for carving into fun Jack o' Lanterns and especially for baking. Baking all of those warm spiced flavors with sweet honey alongside the boys makes the world feel cozy and bright. It almost makes me want to slip into my fuzzy warm slides…almost. I'm not ready to relinquish my flip flops or the joy of dipping my toes into the surf just yet. I will however make all sorts of fall inspired dishes to enjoy, whether it is cool enough for them or not.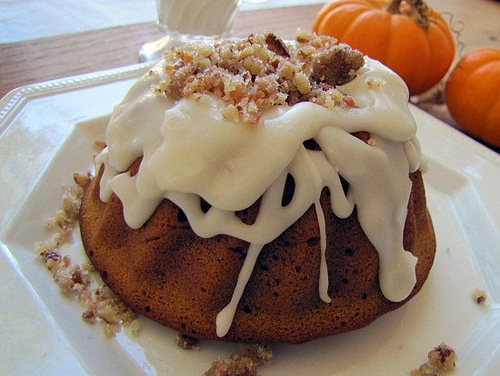 What I love most about our latest recipe is that it's naturally sweet y'all. With the addition of honey rather than sugar, it's a wonderful treat that goes along with our attempt to reduce the amount of processed foods that we eat. No, you haven't stumbled into the blog of someone else so rest easy. As a family we've actually been cutting back on processed foods for years now for various reasons. DS, being the Cali boy that he is, has always preferred an eclectic healthy menu. I still try to sway him over to the dark side with my traditional southern fare on occasion. Personally I started to think more about how I ate while I was pregnant, but the quality of our food became even more important when I was diagnosed with an auto immune deficiency. Most of which do not respond well to high quantities of sodium found in processed foods.
Yes we eat bacon, I cook with butter and sweets are one of our loves but we eat those in moderation. Though last week when I saw my friend Aimee's post about going a whole month without any processed foods whatsoever, I decided to see where we were still lacking. Of course, as it would happen, that would be in the sweets department…go figure. I admit it guys, I have a love affair with all things sugary sweet and baked. It's not that I have a huge sweet tooth, quite the opposite. I simply like baking for the emotional attachments. The feeling that baking evokes in me is one of hearth, home and wholesomeness. If what I bake looks pretty when I'm done, well then that's just the cherry on top. In the spirit of eating better and truly baking something wholesome I tried one of my favorite fall recipes without the sugar. Oh my goodness was I ever pleasantly surprised.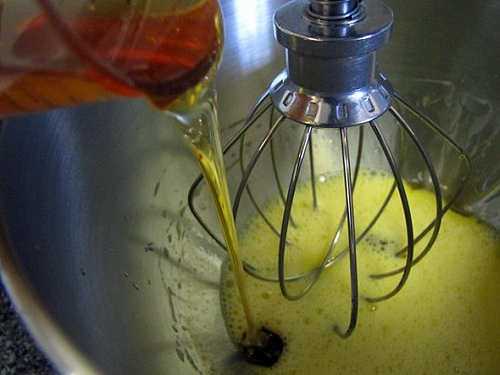 The addition of gorgeous, thick, sweet honey transformed my Pumpkin Rum Pound Cake into Pumpkin Honey Pound Cake. Yes, the honey was so good that it showed the rum who's boss in the world of sweet flavors. In fact, it shined so much I decided to removed it from the recipe altogether.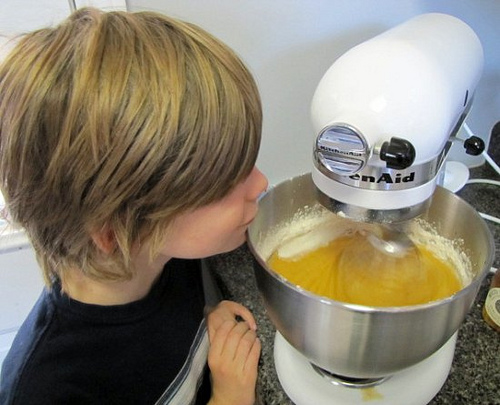 Most of all I was able to pass this delicious discovery onto my sous chef. My little guy loves to be in the kitchen watching our KitchenAid whisking batter and getting his hands into the mix…literally. His big brother prefers to dream up the recipes and supervise. Now that I think about it, that's pretty much how they approach life as a whole. M1 is the creative thinker/writer in the family and M2 likes to create with his hands. Isn't it funny how little tidbits about your life come to you while you're telling a story.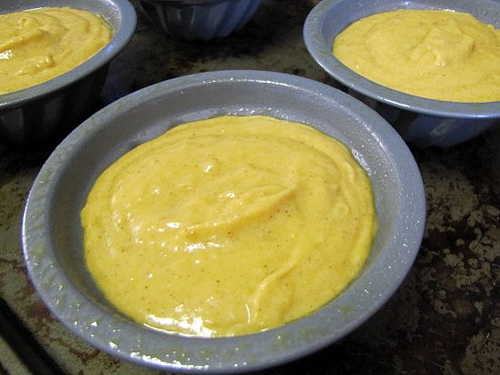 M2 decided to make individual little bunt cakes rather than one big one. He likes the fact that he gets his own cake, rather than just a slice of one. I have to say that I agree with him completely. Not to mention they look adorable when drizzled with Maple Glaze and Praline Crumble.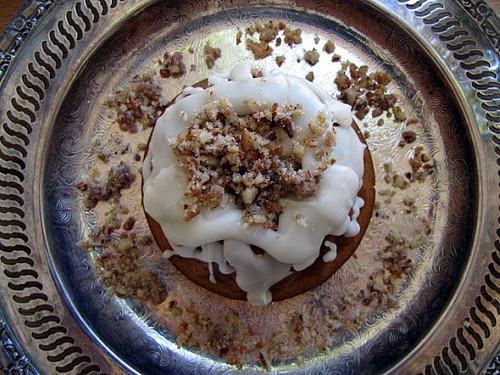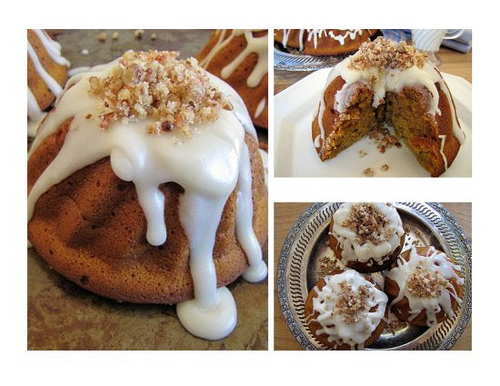 Okay, so I  fudged the the no sugar part of the recipe when it came to the glaze. I'm not perfect you know. I searched everywhere for a way to make glaze without using confectioners sugar, but didn't have any luck. If y'all know of one please let me know, I'm always up for a helping hand and learning something new. In the meantime a smidgen of sugar is okay…right?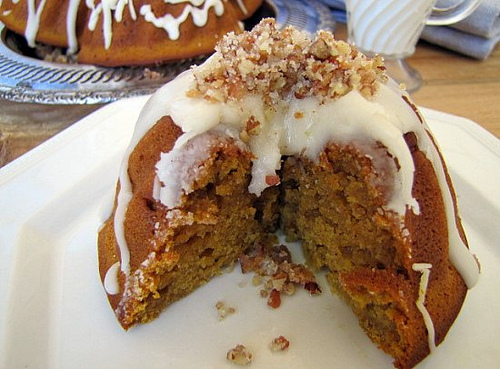 I can't tell you how moist this cake is, nor does my photo do it justice. I hope that you guys give it a try soon, and discover for yourself the difference in texture and flavor that you get from switching your sugar with honey. I also hope that you guys consider joining us in the Unprocessed Challenge going on this month. Don't worry, no one expect us to be perfect in our attempt. Although any steps towards a healthier lifestyle are always good ones, no matter how big or little they may be.
To be honest, I'll be curious to hear how y'all are eating differently so that I may learn something new from you and incorporate it into our daily routine. Keep me posted guys :D
Love & Hugs,
Ticked Red
[print_this]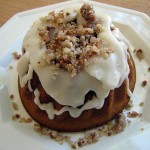 Pumpkin Honey Pound Cake–Makes approx. 8 small bunt cakes
Prep Time:Approx. 15 minutes                                                                                                                                                                                                                                                     Bake Cook Time: Approx. 30 minutes for small bunt cakes

3 cups unbleached  flour
1 tablespoon baking powder
1 teaspoon Salt
1/2 teaspoon baking soda
1/4 teaspoon nutmeg                                                                                                                                                                                                                                                                        1/4 teaspoon allspice                                                                                                                                                                                                                                                                        1/4 teaspoon cloves                                                                                                                                                                                                                                                                               1 1/2 teaspoon cinnamon                                                                                                                                                                                                                                                                     1 tablespoon orange zest
3 eggs
1 1/2 cups clove honey (plus 1 tablespoon per cup)
15 ounces pumpkin puree
3/4 cup melted butter
1/2 cup milk
Preheat oven to 350 degrees
In a mixing bowl combine the flour, baking powder, salt, baking soda, spices either by sifting or with a fork. Blend in the orange zest and set aside.
Beat eggs until light and fluffy in a mixer on low speed. Add the honey until well blended. Beat in pumpkin puree and melted butter.
Combining alternately the flour mixture, add the milk to pumpkin mixture a little bit at a time.
Pour the batter into well greased mini bunt molds. Bake for approx. 30 minutes or until an inserted toothpick comes away clean.
Maple Glaze-Makes approx. 1 cup
1 cup confectioners sugar
4 tablespoons of pure maple syrup
1 tablespoon of chopped pecans
Whisk the confectioners sugar and maple syrup together in a bowl until thoroughly combined.
Drizzle immediately over your cake or muffins, since it hardens quickly.
Enjoy!
Shari/Red
[/print_this]