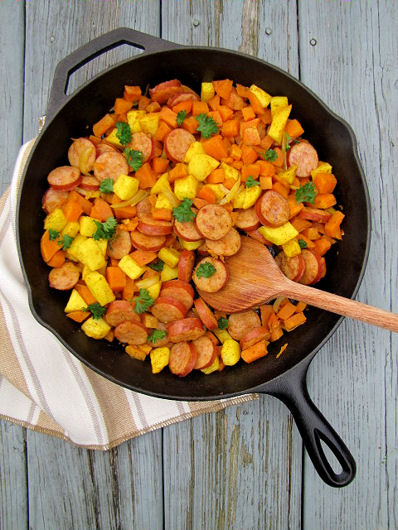 There are some evenings where the prospect of cooking a meal for the guys seems utterly daunting. My brain already taxed between work and running the boys around town is not up for complicated in the kitchen. If it wasn't for the compelling desire to know that they have eaten a well balanced meal my heart probably wouldn't be in it either on those evenings.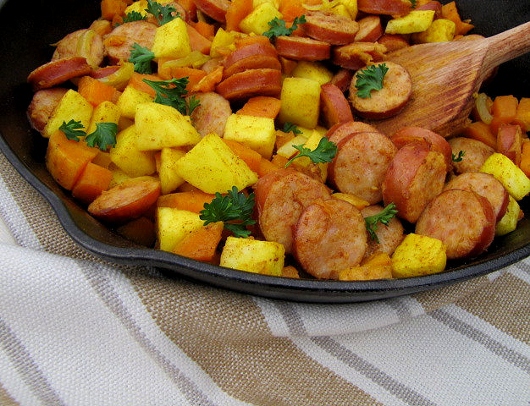 When I am exhausted and at my worst is when my spirit seems to rally, calling forth poignant reminders to tug at my heartstrings. Compared to many we are extremely blessed. Whether we have bought our food or grown it ourselves, we are fortunate to have the luxury of sharing a nutritious meal together. Not all parents are faced with the simple question of home cooked or take out. Their choices are more dire, soul wrenching as they try to decide who will eat and who will face hunger until the next time they have food. It makes my heart weep to imagine that unending burden.
Did you know that nutrition is a hidden killer for nearly 2 million children around the world? It is hard to fathom the sheer magnitude of that statement until you put it into perspective. Chicago is home to 2,695,598 people; imagine that bustling windy city suddenly empty one day…astounding is it not.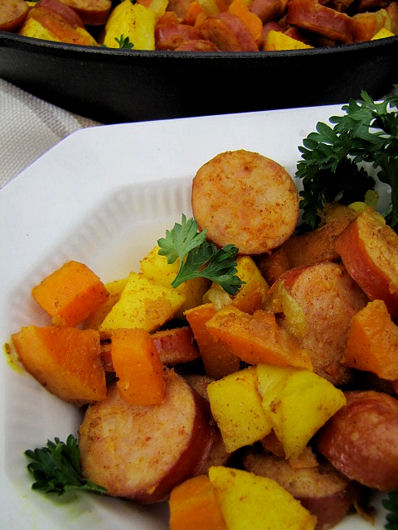 I would like to take a moment to introduce you all to a wonderful group of people, ONE who have been working diligently to help fight world poverty and thereby raise awareness for world hunger as well.
" Extreme poverty can seem like an abstract idea. Some terrible thing that happens to people you've never met — halfway around the world. But for 1 billion it's their daily existence. Millions of people die from completely preventable disease. Parents are forced to choose which child eats today. Poverty in any form is a terrible thing. Extreme poverty is an unacceptable thing. ~ONE"
We have had many conversations with the boys about how we were raised to "think globally-act locally" but fortunately, they are growing up in today's technological age where they are able to do both. That old aggravating statement of, "You're only one person what serious change can you make?" does not hold as much deterring weight as it used to, or at least it shouldn't. The opportunity of ONE truly reaches further today than it did 20 years ago which is exciting!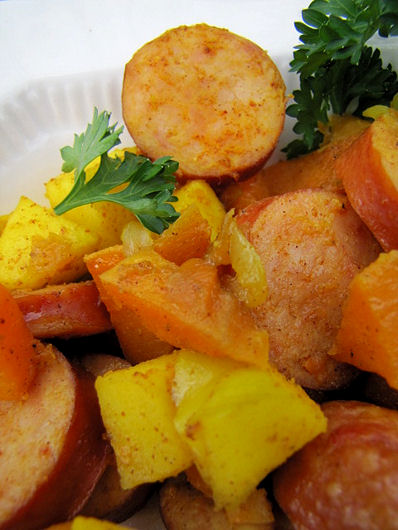 To lend a helping hand and get the message of ONE across the guys and I are celebrating Sweet Potato Day with a quick easy one skillet dish that will be on your table in 30 minutes. Luscious bites of sweet potatoes, golden delicious apples and savory kielbasa all melded with rich spices. No more hectic night blues.
Why celebrate the sweet potato you may ask, because it is packed with nutrition and blessed with the ability to grow in many places. The sweet potato is literally saving lives!
My dear friend Alice of Savory Sweet Life, who joined #OneMoms on a trip to Ethiopia this past year and a few other darlin' blogging friends are also sharing their sweet potato recipes for ONE today. Check them out…
Sweet Potato & Black Bean Burritos from This Week for Dinner
Truffle Sweet Potato Frites from Savory Sweet Life
Sweet Potato & Chicken Sausage Stew from Chefdruck
Honey Sweet Potato Biscuits from Food for My Family
Sweet Potato Burgers from Cutie Booty Cakes
What's Gaby Cooking and Sweet Potato Day
Women and Work and Sweet Potato Day
World Moms Blog and Sweet Potato Day
Go Graham Go and Sweet Potato Day
Cranberry Sweet Potato Crumb Cake from Barbara Bakes
Bourbon and Marshmallow Sweet Potatoes from Boston Mamas
Documama and Sweet Potato Day
Sweet Potato Bread Pudding from Eat the Love
Lamb Shanks with Sweet Potatoes and Sausage from Kitchen Gadget Girl
Sweet Potato Love To Help End World Hunger from Love That Max
Celebrating Sweet Potato Day with Mom Trends
Sweet Potato Chili from Righteous Bacon
Cooking Sweet Potatoes for Picky Eaters from Rookie Moms
Sweet Potatoes and Global Health from Third Eye Mom
Sweet, Dude, Sweet Potato Breakfast Hash from Helen Jane
Oh My Sweet Potato Apple Bake from Bowl Licker
Sweet Potato and Peanut Gratin from Non-Reactive Pan
Sweet Potato Fries from When You Wake Up a Mother (also found on Million Moms Challenge)
You will find us on Twitter, Facebook, Instagram as well as many other favorite social media outlets today sharing #sweetpotatolove and the potential of ONE. We are also signing the petition over at ONE's website asking our leaders to please make measurable commitments to reduce chronic malnutrition for 25 million kids by 2016 so they can reach their full potential, please join us.
All our love,
Shari and The Guys
[print_this]
Indian Spiced  Sweet Potato Kielbasa Bake~Serves 4
Ingredients:
2 tablespoons olive oil
1/2 cup onion, diced
3 1/2 cups sweet potatoes, diced (approx. 2 whole)
14 ounces kielbasa, sliced
1 whole apple, diced (I used Golden Delicious)
1 tablespoon butter
1/2 teaspoon curry
1/2 teaspoon turmeric
1/4 teaspoon coriander
1/2 teaspoon chili powder
1/2 teaspoon cumin
1/4 teaspoon cinnamon
Directions:
Preheat oven to 425 degrees
In a large cast iron skillet toss the diced sweet potatoes and onions with the olive oil and bake first for approx. 10-15 minutes. In a large mixing bowl combine the diced apples, sliced kielbasa, butter and spices thoroughly. Add to the sweet potatoes after approx. 10-15 and continue to bake for another 10-15 minutes or until the sweet potatoes and apples are fork tender.
Serve and enjoy!
Shari/Red
**Note: This can be a vegan meal with the removal of the kielbasa and the addition of beans**
[/print_this]