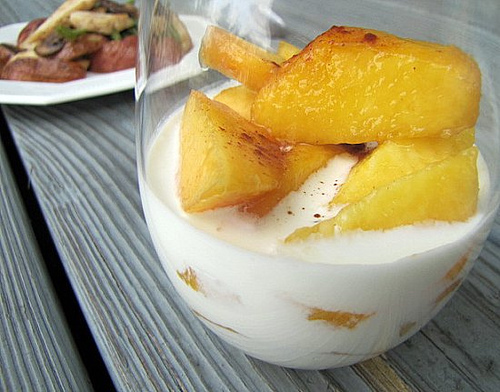 As you all know my darlin' surfer was off playing in the waves for the last three weeks. During that time you may have noticed that there hasn't been many, if any recipes coming out of my kitchen. If you've been keeping up with my shenanigans you know why. So when my good friend Paula of Bellalimento invited me to a virtual Dinner and Dessert party with Bertolli I jumped at the offer. Someone else to make dinner while I had my hands full was an easy yes on my part.
Most days you'll find me making our meals fresh with the vegetables that we have in our garden or from our local farmers market. There are times though with our hectic schedules that it's convenient to have a meal we can make in 10 minutes that is not only healthy but delicious. Bertolli's pasta, sauces, vegetables and chicken do not contain any preservatives. That is very important to me seeing as how I have thyroid issues. What I discovered is that Bertolli takes pride in making all of their frozen dinners with the best ingredients possible.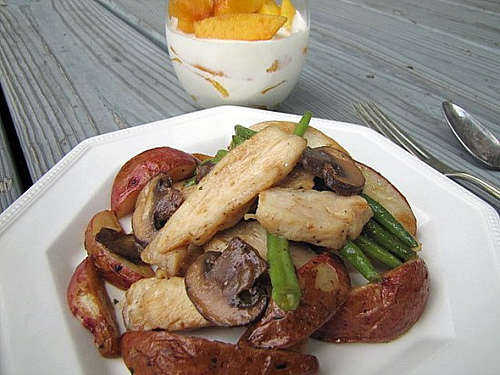 With our Bertolli meal of Chicken Marsala & Roasted Redskin Potatoes decided upon all I had to do was channel my inner sweet tooth.  If only I could come up with an easy, delicious, healthy dessert that wasn't to complicated or over the top. Something that would be done in the same amount of time as our meal and not require a lot of heat. You guys know that I like to go big when it comes to sweets but with the 105 degree heat that we have here even in the shade my baking has regrettably fallen to the side.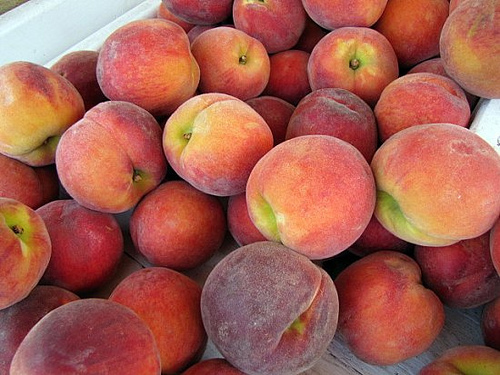 I had stopped on the way home by the local fruit and vegetable stand to get some fresh peaches before they were all gone. There the memory struck me of how in Italy fresh fruit is a delightful treat after most meals. Simple and yet it is the least complicated dishes that usually resonates with us the most.
Here in the south we have a classic dessert that is referred to often but not savored nearly as much as it used to be. Sweet, delicate, cool peaches lounging in cream is the perfect dessert during our hot humid summers. Best of all it requires zero baking and few ingredients. It can even be decadent when you play up the flavors a little.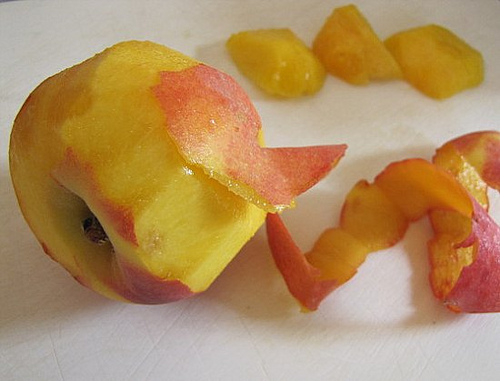 All you need is 6 peaches peeled and sliced.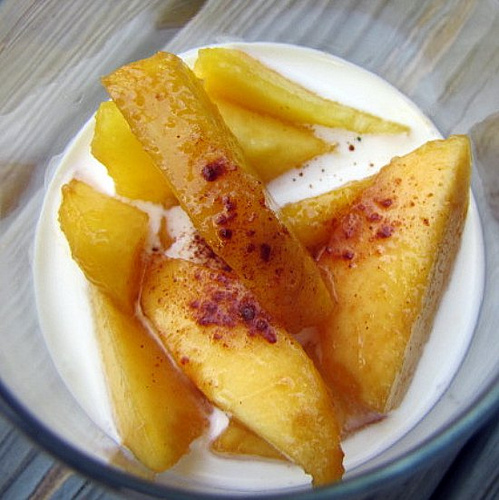 Place the slices in a bowl or short glass and pour some chilled heavy cream over the peaches. Sprinkle with cinnamon…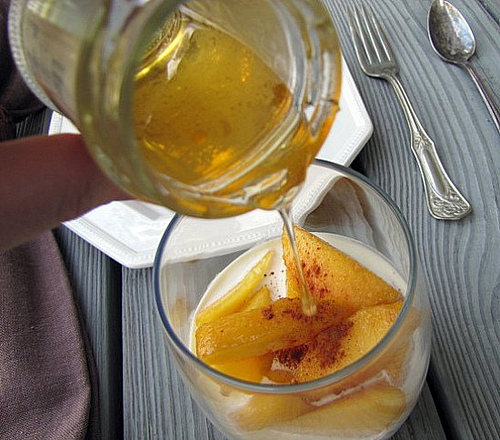 Drizzle with honey…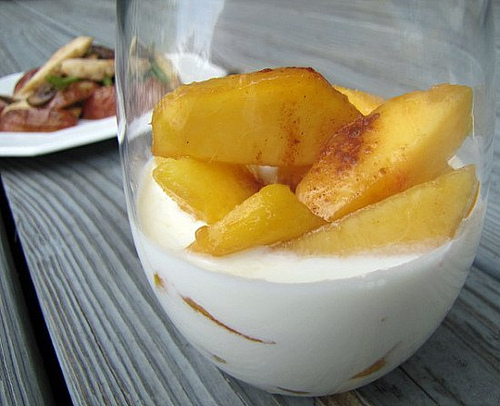 Voila! A beautiful, delicious dessert that will make you smile not only because of how good it is but because it was semplice.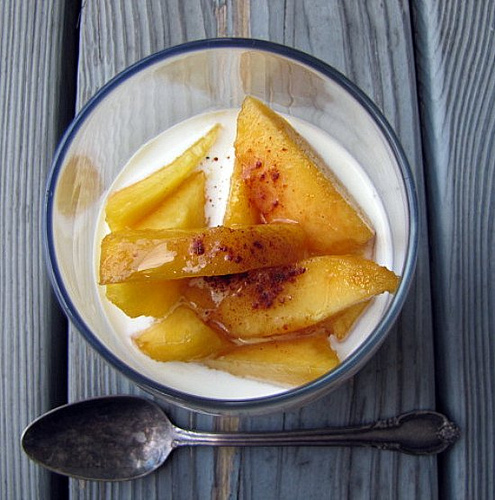 After enjoying grilled chicken with cremini mushrooms, green beans and roasted redskin potatoes in a Marsala wine sauce, a bowl of peaches and cream drizzled with orange blossom honey and sprinkled with cinnamon simply sent me over the moon. Can you see me swinging in my hammock?
I hope that y'all enjoy revisiting a southern classic with me sometime soon. Feel free to play around with the flavors and make this your own.
While you're at it check out what the other lovely ladies at the dinner party enjoyed and made for dessert.
Susan-She's Becoming Doughmesstic
Hugs and Love,
Tickled Red
[print_this]
Honey Cinnamon Peaches & Cream -Makes 4 servings
4 cups sliced, peeled peaches  approx. 6 medium peaches
1 cup heavy cream
4 tablespoons Orange Blossom Honey
2 teaspoons cinnamon
Directions:
Peel and pit the peaches.
Slice the peaches.
Place peach slices in a small bowl or short glass about half way.
Pour 1/4 cup cream over each prepared bowl/glass.
Sprinkle 1/2 teaspoon of cinnamon over each bowl of peaches and cream.
Drizzle 1 tablespoon of honey (or more if desired) over each bowl of peaches and cream.
Enjoy!
Shari/Tickled Red
[/print_this]