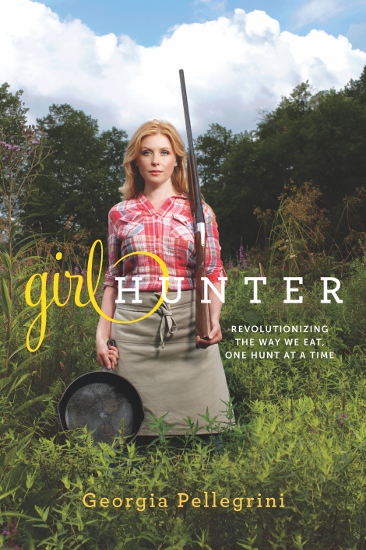 When I was very young, before we moved to the beach my dad used to go hunting. My most vivid memory is when he came into my room once during the wee hours of the morning. Kissing me goodbye before he headed out with the guys. Mumbling through sleepy yawns, as I snuggled my Pookie doll I asked him, "You aren't gonna shoot Bambi are you daddy?" and he replied, "No baby of course not. We never shoot the babies". Reassured that all was right with the world and that my dad was not a killer of sweet defenseless little Bambi, I snuggled back into my dreams of innocence. With the morning light came reality and the momma deer hanging from a tree. I never looked at deer or hunting the same way again.
For some reason, even though my formative years were spent growing up on a farm with a smoke house and all that came with living off of the land, that memory was defining for me. Guns, target practice and our friends hunting never bothered me. Yet, unless someone snuck a bite in with my food, I never willingly ate deer or game meat from that day forward. Part of me has always wanted to go back and rewrite that moment in my childhood. Especially after I read Girl Hunter-Revolutionizing The Way We Eat, One Hunt At A Time: By Georgia Pellegrini. Don't let the blond hair and blue eyes fool you guys. This lady is as sharp as a tack, on all levels. A former Wall Street trader Georgia punched out of the hustle and bustle, deciding to follow her heart and attend the French Culinary Institute. On top of all of her many other accomplishments Georgia can write! Check her out…
"I am a girl who has been sharpening her human instincts and discovered in the process how satisfying, how natural, and how inspiring it is to play an active role in my omnivorous life.-Georgia Pellegrini"
Georgia makes me want to throw off my lingering childhood preconceptions and venture down a path that I have always secretly longed for. In Girl Hunter you vividly find yourself holding your breathe along with Georgia as she takes her first shot at a wily turkey and as she goes all Rambo on a wild boar. Among the tales of her journey towards a more responsible authentic omnivorous life, Georgia has sprinkled in quite a few mouth watering recipes. One of which is her amazing Moroccan Elk Stew.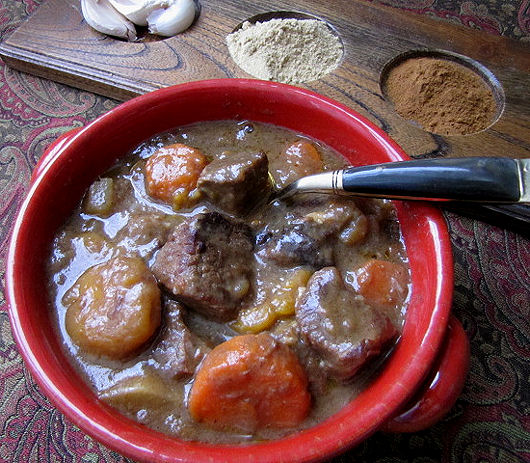 Unfortunately I don't live anywhere near where elk roam but Georgia thoughtfully suggests substitutes for the protein in her recipes. That way if you are unable to procure elk, dove or javelina you are still able to prepare the recipe. I was hoping to make this stew with venison, taking that leap towards conquering my preconceptions. But all of our buddies who hunt only have ground venison left until they go hunting again. One of these days in the near future it will happen. You never know there might actually be elk in my bowl the next time.
I can tell you guys that Georgia's Moroccan Stew passed the staunchest of critics with flying colors. Our youngest, M2 has high standards for stew. He wasn't sure about the added fruit, cinnamon and ginger while we were cooking together. Once he took a bite though he was pleasantly surprised. The combination of sweet apricots with a hint of cinnamon and rich savory beef broth left us all wanting more.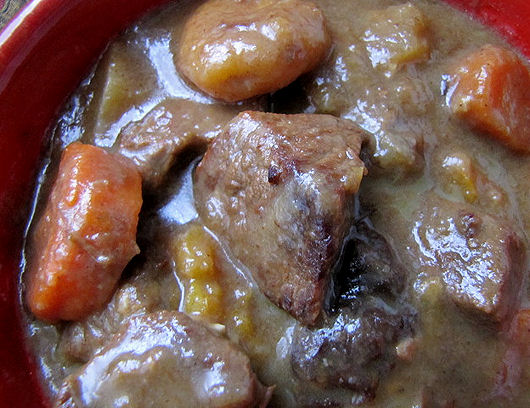 My dad hung up his guns once we moved to the beach. Lack of time and taking care of a growing family partially factored into my parents adapting a new lifestyle for us. Maybe if we had stayed in the mountains I would have ended up a Girl Hunter, but I have found that where our parents lead we usually follow to some degree. Georgia has inspired me to create a new path. One where moms are teaching their sons and daughters how to live off of a suburban land. Setting aside time to rekindle old traditions with renewed perspective.
Maybe the next time that she is passing through NC the boys and I can talk Georgia into teaching us how to hunt in the swamps of Whiteville. In the meantime I will keep reading her book and now that it is available in stores I highly recommend that you guys check it out as well. Girl Hunter would make a terrific Christmas gift, no matter how old y'all are or if you are a boy or a girl.
Thank you so much Georgia for sharing your beautiful book with us!
Love, hugs and happy hunting!
Shari-Tickled Red
[print_this]
Moroccan Elk Stew–Serves 8
Also try: beef, lamb, bison, venison and other antlered game
4 pounds elk shoulder or haunch, cut into cubes
3/4 cup all purpose flour
4 tablespoons grape seed oil or butter
1 teaspoon salt
1/4 teaspoon ground cinnamon
1/4 teaspoon ground ginger powder
1/2 teaspoon freshly ground black pepper
2 medium sized onions, roughly chopped
4 carrots, peeled and chopped
2 medium sized turnips, peeled and chopped
3 cloves garlic, roughly chopped
2/3 cup dried apricots
2/3 cup prunes, pitted
3 to 4 cups beef or antlered game stock
1. Heat a large, heavy bottomed pot with oil. Ina bowl, toss the elk cubes in the flour. Shake the cubes well and place them in the pot in batches, being sure not to crowd them. Brown them on all sides and transfer to a plate or rack.
2. Put all of the browned meat back in the pan and sprinkle with the salt, cinnamon, ginger and pepper. Then add the vegetables, garlic, and dried fruit. Pour in enough stock for the meat to be three-quarters covered, and bring it to a biol. Lower the heat so the bubbles percolate. Cover and simmer gently for 2 hours, until tender.
Enjoy!
From the book Girl Hunter by Georgia Pellegrini.  Excerpted by arrangement with Da Capo Lifelong, a member of the Perseus Books Group.  Copyright © 2011.
[/print_this]