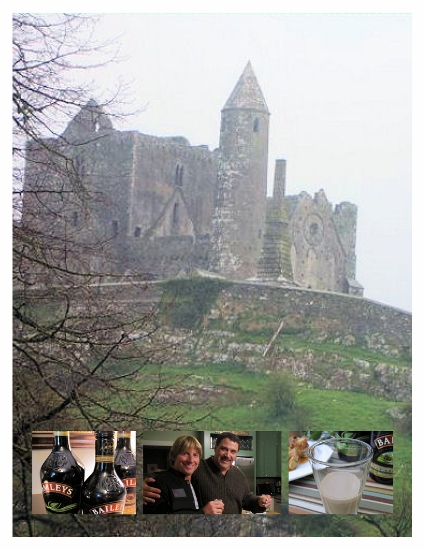 The holidays, to me, represent all things warm. Spiced cinnamon, soft sweaters, laughter by a crackling campfire but, most of all, the enduring warmth of friendship. During the holiday season we tend to focus on our families. Reflecting on times gone by, moments of joy that await us, and all that we are thankful for. Although to some, family can mean more than parents or siblings.
To them, close friends are as much an integral a part of their lives as their immediate relations. We would fall into this category. Spending time with our friends is nearly as important to us as spending time with our families. I suppose it is due, in part, to DS's family living so far away. As well as a tendency, that we both seem to share, to adopt those close to us and include them as an extended part of our family.
It is also the same for us with some of the places that we visit. A few have felt like home, calling to us to stay a while longer or return for good. While we're there, we dream about the next trip back and who we would like to bring along to share in the experience. DS and I happen to enjoy a large group of friends and family around us. "The more the merrier" is our motto. We all know time can get the better of us living in an age of perpetual motion.
We try our best to balance everything, but between work, our kids' active social lives, and life in general, it is amazing how quickly time can go by between visits. Making the time in our schedules to show our friends how much we appreciate them is something that we struggle with and should do more often. We may not be able to find the time to take a week long excursion with each other, but we can transport ourselves in an evening. Through good food and drinks, music, and friendship we can travel to one of the places that we've always wanted to go with our friends.
Which is why when Baileys® asked us to participate in Friendsgiving we didn't hesitate. Baileys® Original Irish Cream, with their premium Irish whiskey and fresh cream, brought back memories of our trip to County Kerry, Ireland that we took a few years back. Ireland sang to my heart, wrapped me up in its comforts of hearth and home, and I nearly stayed. One day we will go back to Ireland but, in the meantime, that is where we went with our friends for our first Friendsgiving with Baileys.
It didn't take us hours, or days, to get there. Nor did we have to cross the Atlantic. We simply went over to Tammy and Frank's home where we gathered with friends, made a comforting warm meal, decadent dessert and toasted Baileys, poured over Romana Sambuca around a crackling campfire.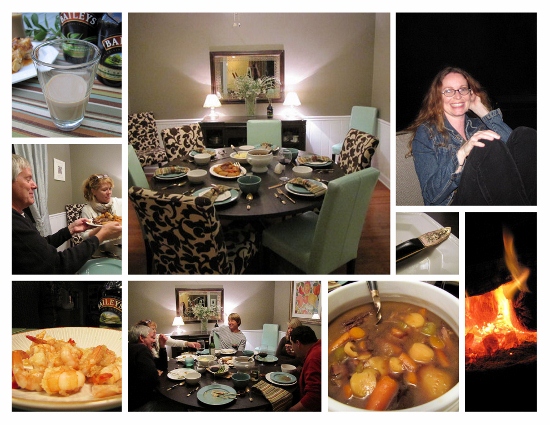 My gift to our friends was a home cooked meal and well-set table, without any of the stress involved. It was the least I could do for all their years of friendship, encouragement and support. I wanted to share with them how DS and I spent our evenings cooking while we were snug in our Irish cottage, yet also highlight some of our coastal southern loves. With a little old southern rock playing in the background, we shared stories, filled our bellies and wiped away tears of laughter from our eyes.
Baileys Coconut Shrimp kicked off the evening and was the perfect warm up for our rich hearty stew of beef with sweet parsnips and carrots. If any of our friends weren't up for soup, they could enjoy the roast and vegetables on their own. With fresh asparagus and helpings of mascarpone mashed potatoes smothered in steak sauce made with Baileys, we were all more than satisfied. The addition of Baileys to the sauce lent a rich sweet full-bodied flavor that was unsurpassed. Finally, my friend Tammy's favorite, Caramel Apple Bread Pudding. It didn't hurt that the bread pudding had a helping hand from Baileys® with a hint of Caramel.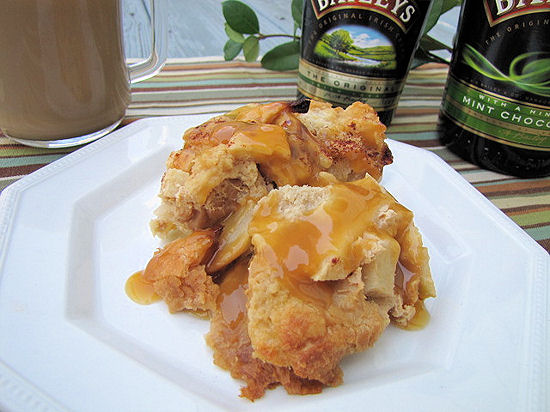 Winter Juleps kept us warm by the fire after dinner, a twist on a southern classic. Baileys® with a hint of Mint Chocolate, along with coffee and brandy, jazzed up our summer sippers into nice hot toddies.
We also sipped on some Blessings. This drink embodies my Irish Italian roots and actually developed some significance. You see in Italy, when you drink Sambuca neat it is called a "Con Mosca". With your Con Mosca comes three coffee beans for health, wealth and happiness. In Ireland you have the Claddagh, which I wear for my wedding band. With the Claddagh you have the crown (loyalty,) the heart (love,) and the hands (friendship). What better way to get all of our Blessings at once than to pour Caramel Baileys over Romana Sambuca.
We have been each others' rocks through the transition into middle school with our eldest sons, and they have all been my support through the ups and downs with my career the past two years. I honestly don't know what I would do without them. Our boys will get older and possibly drift apart as youth will do, but I truly hope that our friendships will only continue to grow and age well as we reach our golden years.
May all of your friendships be blessed and your holidays full of joy!
How would you spend your Friendsgiving?
Shari-Tickled Red
[print_this]
Blessings

1 ounce Romana Sambuca
1 ounce Baileys® with a hint of Caramel
3 chocolate covered espresso beans
Pour the Sambuca into a glass first and gently, over a spoon float the Baileys® Caramel on top of the Sambuca. Garnish with espresso beans and sip slowly, it's sweet but has a kick.
This recipe contains no more than 0.6 fl. oz. of alcohol per serving.
[/print_this]
[print_this]
Winter Julep
1 cup of dark coffee
1 ounce of Baileys® with a hint of Mint Chocolate
1 ounce Bertrams VO
sprigs of fresh mint
Combine the Baileys and brandy with the coffee, garnish with fresh mint and enjoy.
This recipe contains no more than 0.6 fl. oz. of alcohol per serving.
[/print_this]
[print_this]
Baileys Steak Sauce–Makes approx. 1 cup
1 cup beef broth
2 tablespoons Baileys® Original Irish Cream
2 teaspoons butter
1/2 teaspoon balsamic vinegar
salt & pepper to taste
In a sauce pan over medium high heat melt the butter in the broth and bring to a boil. Add in the Baileys, balsamic vinegar and season to taste with the salt and pepper. Simmer on a low boil until the broth thickens slightly. It should resemble Worcester Sauce. Pour over steak, sliced roast or mashed potatoes and enjoy.
[/print_this]
[print_this]
Baileys Coconut Shrimp–Serves approx. 6
1 pound of cleaned medium shrimp (remove veins)
1/2 cup Baileys® Original Irish Cream
1/2 cup coconut milk
1/3 cup pineapple juice
1/2 teaspoon cayenne pepper (or more if you like it hot)
In a medium sized bowl combine all of the ingredients and let the shrimp marinate for15 minutes to an hour. As with most marinades, the longer the shrimp marinates the more flavor you will have.
Grill for approx. 3-4 minutes on each side or until the shrimp is pink on both sides or saute on med high heat in Olive oil for the same amount of time. Plate and enjoy!
This recipe contains no more than 0.6 fl. oz. of alcohol per serving.
[/print_this]
[print_this]
Baileys Caramel Apple Bread Pudding–Serves approx. 8
3 Granny Smith apples, unpeeled and cut into small pieces
Juice of 1 lemon
1 tablespoon unsalted butter, room temperature
4 cups of day-old french loaf
1 cups heavy cream
1/2 cup Baileys® with a hint of Caramel
3 large eggs
1/2 cup sugar
1/2 teaspoon salt
1/4 teaspoon ground allspice
1/2 teaspoon ground cinnamon
Heat oven to 325 degrees. Place apples in a small bowl, and toss with lemon juice; set aside. Butter a 9×9 baking dish. Tear the bread into pieces, set aside.
In a large bowl, whisk together cream, eggs, sugar, salt, allspice and cinnamon. Add apples, bread and toss to coat.
Carefully place the baking dish on the center oven rack. Cover dish with aluminum foil. Cook approx. 45-55 minutes, or until a knife comes out clean. Remove foil during the last 15-20minutes or until the top is just golden brown. Serve warm with caramel sauce on the side.
This recipe contains no more than 0.6 fl. oz. of alcohol per serving.
[/print_this]
Check out the BlogHer.com round-up page to read about other blogger's Friendsgiving celebrations.
Join Baileys on Facebook for more recipes and inspiration to throw your own.
PLEASE DRINK RESPONSIBLY.
R&A Bailey & Co. and The Century Council support responsible drinking. BAILEYS Irish Cream Liqueur. © 2011 R&A Bailey & Co. Imported by Paddington, Ltd. Norwalk, CT.