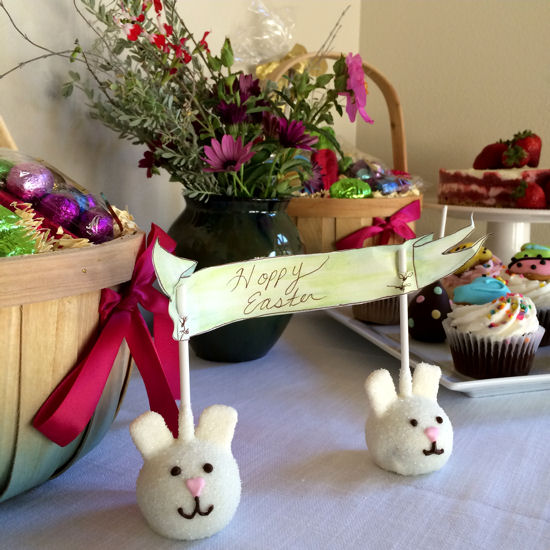 Happy Belated Easter! I apologize for the late post but being inadvertently unplugged for a week has its drawbacks. Not to mention the whole traveling across country on Easter Day aspect. I don't know about you guys but the holidays for me are steeped in tradition. Precious ones that Surferboy and I grew up with and were compelled to share with the boys, some we started on a whim creating new memories. With a mom's high hopes maybe a few will continue. I find that most stem from our upbringing or cultural backgrounds do you find the same to be true. No matter what the holidays will forever symbolize home and family in my heart. Being out of town this Easter I worried a little about which traditions we would still be able to recreate.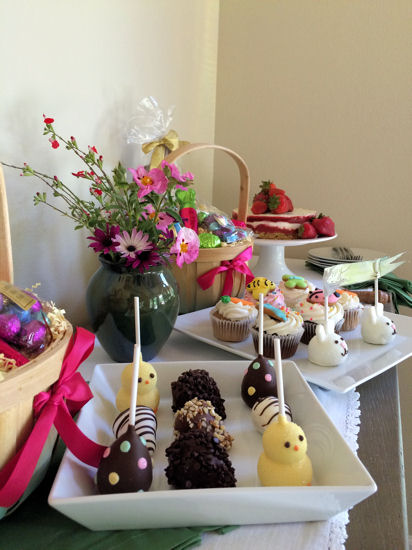 You see Easter is one of my favorite holidays, it fills me with joy from my soul to my sweet tooth. This year I didn't wish to leave out a moment of our usual customs. Seeing as how Patch will be heading off to college next fall this was especially important. Our holidays as a foursome will soon be dwindling. For us on Easter once the heart's been fed the day turns to a well-laden table trimmed with delicate dishes, plates of Italian pastries, overflowing Easter baskets then followed by an Easter egg hunt at my Dad & Step Mom's. This year we did have to give up the egg hunt and we nearly had to pass on the baskets as well. Trying to secretly or safely fly two chocolate bunny filled baskets to California didn't seem all that feasible.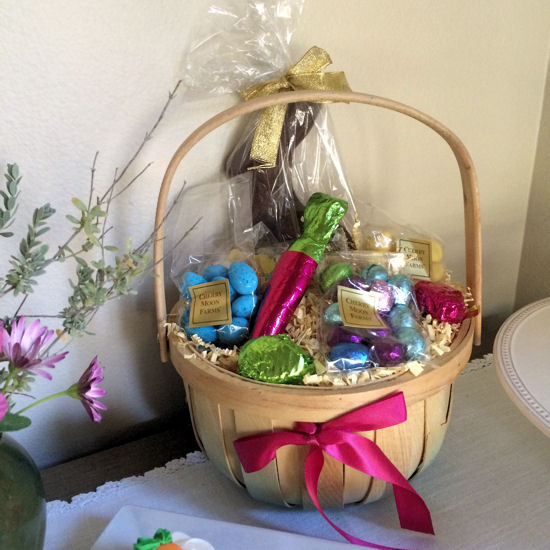 That is until Shari's Berries offered to send us these fantastic blue ombre Hoppy Easter Baskets along with some other delectable treats all the way to Cali! Talk about saving the day. You can always count on a girl named Shari (wink) to sweeten your holidays and special occasions. Now all I had to do was improvise the rest.
Here's what I did to maintain yet adapt our traditions to fit our travels…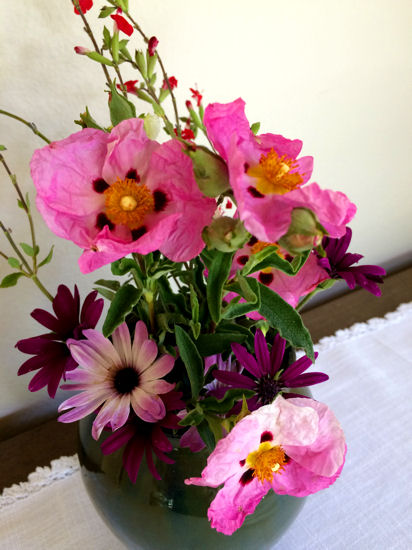 Bright fresh California wildflowers made a lovely substitute for our pastel bunny eggcups and vintage floral teacups. The home we stayed in is our friends' home which is still in the process of being outfitted after refurbishing. Not a delicate girly teacup was to be found.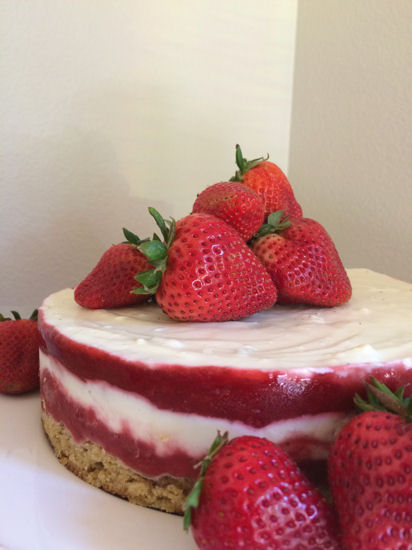 Fortunately the kitchen was complete and by the way gorgeous! Creating a nummy Strawberry Lemon Shortcake Cheesecake in that phenomenal space was a snap! Recipe coming soon.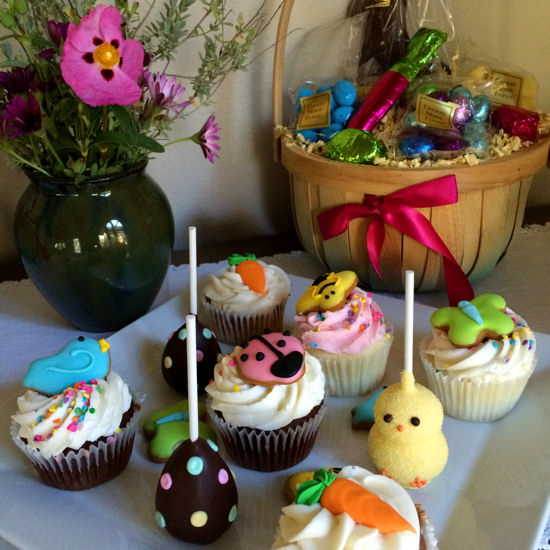 The cupcakes I purchased at one of the local bakeries rather than make myself because I didn't want to waste ingredients. I may bake a lot but there is no way we could eat everything that would come from even the most meager of supplies. As it is there is still cheesecake in our friends freezer.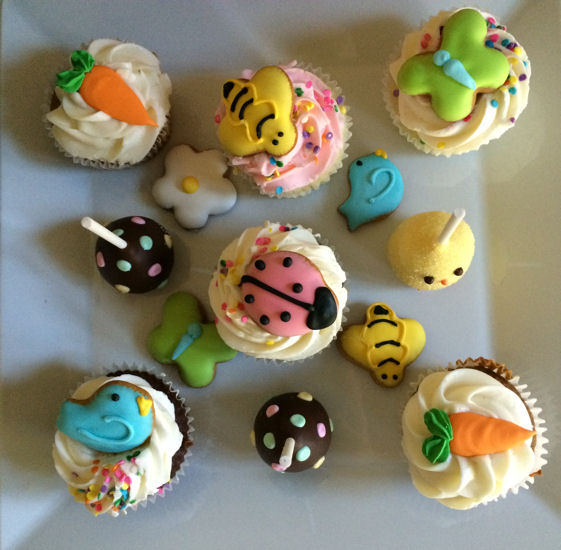 The cute cupcake toppers are actually cookies that Shari's Berries sent us along with the adorable cake pops. You'll have noticed in the first photo how I utilized my travel sketch pad and watercolors by making a "Hoppy Easter" banner to fit between the bunny cake pops.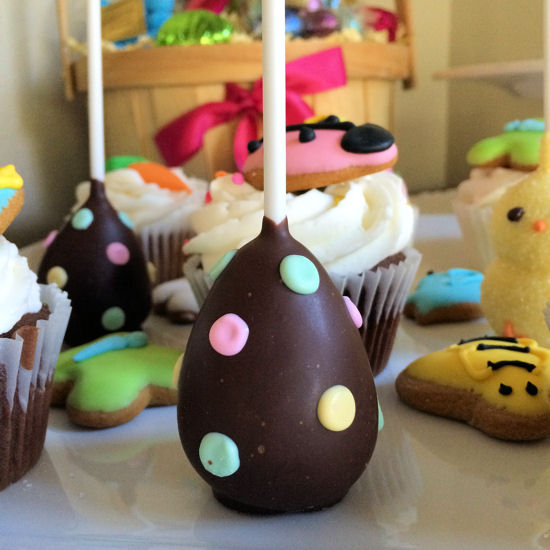 They made the whole table feel like spring!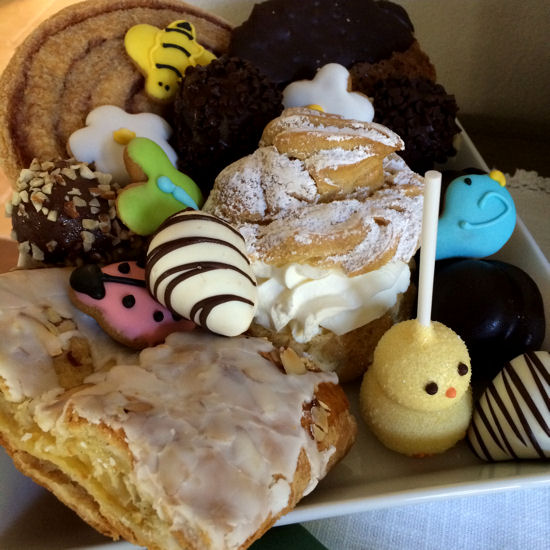 As for the plates of Italian pastries, we went with custard/almond paste filled Danish sweets, mile high cream puffs with berry filling, cinnamon crisps and more all from the Danish bakeries in Solvang. Sprinkled between the pastries were Shari's Berries luscious chocolate covered strawberries and delightful Easter treats. Have to say our usual cannolis' were not missed for long.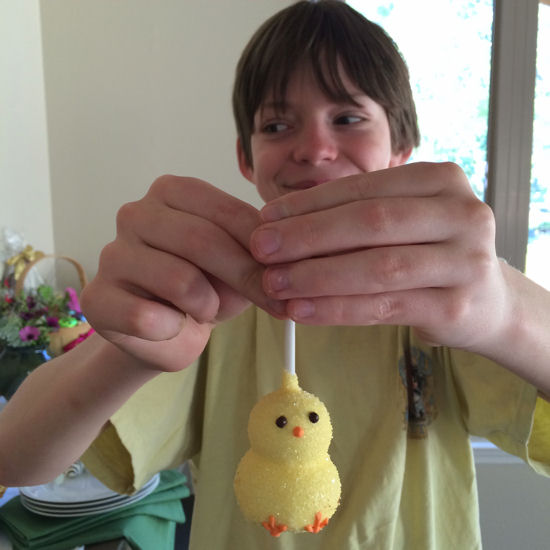 I know one monkey that found an even cuter tastier chick than the average marshmallow ones. The side-eye was for his big brother, no way he was sharing said chick. Good thing there were two!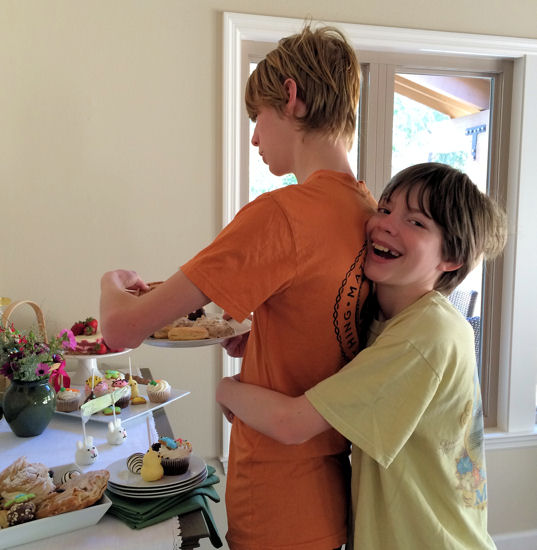 See no worries, they luv one another to pieces!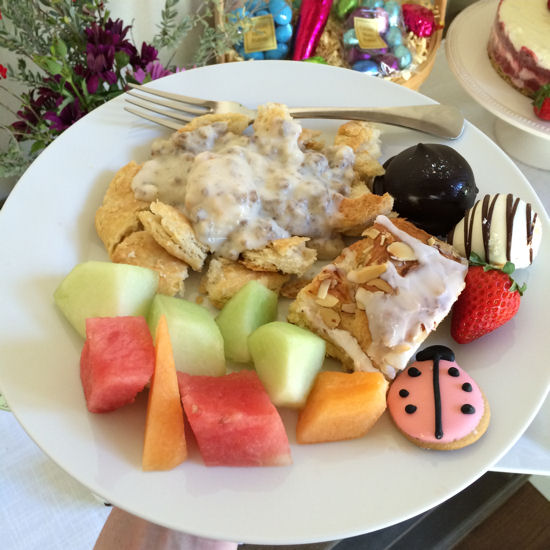 We hope that your Easter weekend was as full inside and out as ours was! Also remember, the next time you are traveling during the holidays you don't have to give up your traditions, however discovering new ways to celebrate can be just as rewarding!
All of our love!
Shari & The Guys