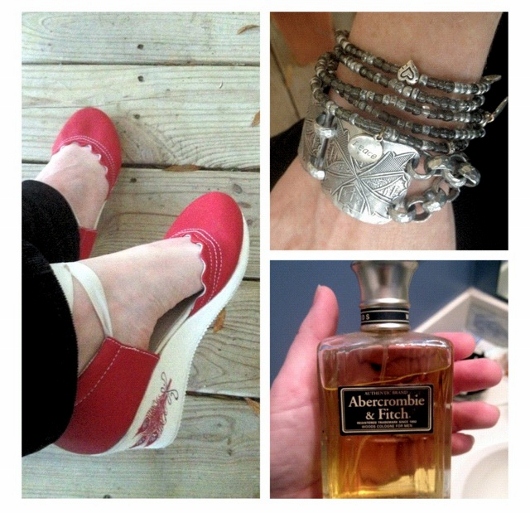 Have you ever had an impending appointment or occasion that automatically caused you to break out in a cold sweat just thinking about it?
Let's say you're headed to the dentists office in the morning and visions of evil screeching drills have been chasing you all night through your dreams. Perhaps you have an appointment with your child's principal and you know once you sit down in his office you'll revert back to the four eyed, head gear wearing, puddle of nerves you once were. Maybe you aren't plagued by superstitious fears like me and simply have a big job interview in the morning either way here are a few tricks I've learned over the years that help me walk out the door less stressed.
1. Confident Classics:
As much as I adore funky fashion, I discovered years ago that wearing something bold could sometimes add more unnecessary worry. Rather than feeling confident, I would find myself preoccupied questioning my choice. Was my outfit appropriate, did it read too young; would the color or print combined with the Bozo hair cause someone to get dizzy and trip? To avoid looking like a panicked maniac when I entered a room I went back to the basics choosing classic pieces. Don't worry, you can still be trendy depending on the cut but solids, classic lines and timeless pieces are my confidence boosters. Now I save my fun funky outfits for later.
My Top 10 Closet Classics
Button Down White Shirt
White Tee
Denim/Chambray Button Down
Pencil Skirt or Dress (solid color)
Light Weight Cardigan
Jeans
Slim Black Pants
Flat Front Khaki Pants
Denim Jacket
Light Blazer
2. Pop of Happy:
Now that we have covered the confidence boosters let's add an air of happiness. Personally, I go with happy feet but bold jewelry & festive scarves are another way to walk into the room with some cheer surrounding you.
3. Something Meaningful:
We can't always grasp onto a photo of our loved ones for support when we're stressed can we. Clinched sweaty fists with crumpled paper sticking out between your fingers might have the manager wondering about your mental health and calling security. However, you can wear something that has an emotional attachment such as your grandmother's bracelet or those sparkly earrings that your mom bought you for Christmas.
4. Spouses Cologne:
Along the lines of wearing something meaningful, I will even go so far as to spritz myself with Surferboys cologne. That way he is with me and I still smell good.
5. Extra Napkins and Cardigan, Blazer or Jacket:
All of these go together because if you're anything like me you may still be nervous even after all of the above tips and by the time your reach your destination you have already left half moon sweat stains under the arms of your shirt. Therefore, make sure you have plenty of napkins to dry off and something to cover up the evidence.
6. Smile:
No matter what! It's your best asset, making the other people in the room feel relaxed and you along with it.
Keep your chin up guys whatever life may throw at you!
All my love,
Shari-Tickled Red