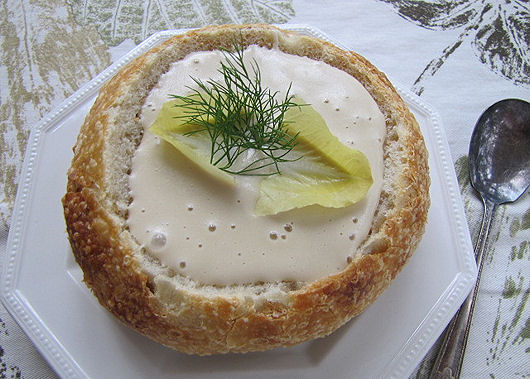 How many of you have seen that commercial with the lady trying to go home in someone else's Bentley? You know the one, where she's chatting about little baby quails and "an-deev" salads while her poor husband follows along like a dazed lost puppy. Well guess what, she was right. The Bentley wasn't hers of course, but she was right about Endive. It is indeed pronounced än-ˈdēv. You learn something new every day don't you? If you already knew this just skip past the fact that I am a bonafide dork 90% of the time. The glasses just make me look smart people otherwise; I'm a hot mess most days.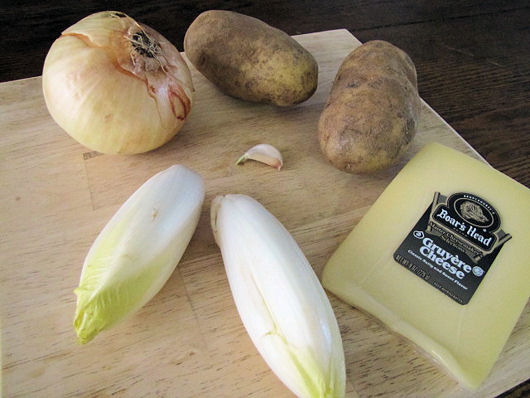 During Valentines, I received a lovely unexpected surprise on my front porch marked Perishable. Let me tell you guys that threw me because surferboy isn't one to order a gift online, never mind one that will spoil. Come to find out it was a lovely bouquet of Belgian Endives from the OnDivas at Discover Endive. It was one of my sweetest surprises this month. I won't lie February has felt like one of the funkiest of months so far.
Seeing as how it was cold the following week I decide to do something a little different with endive than I normally do and made soup. Snuggled up with DS on the sofa with my favorite throw, watching old SyFy shows enjoying a heaping bowl of warm creamy soup always makes the world turn right side up again. At least that was the plan. Unfortunately, we didn't get that far last week. Surferboy came home from work early the day that I was making soup and nearly inhaled all of it before I could get more than one good photo. You see I made the mistake of putting the soup in bread bowls. Yep, sourdough bowls turn him into a giddy, ravenous, eating machine. Good thing the bouquet had enough endive to make more than one recipe. So i made more this weekend to share with you guys. It's super easy!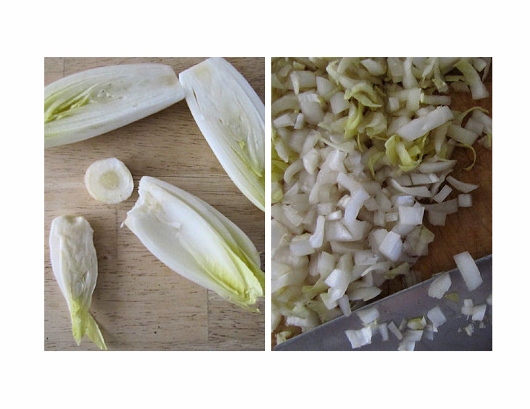 Core the endive by chopping of the end, slicing it in half and popping out the tough middle which has a slight bitter taste. Then mince the endive.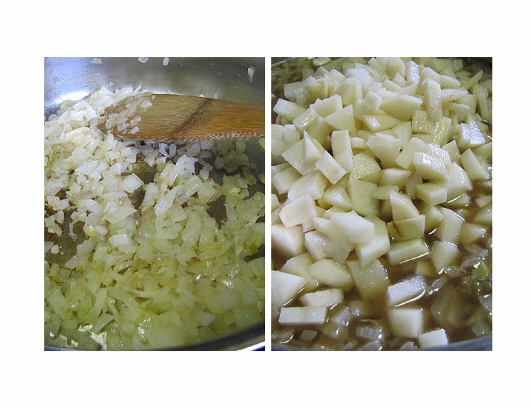 Saute in butter with onion and garlic. Add a little white wine, chicken broth and potatoes an simmer until soft.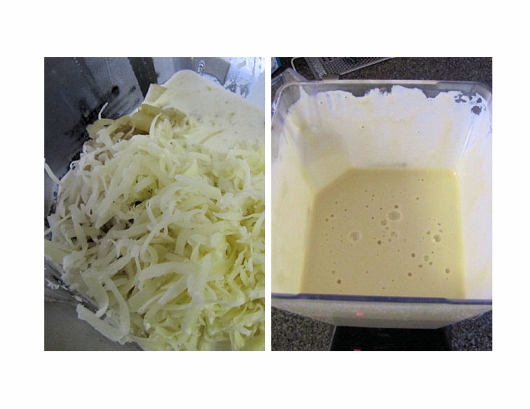 Toss in a blender with the cream and cheese. Press a button and Voila! Creamy, cheesy soup in a flash. See super easy.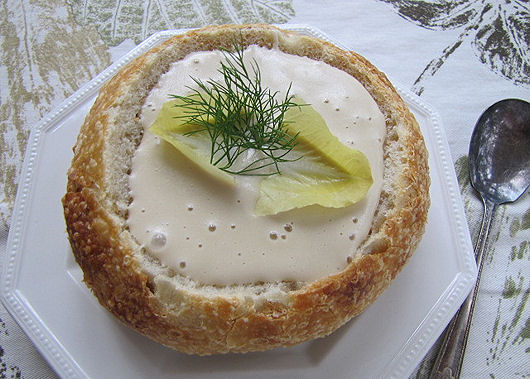 Pour some into surferboy's infamous sour dough bread bowls and your family will love you. Well actually they'll love the soup and forget that you exist for about 15 minutes while they scarf it down.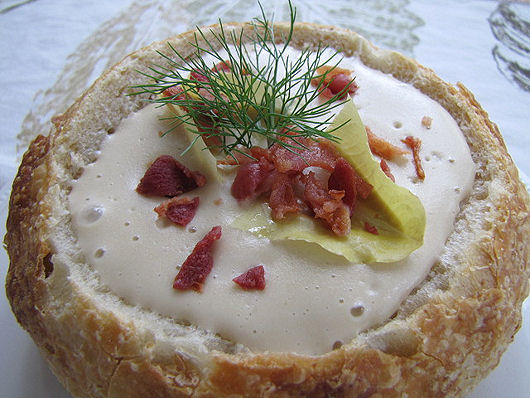 Especially if you're naughty like me and sprinkle crumbled bacon over the top.
Well now that I have finally been able to keep this soup away from DS long enough to photo and post I'm off see what shenanigans my guys are getting into this afternoon. I hope that you y'all enjoy giving this a soup a try the next time that you are feeling the urge to hunker down and snuggle with your family.
Love and Hugs,
Shari-Tickled Red
*Psst…By the way this wasn't a sponsored post. Just me playing around with a really sweet gift*
Creamy Endive & Gruyere Soup-Serves 4
Ingredients
2 endives, cored and minced
1 white onion, diced
1 garlic clove, minced
2 tablespoons butter
2 large potatoes, peeled and diced
2 cups chicken broth
1/4 cup white wine
1 cup heavy cream
1 cup Gruyere cheese, shredded
salt & pepper to taste
Directions
In a large saute pan over medium heat, saute the minced endives, onion and garlic in the butter for about 3-4 minutes. Pour in the wine and let simmer for a couple of minutes, add the chicken broth and potatoes; continuing to simmer for about 15 minutes or until the potatoes have softened. Remove from the heat once the potatoes are done.
Pour the endive, potatoes and broth mix into a food processor or blender and process. Add the cream, Gruyere cheese, salt, pepper and blend until  smooth. Can be served hot or cold.
Serve and enjoy!
Shari/Red