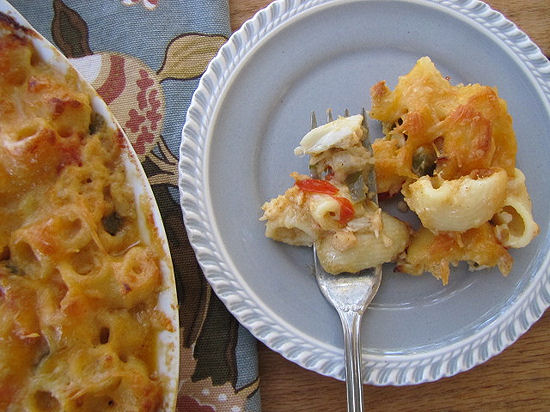 This is my all time favorite mac n' cheese! Y'all have no idea. In one ooey-gooey, cheesy decadent bite it says welcome home. Home being on the coast surrounded by abundant intracoastal waters.
Standing on the docks watching nets full of fish being pulled in, as freshly baited crab pots are lowered make any day seem bright. Almost as bright as the sun glimmering across the water. Easy days soaking up life along the coast, for me that's what crabby mac n' cheese embodies.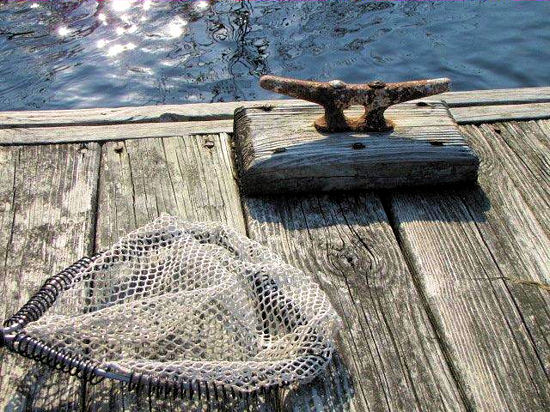 It also says eat me. Everyday, weekends, during the holidays…don't miss a one.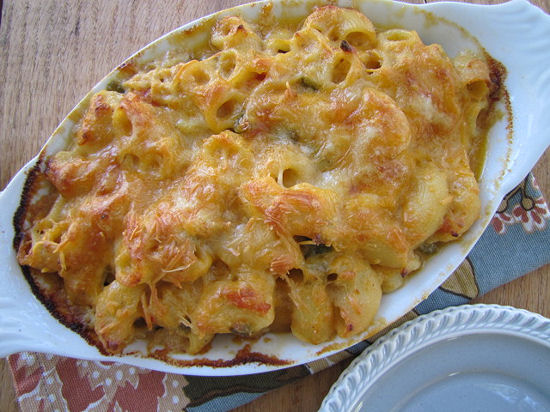 Making macaroni and cheese from scratch is worth every minute. There was a time when the boys would have vehemently disagreed with me but now, they're sold on homemade. Of course they're still a little finicky, so on the weekends I usually make two batches. One with crab and veggies, the other plain ole' cheese with the spices still in there for a little kick.
The guys even like to roll up their sleeves and pitch in because this mac n' cheese is super easy. First make a little roux, add some milk, copious amounts of cheese and finally macaroni.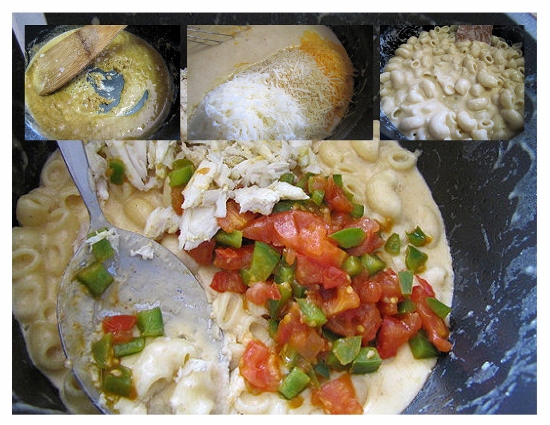 Then, in my humble opinion, comes the best part…crab. I'm just going to pause here for a second and bask. You guys go on ahead, I'll catch up in a minute.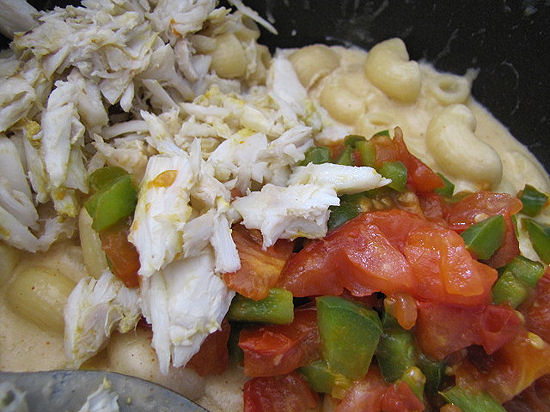 Once everything is all mixed pour it into a baking dish and wait patiently for the crispy, cheesy, crabby, creamy goodness to emerge.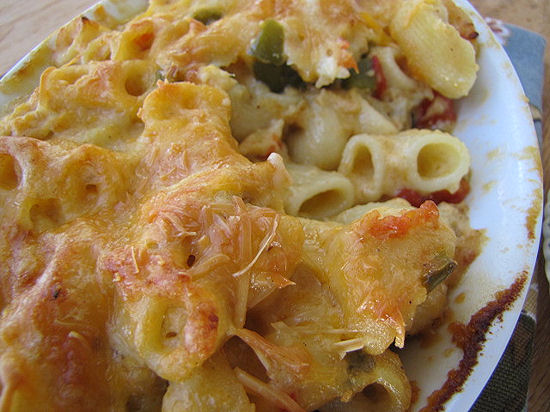 See crispy and cheesy.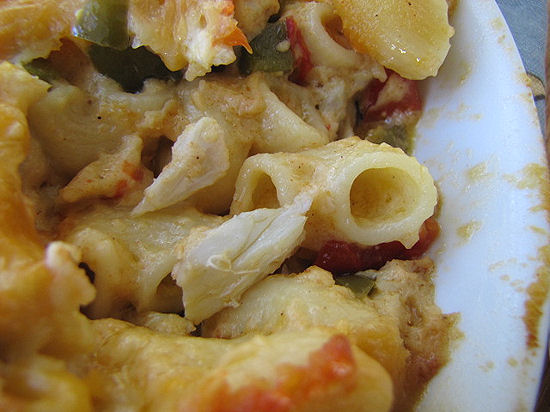 Crabby and creamy…NICE!
While you guys are wrapping your heads around this recipe I'm gonna have some for a snack, if that's okay. Now if y'all don't like crab meat (yes you) don't worry, simply omit and toss in some leftover baked chicken or hey!, how about turkey or ham. Talk about a nifty way to utilize some of those leftovers during the holidays. Have fun with the recipe guys, add corn, onions, peas even carrots. Most of all enjoy devouring it, I am.
Love ya!
Shari-Tickled Red
[print_this]
 Crab Mac n' Cheese–Serves 8
2 cups sharp cheddar cheese, grated
2 cups Gruyere cheese, grated
1/2 cup Parmesan, grated
1/4 cup Asiago, grated                                                                                        1/4 Pecorino cheese, grated
¼ cup flour
1/2 tablespoon cayenne
1 teaspoon nutmeg
6 tablespoons butter
4 cups whole milk
2 whole bay leaves
salt & pepper to taste
1 pound jumbo lump crab meat, cleaned
1 cup roma tomatoes, diced
1 cup bell pepper, diced
1 tablespoon olive oil
1 pound dry macaroni
Preheat oven to 375 degrees and butter a 13 x 9 glass baking dish, set aside.
Over medium heat boil the macaroni until al dente.
In a small bowl whisk the nutmeg and cayenne with flour. Over medium high heat in a dutch oven, or large stock pot, melt 6 tablespoons of butter  Add the flour mixture to the butter, stirring continously for about a minute. The reux will have a brown tinge of color due to the cayenne, but do not allow the flour to "brown". Gradually whisk in the milk, drop in the bay leaves and bring to simmer. Cook and stir until the sauce thickens, approx. four or five minutes. Add in 1 ½ cups of the sharp cheddar and Gruyere. As well as ¼ cup Parmesan, all of the Asiago and Pecorino into sauce.
Season to taste with salt and pepper. Remove the bay leaves, add the in pasta to the sauce and set aside.
In a skillet over medium high heat, saute the tomato and bell pepper just until soft, not mushy. Making sure that most of the liquid from the tomato has evaporated. Gently stir in crab meat and the tomato bell pepper mix. Pour the crab mac n' cheese into the prepared dish, sprinkle with
reserved cheeses and bake for 35 – 40 minutes until golden brown and bubbly.
Serve and enjoy!
Shari/Red
[/print_this]