Twinkling lights sparkle in the eyes of children, jolly Christmas carols continuously hum beneath our breathes and colorful decorations brighten our spirits. You can't help but have a sprightly step in your walk from Thanksgiving to New Year's Eve, with all of the cheer that seems to be continuously bubbling up. During the holidays most hearts are filled to the brim with a renewed sense of hope. Our kindhearted children leading the way as we follow them down the path of generosity. They are our lights, our reminders that Christmas is about community and fellowship, not objects.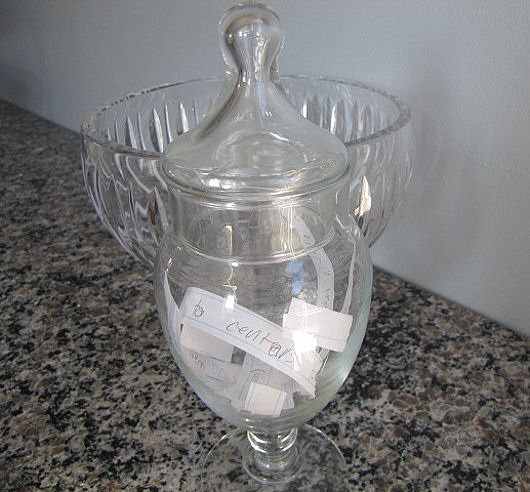 Whether giving back is an ideal that they already hold dear or is still being taught to them, our children are the reason that we strive to do better. For them we reach past our fears and set aside our own needs in order to teach by example. But they are teaching us. Without realizing it their innocence fuels our compassion. Their sense of right and wrong ignites our passion to reach out a helping hand. Giving is better than receiving resonates through them and into us. At least, this is the way that my boys make me feel. They are my beacons of kindness throughout the year. They inspire me.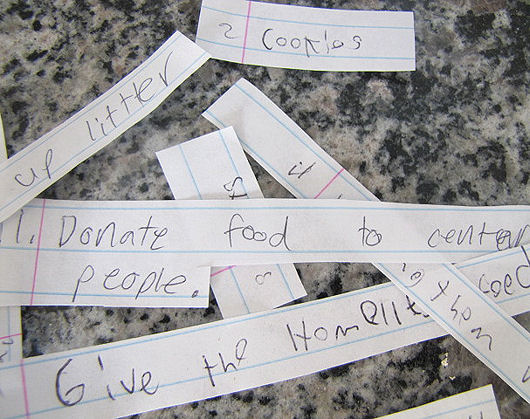 The boys have started a Giving Jar which they keep on the kitchen counter. Each day during the holidays they add and take out an idea for giving that they have placed in the jar. Their ideas range from little ones, such as delivering cookies to the man that we bought our tree from, to donating a meal to a family in need. What ever ideas they may think of we try our best to fulfill them. Being embraced by the warmth of their joy from giving is all that I need for Christmas. Passing that warmth on would be an added gift during our holiday.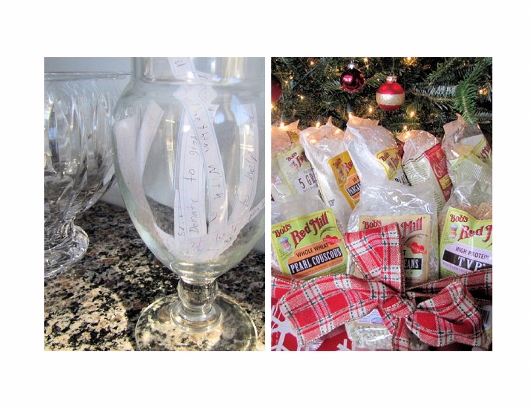 Fortunately we will be able to help at least one of you give back this month through the thoughtfulness and help of the folks at Bob's Red Mill. We are proud to partner this holiday season with a company that has a rich history of taking care of each other, as well as their community. Bob's Red Mill is generously donating $75.00 worth of their wholesome grains and mixes to one reader. That reader will be able to choose the charitable organization in their area to receive the gift from Bob's Red Mill. Warm cereals to start the day, hearty soothing soups along with nutritious grains to make healthy breads, even gluten free. Bob's Red Mill will be sending your local charity a wide variety of their products which will help create many delicious meals, as well as suit most nutritional needs.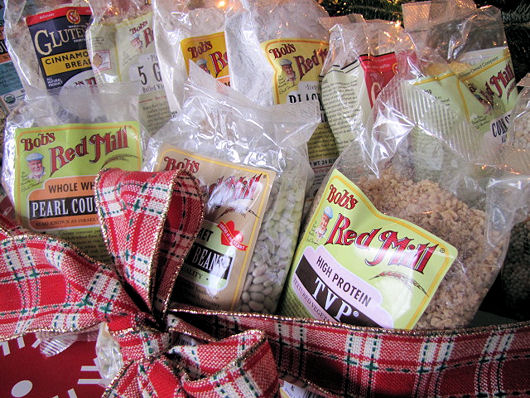 Do you know of an organization in your community that could use help feeding a few families? Perhaps a church that runs a soup kitchen? Or a domestic violence shelter housing mothers and children? Maybe a nearby school feeding families that have fallen on hard times? If so leave a comment telling us a little bit about them. Once the giveaway has ended we will announce the charity that will be receiving the gift from Bob's Red Mill. They will then ship the food directly to your charity.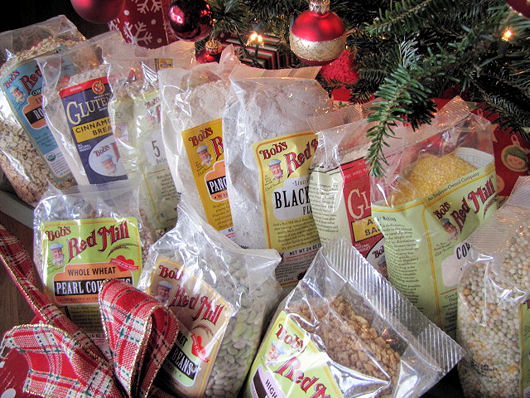 Entry Rules
Leave a comment about the charity in your area that you would like to support.
Give Them Extra Chances To Win…

Tweet "Enter to win! Help Feed Families at one of your local charities with @iamtickledred and @Bobs_Red_Mill wp.me/p1atFy-2VT #GivingBack", and leave a separate comment stating that you tweeted.
Post "Enter to win! Help Feed Families at one of your local charities with @iamtickledred and @Bobs_Red_Mill wp.me/p1atFy-2VT #GivingBack" on your Facebook wall, and leave a separate comment that you posted.

Sign up for Tickled Red's email or RSS, leave a separate comment.

Follow Tickled Red on either Twitter (

@iamtickledred

) or on

Facebook

, leave a separate comment.

Follow Bob's Red Mill on either Twitter (

@Bobs_Red_Mill

) or on

Facebook

, leave a separate comment.
Giveaway runs from 12-15-11 until 12-20-11 11:59 PM EST, winner will be announced Wednesday 12-21-11.

Knowing that this holiday season we will be feeding families and warming hearts together fulfills one of my fondest wishes. I can't wait to hear about all of the inspiring people in your area.
Love, Hugs and Christmas cheer!
Shari-Tickled Red
*This is not a sponsored post, nor were we compensated…This is simply Bob's Red Mill being generous*