Breakfast, lunch or dinner, sweet or savory pancakes are always welcome at our table. Especially if they are little savory ones made with cornmeal and yogurt, which as y'all know happen to be a couple of my favorite ingredients. Truthfully, around here cornmeal cuties like these are referred to as Johnny Cakes or griddlecakes. However, this lovely recipe is from a fabulous new book Yogurt Culture by award-winning food writer Cheryl Sternman Rule so pancakes they are and believe me they are delish! I had the pleasure of taking a writing class taught by Cheryl at Big Harvest Potluck last year and have been anxiously awaiting her new book.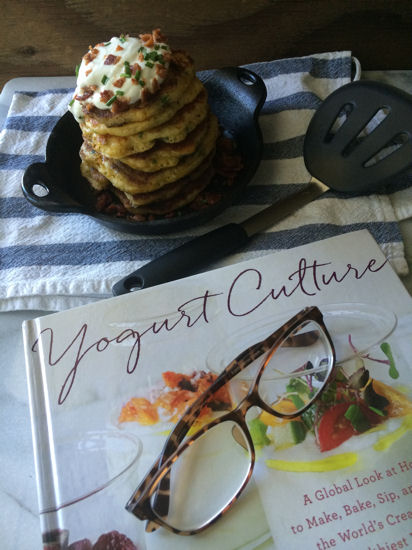 Yogurt, a versatile ingredient in cuisines across the globe for eons is  as of late emerging as a food of nearly unparalleled growth here in the United States. In Yogurt Culture Cheryl eloquently shares her travels and discovery of yogurt  along with 115 flavorful yogurt recipes. Her new book has recipes from Dips and Sips to Dine and Bake. Cheryl also shares easy to follow instructions on how to make yogurt in the comfort of your own home which is next on my must try list this summer. Oh and let's not forget her Spinach Dip, it looks divine! If you are yogurt nuts like us you should pick up Cheryl's book, it is a must have for your cookbook collection. You can find Yogurt Culture here.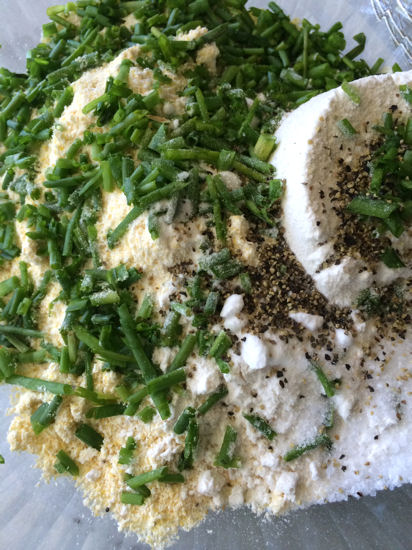 As for the cheddar, chive and cornmeal pancakes they are a snap to make! First stir all of your dry ingredients together…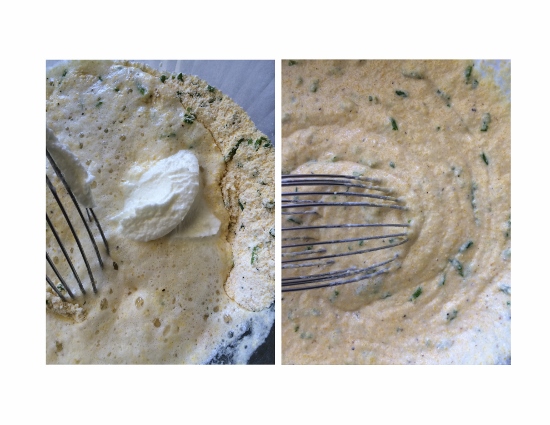 Then mix in your wet ingredients, which would be the Greek yogurt and seltzer. Yes, you read that correctly. I have never added seltzer to pancakes aka Johnny cakes before and I have to admit that at first I was doubtful as to the results.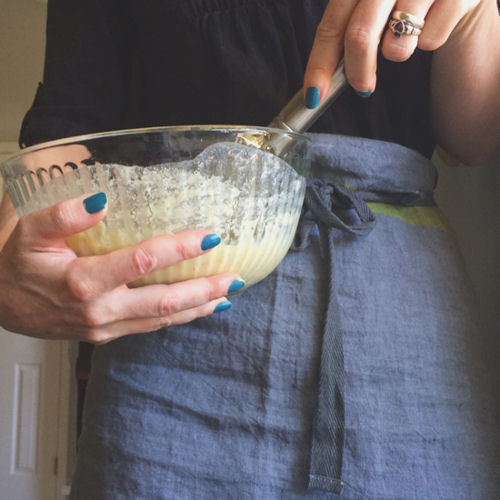 However, I was happily surprised! The seltzer along with the prolonged resting period made the pancakes so fluffy. This is a tip I will be experimenting with more.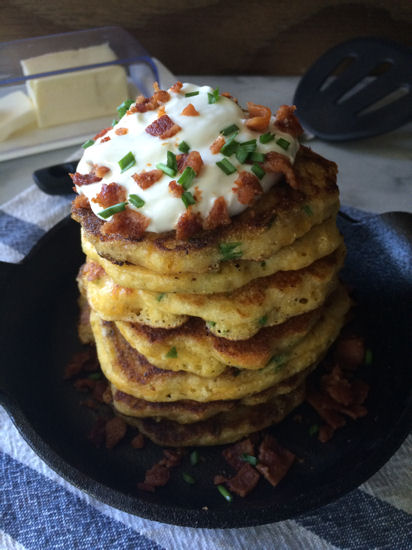 Once the batter has rested, the cheddar has been added all you need to do is give them a quick fry in your cast iron skillet using the ever-handy OXO Mini Silicone Flexible Pancake Turner to flip your Johnny cakes. Top with a big dollop of cool Greek yogurt, crisp crumbled bacon and fresh chives then oh my goodness look at what you have made! Surferboy added a hefty drizzle of honey to his as well, he's a big practitioner of sweet n' savory.
These pancakes are a meal in themselves or a wonderful surprise addition at your next brunch.
Give them a try, you'll fall in love!
Hugs and love,
Shari
*This post was sponsored by Stonyfield Yogurt and OXO. They generously provided the yogurt, tools and beautiful Yogurt Culture book for review, as always though all opinions above are my own*
Little Cheddar, Chive and Cornmeal Pancakes – Makes about 16 small pancakes
Yogurt Culture  by Cheryl Sternman Rule 
Ingredients
3/4 cup medium-grind cornmeal
1/4 cup all purpose flours
3 tablespoons minced fresh chives
1/4 teaspoon baking soda
3/4 teaspoon kosher salt
1/4 teaspoon freshly ground pepper
3/4 cup plain seltzer
1/4 cup plain whole-milk or low-fat Greek yogurt (we use Stonyfield)
3/4 cup shredded cheddar cheese
2 to 3 tablespoons melted butter, for brushing the skillet
Plain Greek yogurt, crumbled cooked bacon, and minced chives, for garnish
Make the batter. In a medium bowl, whisk the cornmeal, flour, chives, baking soda, salt, and pepper. Add the seltzer and yogurt and whisk thoroughly to combine. Cover and let stand at room temperature for 1 to 3 hours. Stir in the cheese.
Cook the pancakes. Heat a cast-iron skillet over medium-high heat until a drop of water on the skillet sizzles and evaporates. With a silicone pastry brush, coat the skillet generously with melted butter. Cook a test pancake to gauge the heat, using 1 scant tablespoon per pancake. (When the skillet is sufficiently hot, the batter should sizzle immediately and begin to set at the edges.) Cook the pancakes in batches until golden brown, about 1 minute per side, brushing the skillet generously with butter between each batch.
Serve. Dollop each pancake with Greek yogurt, sprinkle with the crumbled bacon and chives, and serve hot.