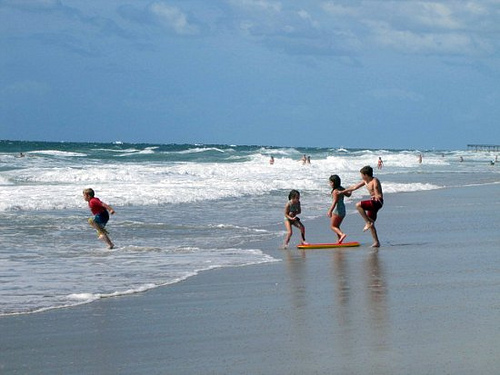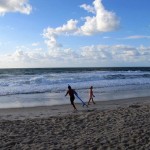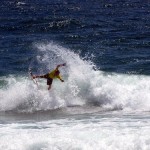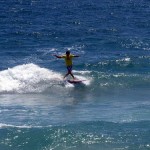 Carolina summers bring to mind endless hours of fun played out under the sun. Children frolicking along our shores surrounded by blue skies, while giggling at the rolling waves. Surfers paddling out into the ocean, expressing their joy by throwing buckets of water or dancing across their boards.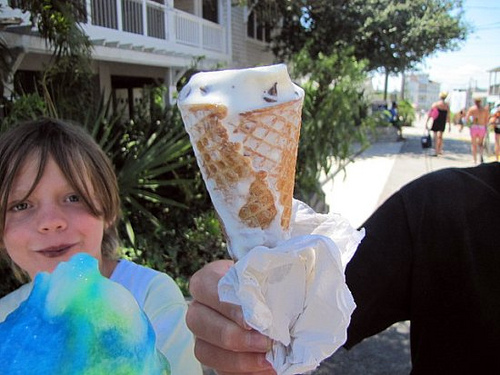 Afternoons devouring ice cream and Italian ice as quickly as possible. Before the heat melts their luscious sweet flavors into sticky trails, clear down to our elbows.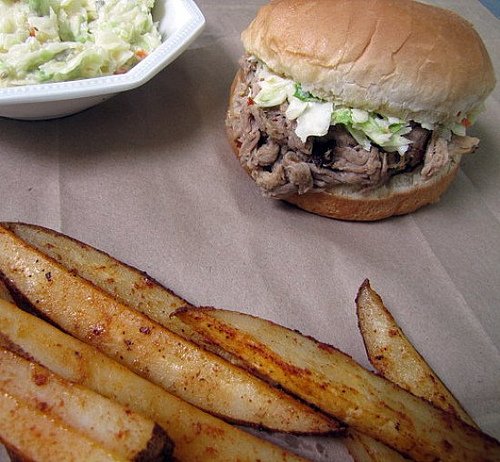 And BBQ.
Summer in Carolina would never be the same without BBQ sandwiches. It doesn't matter if you're from Eastern Carolina, Western Carolina or Kansas, BBQ is away of life. It is a credo, a calling so to speak as most Carolinians will tell you. Being able to make a good BBQ is somewhere up there with the perfect sweet tea, a good dog or your favorite worn out ball cap. It is essential. So when it came to choosing our french fry flavor to submit for the Alexia "Reinvent a Classic" challenge we stuck to tradition and our roots.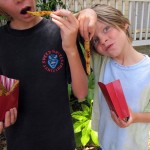 During the past few weeks we tried many different concoctions and creations with french fries. Some that we liked but were not very user friendly and some that…well I think the faces speak louder than words. In the end Carolina BBQ Fries kept calling our names and we loved the end result.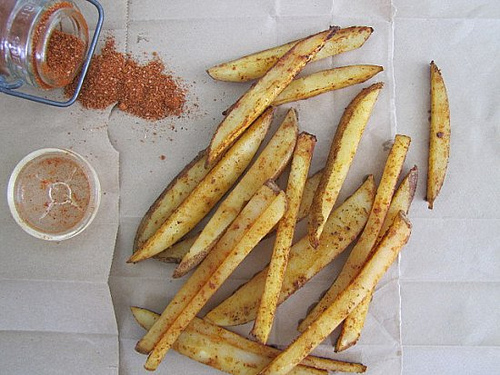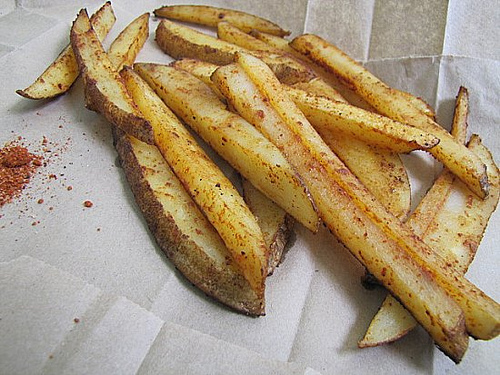 So how did we create our Carolina BBQ Fries? We made a dry rub from a special blend of herbs and spices.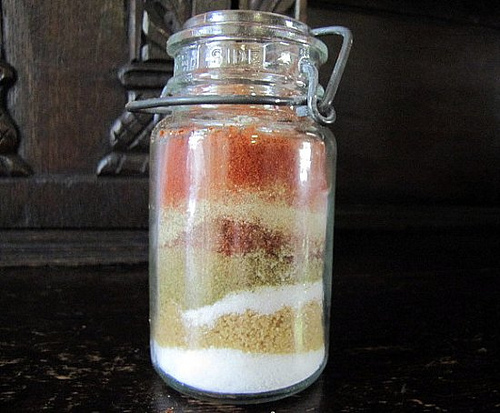 Layered them in a bottle and shook until well combined.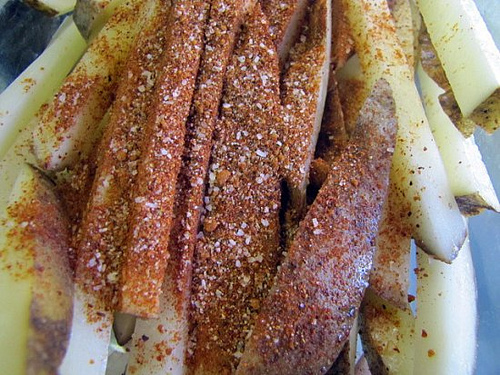 Sprinkled the BBQ rub over julienne cut fries coated in Mediterranean Olive Oil.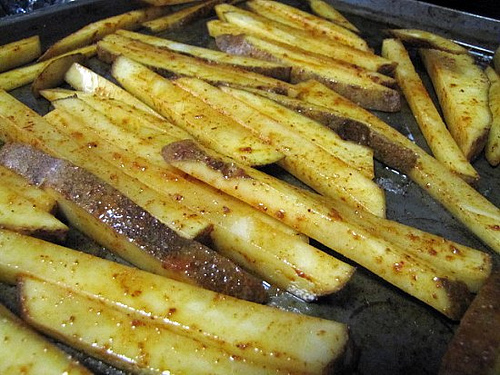 Made sure to rub the french fries until they were completely coated with the BBQ spice mix. Yes rubbing, slathering and drizzling is required with all things BBQ related.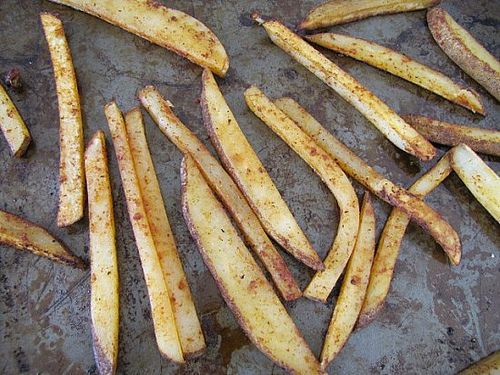 Baked for approx. 20 minutes at 450 and…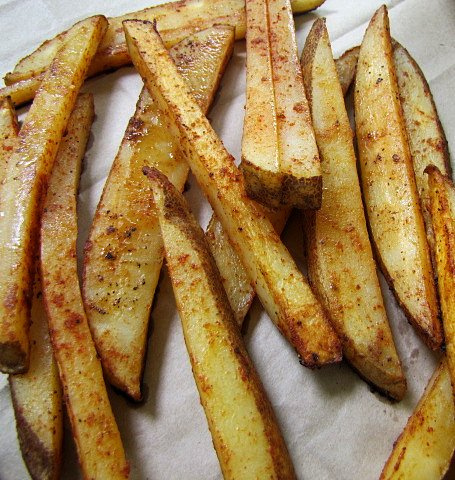 Hello Carolina BBQ French Fries! Not too spicy and oh so tasty with a bite of cayenne, a hint of cumin and just the right amount of scrumptious with a little touch of brown sugar.
Add a dash of vinegar and they're perfect, that is if you're a devotee of Eastern BBQ. If not leave these beauties just the way they are and enjoy. Don't forget your BBQ sandwich and cole slaw.
To me summer means freedom and tradition all rolled into one. What does summer and BBQ mean to you?
Love ya,
Tickled Red
[print_this]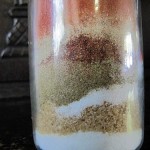 Carolina BBQ Spice Mix–Makes approx. 1 cup
Prep Time: 15 minutes
Cook Time: Approx. 20 minutes

4 tablespoons sweet paprika
2 tablespoons kosher salt
2 tablespoons sugar
2 1/2 tablespoons brown sugar
2 tablespoons cumin (ground)
2 tablespoons dark chili powder
1 tablespoon cayenne
1 tablespoon white pepper (ground)
1 teaspoon black pepper (ground)
3 tablespoons Mediterranean olive oil
______________________________________________________________
Preheat the oven to 450 degrees.
Coat a cookie sheet or baking dish with approx. half of the olive oil.
Wash 20 oz of russet potatoes and cut into julienne fries, leaving the skins on.
Measure all of the dry ingredients into a bowl and blend well.
In a large bowl, coat all of the fries with the remainder of the olive oil.
Sprinkle 2 teaspoons of the combined BBQ mix over the oiled fries, rubbing the spice mix over the fries to make sure that they are all well coated.
Place the BBQ fries evenly on the oiled baking sheet, cover with aluminum foil and bake for approx. 20-25 minutes, checking periodically and turning the fries until they are golden brown.
Remove the BBQ fries from the oven and serve.
Enjoy!
Shari/Tickled Red
[/print_this]
*Disclaimer: Alexia Foods is sponsoring this post but all photos, recipes and thoughts are my own*