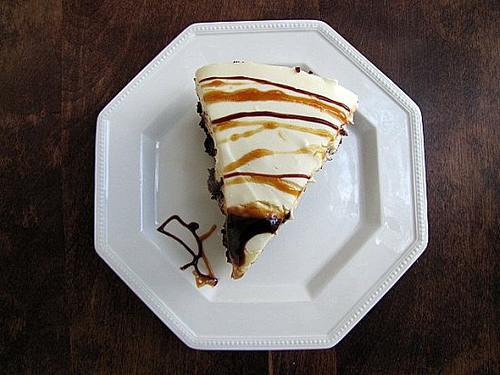 This is a monkeyhead concoction so please don't be disappointed with me that it's not 100% homemade. Sometimes as a mom you have to go with your childrens ideas in order to lift their creative wings. Monkey One loves cheesecake and caramel, Monkey Two has a passion for brownies you put the two of these knuckleheads together and look at what they come up with… Caramel Brownie Cheesecake. You gotta love the way these boys think. To see their vision come to fruition we used one of our favorite brownie mixes, a no bake white chocolate cheesecake recipe from Williams-Sonoma and we tried Jamie's homemade caramel recipe from My Baking Addiction. My girl has it going on in the kitchen y'all, get ready to drool. M1 has comendered a couple bottles of caramel to hoard all for himself, sneaky bug.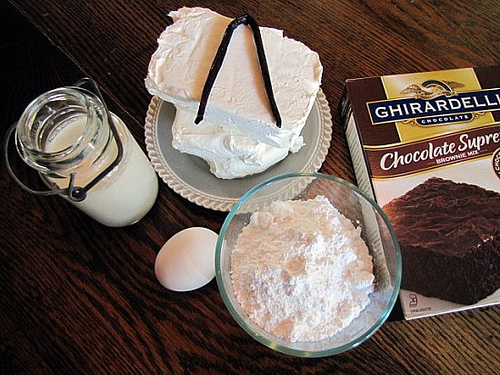 M2 loves his brownie mix above because while I'm at work he can whip up a batch with my surfer and feel like he has stepped out of his sous chef role into the postion of head honcho. He's always my little helper in the kitchen while M1 likes to supervise and come up with some crazy notions. I'm just tickled that they like to play around in the kitchen and experiment with food. Now if they would just take the same inetrest in trying new ideas with vegetables and seafood our lives would be perfect. I have my fingers crossed y'all (X).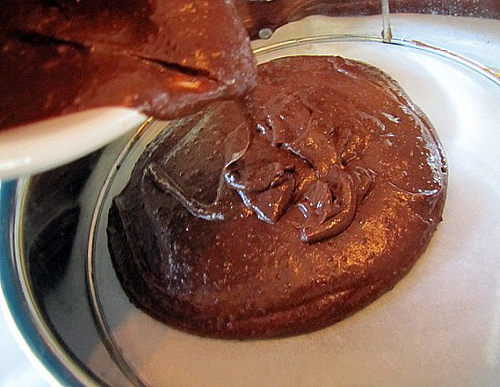 While the boys made the brownie mix I lined a springform pan with parchment paper. Why? Well I figured it might help in case the mix decided to seep out and it would keep the brownie from sticking to the sides as well as the bottom. Not to mention it's always prudent to have a super duper easy removal method for any theoretical baking concoction that you are experimenting with for the first time.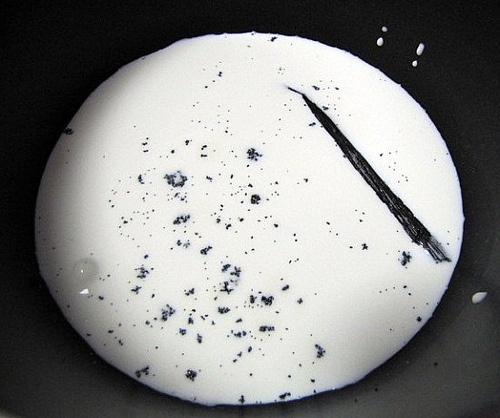 Once the brownie mix was in the oven we moved on to making Jamie's caramel. First we decided to utilize her Tempting Tip of using vanilla bean while warming the cream. Goodness am I glad that we did. A-MAH-ZING!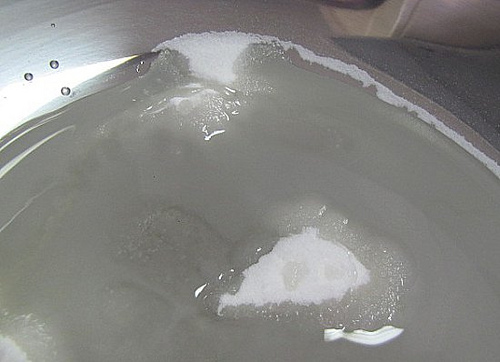 In a heavy saucepan stir together the sugar, syrup and water until the sugar is completely moistened.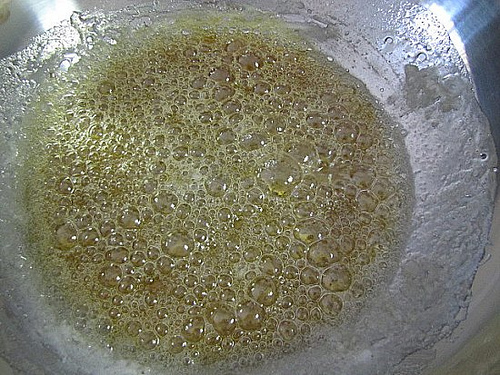 Stirring constantly over medium heat until the sugar dissolves and the syrup is bubbling. This is not a time to go and see who Donald fired, trust me.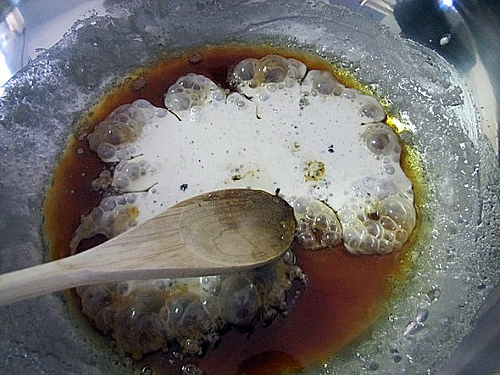 Stop stirring completely and allow the syrup to boil undisturbed until it turns a deep amber. Remove the syrup from the heat, slowly and carefully pour the hot cream into the caramel. I do believe this is my favorite part when making caramel, it's just so pretty watching the reaction and it smells soooo good!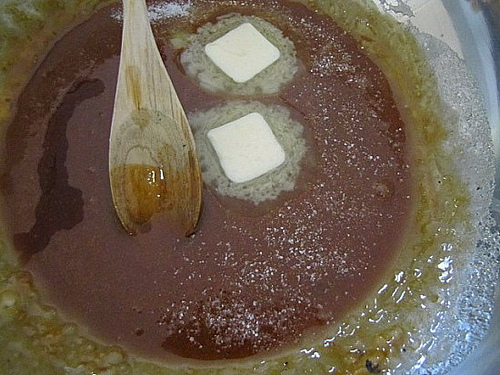 Stir in the butter and salt. Allow the sauce to cool and gently stir in the vanilla extract.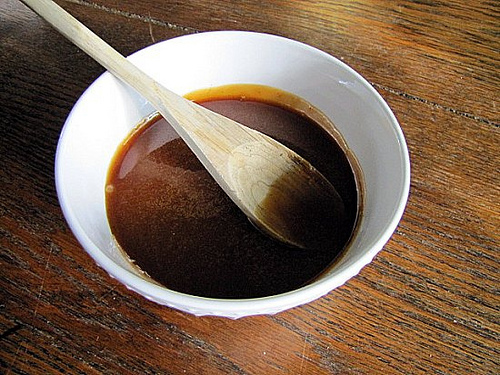 Voila! Gorgeous, delicious and simple homemade caramel. For complete, precise perfect directions click the link below to Jamie's recipe. She will spell it out for you perfectly.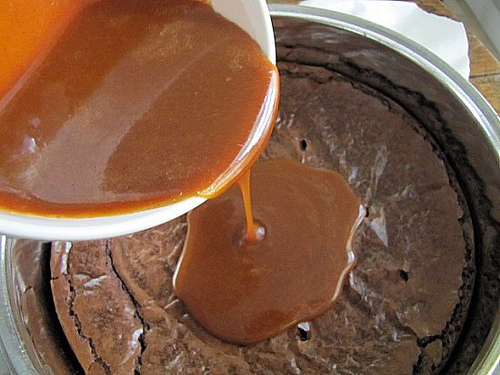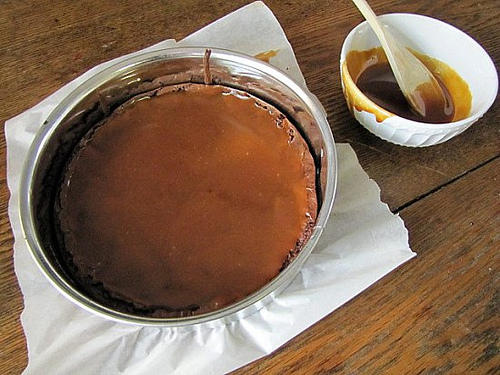 After the caramel has cooled a bit pour it over the brownie and set aside.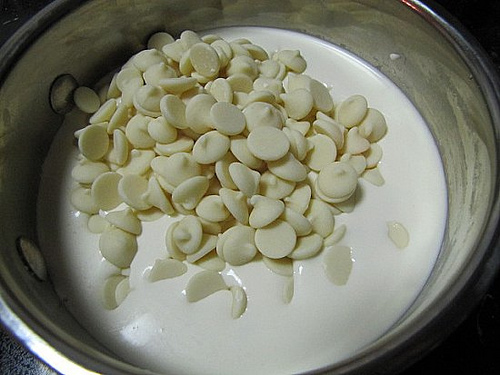 Next heat up the heavy cream and melt the white chocolate.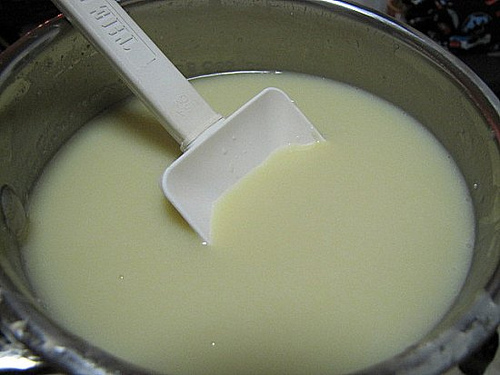 Stirring constantly until smooth. Place the liquid gold in the refigerator to cool for approx. 30 minutes. Trust me no one will notice if you sneak a spoonful (slurp).
This will give you plenty of time to whip the creamcheese, confectioners sugar and vanilla.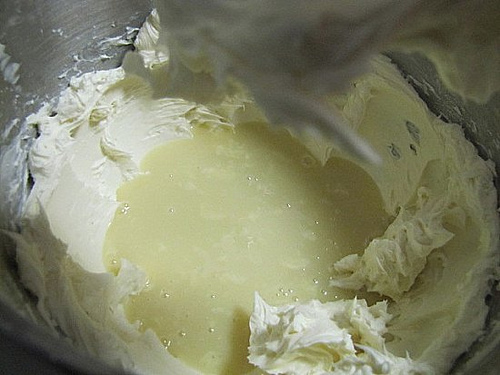 In an electric mixer beat the ingredients for the creamcheese filling until smooth, add the cooled white chocolate and continue to mix until creamy.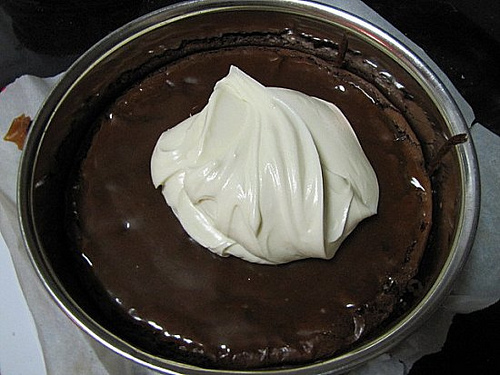 Pour the cheesecake filling on top of the cooled, caramel drenched brownie still in the springform pan and try not to eat it all before you're finished.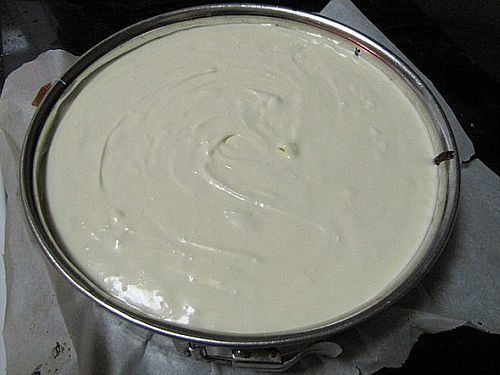 Make sure it is nice and smooth, then place it in the refigerator to cool overnight.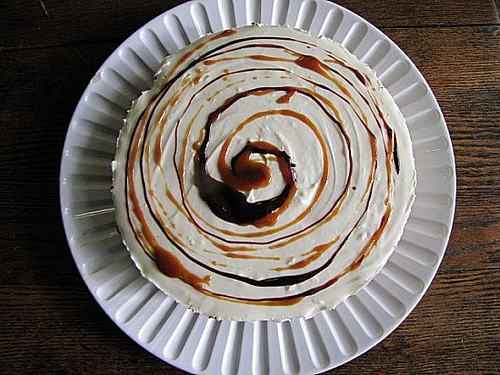 Drizzle with more caramel and chocolate syrup. Decadent!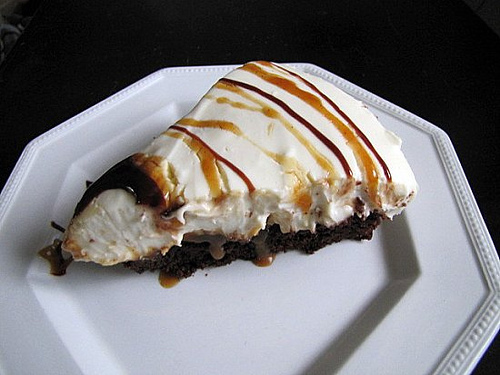 If you can make this cheesecake and not eat half in one night y'all, your self control is truly amazing.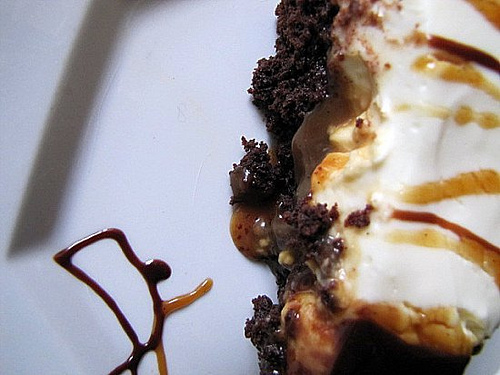 Personally I licked the plate clean, literally and went back for thirds. My guys get a high five for this little brain child. Next time though, when I have more time I'll make this yummy dessert with a homemade brownie recipe just to compare.
I hope that you guys have a blast trying this recipe. Let me know how it turns out for you.
Hugs & Kisses,
Tickled Red
[print_this]
Caramel Brownie Cheesecake–Makes approx. 12 slices
Ingredients:
1 box of your favorite brownie mix
Prep: Line the bottom of a 9in springform pan with parchment paper.
Jamie's Homemade Caramel Sauce-My Baking Addiction
After the caramel has cooled, pour half over the brownie while it remains in the springform pan.
White Chocolate Cheesecake Filling-Williams and Sonoma
12 ounces white chocolate
1 cup heavy cream
1 1/2 pound cream cheese, at room temperature
1/4 cup confectioners' sugar
2 teaspoons vanilla extract (essence)
To make the filling, in a heavy saucepan over medium heat, combine the white chocolate and heavy cream, stirring constantly until melted and smooth.
Remove from the heat and refigerate, stirring occasionally until cool, approx. 30 minutes.
In a large bowl, combine the cream cheese, confectioners sugar and vanilla extract. Using an electric mixer set on medium speed, beat until well blended.
Add the cooled white chocolate mixture and beat until light and fluffy, approx 2 minutes.
Pour the filling over the brownie, smooth with a rubber spatula. Cover with aluminum foil and refrigerate overnight.
Plate and drizzel with more homemade caramel sauce and chocolate syrup.
Enjoy!
Shari/Tickled Red
[/print_this]