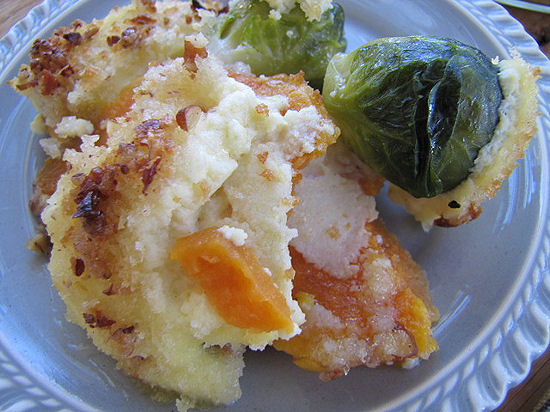 Thanksgiving wouldn't be the same here without sweet potatoes. Whether they are simmered in sweet spices for awhile, topped with marshmallows or simply boiled with a little butter, you don't have a holiday meal in the south without sweet potatoes making a grand appearance. This year I'm making my sweet potatoes with a little twist. Something special for my surfer because he adores both sweet potatoes and brussel sprouts. I don't know if this dish is any healthier than old fashioned sweet potato casserole, but it is definitely delicious.
It's also fairly simple to make, the hardest part is actually the time you'll spend making your sauce. But it's so worth making homemade mornay sauce. Mornay Sauce is basically Bechemal Sauce with eggs and cheese add for that extra umph!
Once your sauce is ready you'll boil your brussel sprouts and sweet potatoes, then saute the brussel sprouts quickly in a little butter. The brussel sprouts are double timing it in this recipe, but keep an eye on them so that they don't get over cooked. Mushy brussel sprouts simply aren't the same.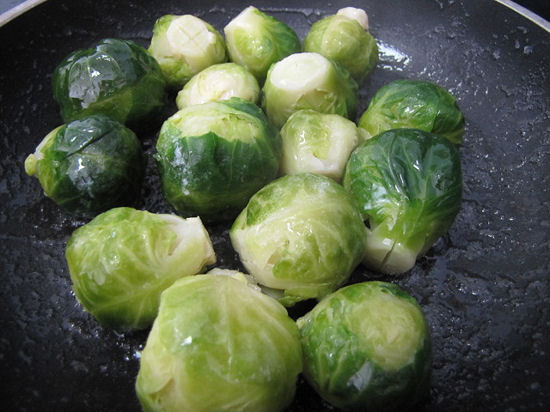 Spread some mornay sauce on the bottom of your dish, make a layered ring of sweet potato slices and sauce then add about a dozen brussel sprouts to the center and across the top.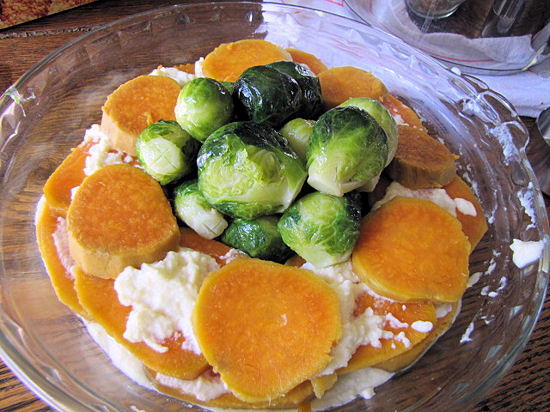 Cover with more sauce, sprinkle with panko bread crumbs and finely ground praline crumble.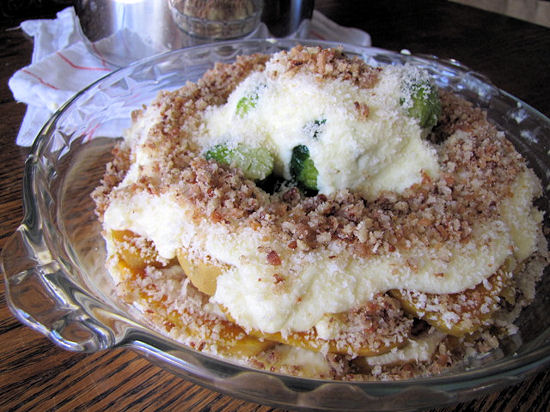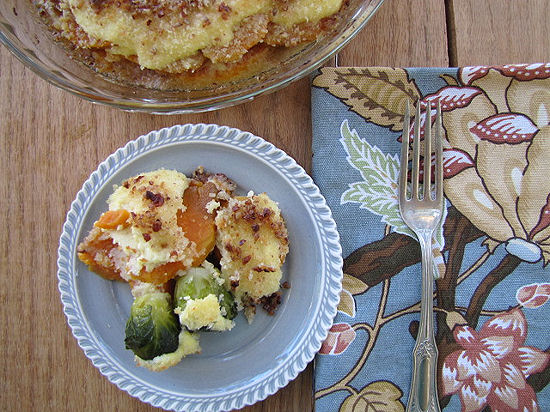 Then just sit back and enjoy creamy, sweet potatoes with fresh brussel sprouts. With that over the top crunch of toasted bread crumbs and praline your family will love you.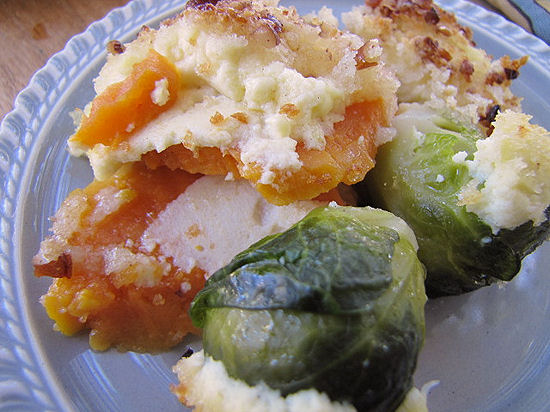 I have a few more coastal Thanksgiving recipes coming your way this week, but in the mean time give this Au gratin a try. Don't be shy about tweaking it to suit your tastes while your at it.
Hugs,
Shari-Tickled Red
Brussel Sprouts-Sweet Potato Au Gratin-Serves approx. 8
1 quart brussel sprouts
2 large sweet potatoes
2 tablespoons butter
3 cups Mornay sauce, see recipe below
1/3 cup Panko bread crumbs
1/4 cup praline crumble
2 tablespoons  melted butter
Prep
Preheat oven to 450 degrees
Peel the sweet potatoes and boil until fork tender.
Clean the brussel sprouts by washing them in cold water with a tablespoon of vinegar to draw out any insects. Trim the stems and discard any yellow leaves. Cut a little cross in the bottom of each core. Parboil them in cold water for 5 minutes. Drain, rinse with cold water and drain again.
Once the brussel sprouts are prepped boil in slated water for approx. 20 minutes or until tender. Drain the sprouts and saute in butter quickly until glazed and most of the moisture is removed, salt and pepper to taste. Cut the sweet potatoes into 1/4 inch slices. Spread a little of the mornay sauce on the bottom of a glass baking dish. Stack the sweet potatoes in a ring, applying sauce between each layer. Arrange the sprouts in the middle and on top, cover with more sauce. Sprinkle with bread crumbs and praline crumble. Drizzle with melted butter. Bake at 450 until golden.
Enjoy!
Shari/Red
Mornay Sauce-Makes Approx. 3 cups
2 tablespoons butter
1 tablespoon onion, finely chopped
4 tablespoons flour
3 cups milk, scalded
1/4 teaspoon kosher salt
1/4 teaspoon ground pepper
1/8 teaspoon nutmeg
A sprig of parsley
3 eggs
1 tablespoon whipping cream
2 tablespoons butter
2 tablespoons Parmesan cheese
2 tablespoons Gruyere cheese
Over medium heat in a large sauce pan melt two tablespoons of butter and saute the onions until soft, but not browned. Add the flour stirring constantly and cooking the roux slowly until it just turns golden. Gradually add the 3 cups of milk, whisking vigorously until the mix has thickened and is smooth. Season with salt, pepper, as well as the nutmeg and parsley (which are optional). Continue to cook and stir the sauce slowly for about 30 minutes, or until the sauce is reduced to 2/3 of what you originally started off with. Strain sauce through a sieve and place back into the sauce pan over medium heat.
Mix in a small bowl the eggs and cream until slightly beaten. Combine with the sauce and cook, stirring continuously until the sauce nearly reaches the boiling point. Add the butter and grated cheeses.
Use for gratins, over pasta, vegetables and fish, poultry.
Enjoy!
Shari/Red