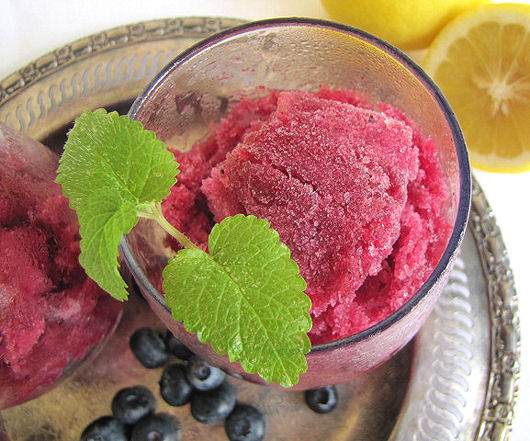 It's hot! I'm talking Dog Days of Summer hot! Even the early morning air has gone from cool to tepid to thick. No more deep refreshing breaths when you walk outside. There is only about an inch of breathable space enclosing you in a slick, sticky cocoon. Everything is dripping these days us, the dog even the car.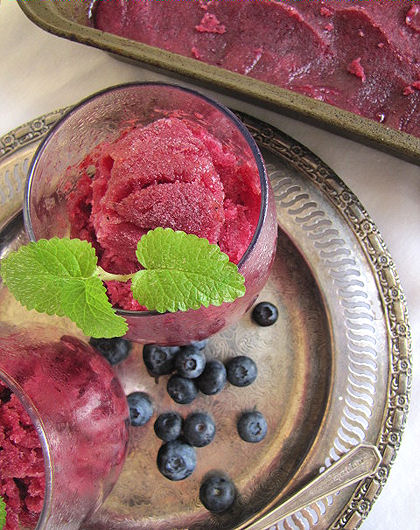 The weight of the air is so oppressive that even the thought of indulging in some cool ice cream feels heavy. My solution for cooling the guys down when they are oozing between the cracks on the porch, Granitas.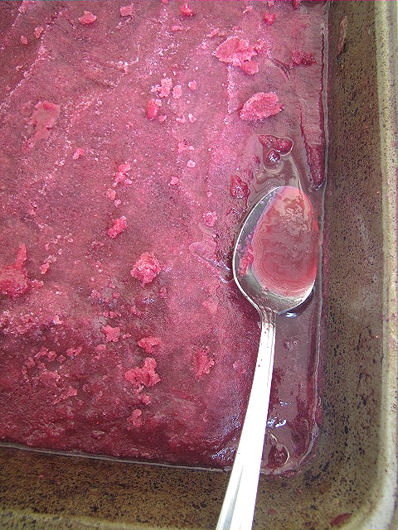 Last night, once the sun had gone down I simmered and blended some lemon, blueberries and sugar together until there was sweet vibrant blueberry lemonade syrup. Tossed it in the freezer and voila! Cool refreshing blueberry love.
Nobody would dare call that iced beauty above heavy or thick. As of right now, I am counting down the minutes until we get home so that we can enjoy a cup or two in the shade. If you get a chance this weekend, make a batch and join us.
Meet y'all under the oak tree!
Love and hugs,
Shari-Tickled Red
[print_this]
Blueberry Lemonade Granita- Serves approx. 8-10

Ingredients
1-2 lemons
3/4 cup sugar
3 cups water
1 pint blueberries
Directions
Grate 1 teaspoon of lemon peel and squeeze 1/4 cup lemon juice
In a saucepan heat sugar, lemon peel and 1 1/2 cups water until boiling over high heat, stirring consistently to dissolve sugar. Remove the saucepan from the heat; stir in blueberries. Cool the blueberry sugar syrup to room temperature.
In food processor with knife blade attached, blend the blueberry syrup mixture until pureed.  Press puree through sieve into bowl;if there seem to be any large pieces. Stir in the lemon juice and remaining 1 1/2 cups water. Pour evenly into a 13- by 9-inch metal baking pan.
Cover and freeze mixture for approx. 1 1/2 hours or until frozen around the edges. With a fork scrape the ice, mixing it from the edge into the center. Repeat the process about every 30 minutes or until the mixture turns into ice shards, approx. 1 1/2 hours.
Serve the granita right away, spooning shards into chilled dessert dishes or wine goblets.
You can also cover and freeze for up to 1 month.
To serve, let stand about 5 minutes at room temperature to soften slightly…unless it is 115 outside.
In that case enjoy immediately!
Shari/Red
[/print_this]