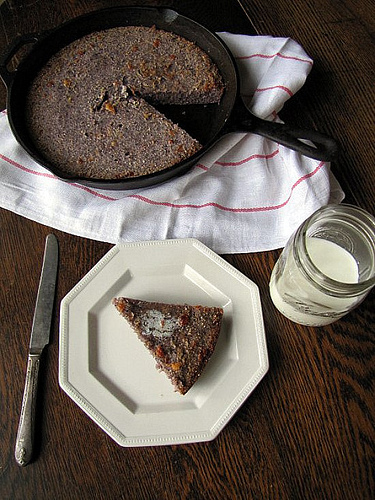 As far back as I can remember there has always been a cake of warm buttery cornbread ready and waiting. My parents made it at least twice a week, if not more. It's simply one of those southern staples that we can't live without. Most people get concerned when the sandwich bread runs out, my family becomes worried when there's less than two cups of cornmeal left in the jar. Especially my dad, he makes cornbread almost everyday. A mini cake so that he doesn't have to share it with anyone else.
What can I say, it's a love affair. One that started for many cultures further back than I could possibly ever know. For us it started with my Granny. She was a quiet, petite woman with the strength of an army. She laughed occasionally but loved intensely through her actions. A pat on the head, a joyously full belly and firm squeeze hugs when you least expected them were her sonnets of love.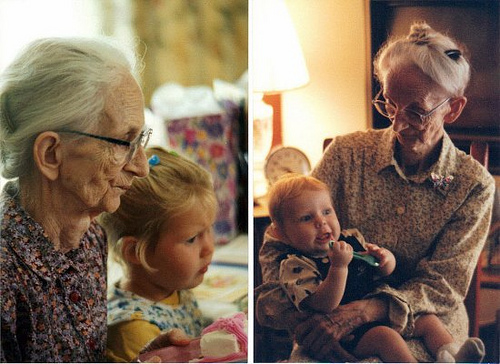 Don't get me wrong, she was full of mirth and had a wonderful sense of humor but with raising 5 daughters and 1 mischievous son on a tobacco farm, work had to come first and laughter second. This was a woman who never left her Blue Ridge mountains to explore the mysteries of a similar blue ocean. She worked the fields with my Papaw, churned her own butter, canned what she grew and took care of a family of eight. To me, she was always a dynamo of coiled steel in a purple dress and pink bonnet. Her joy did peek through on the weekends when we came to visit for Sunday Dinner.
When I was very young her small house would be packed to the rafters with all six of her children, their spouses and a brood of grandchildren racing around the yard. Eating at the dining room table was nearly impossible on those occasions, seeing as how it was laden with food without a corner to spare for anyone to dine. Everything was fresh from Granny's garden and accompanied by a golden stack of cornbread served upside down on a plate.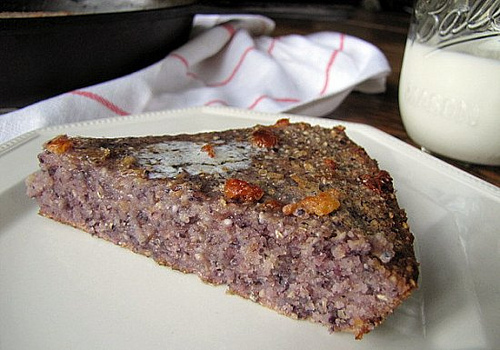 For some reason I find myself reminiscing about her the most on crisp fall days. A little peculiar, seeing as how I spent most of my childhood playing on the farm during the summer. I wish that I could tell y'all that I spent each of those visits following my grandmother around learning everything that I could about food and kitchen lore, but I didn't. As it happens I was more fascinated by jumping rocks in the creek, climbing around in the barn and following my Papaw around the tool shed. My passion for food came later in life.
I can still remember vividly the day that I called her from college, asking her how to make cornbread and potato soup because I was craving home. It wasn't long after that conversation with her that I started to take more of an interest in cooking well, rather than just throwing something together in order to stave off hunger pains. I'd like to think that she would be proud of how I developed a love for cooking, then again some of my concoctions might have made her rural roots twitch a little. Granny would've been a trooper though and tried whatever I came up with at least once.
Like my recent twist on her cornbread using blue cornmeal and Irish cheddar cheese. It probably wouldn't have been one of her favorites but she would've given me a pat on the head and said, "Well, at least it ain't burnt honey". The guys and I are enjoying the twist and I'm loving the fact that blue cornmeal is loaded with protein and fiber. It has 3 grams of protein (6%) and 3 grams of fiber (12%) per each 1/4 cup used. Why do I love that so much? Ummm… because even though I believe that bacon makes the world go round and cake makes it smile, I'm a bit of a health nut. Oh and because I don't just eat cornbread for lunch or supper, I eat it for breakfast as well. Yumo!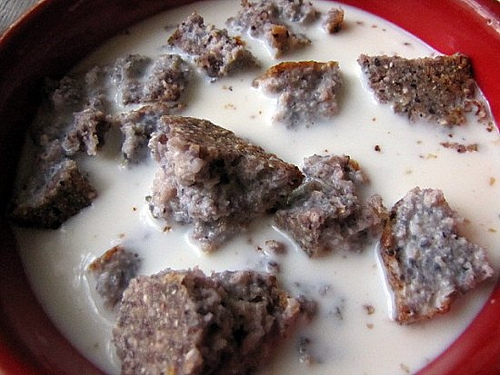 So here are a few tips for making my Granny's perfect cornbread, whether you're using white, yellow or blue cornmeal.
1.) Use a cast iron skillet.
2.) Mix your batter the same way that you would mix pancake batter, not to thick or runny.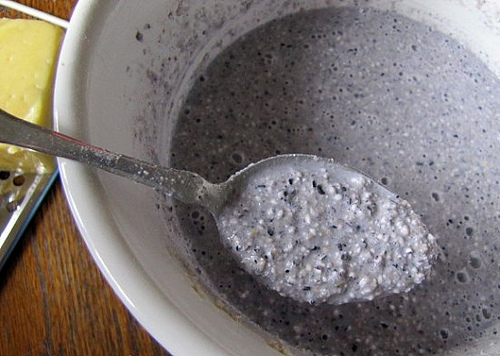 3.) Once your oven is preheated, melt a couple of teaspoons of butter over medium high heat in your skillet. Swirl the butter around to coat the entire surface. Once the butter starts to bubble sprinkle a little cornmeal, enough to cover the bottom in a thin layer.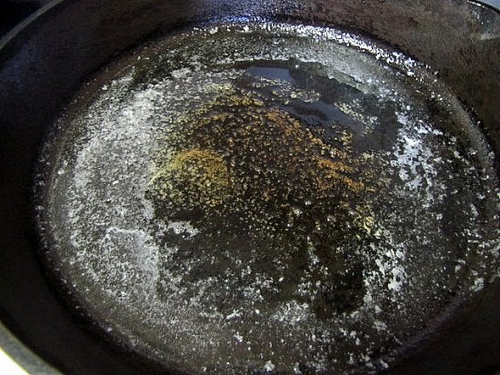 4.) Pour your batter in immediately and place in the oven to bake.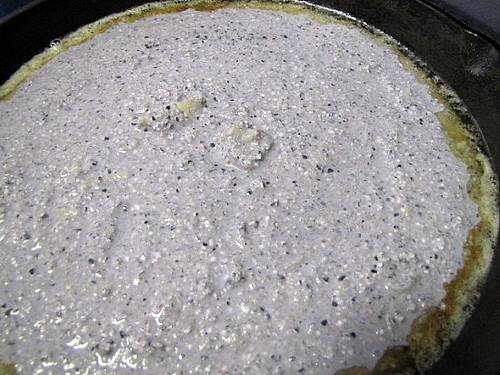 5.) Bake at 350 until golden brown.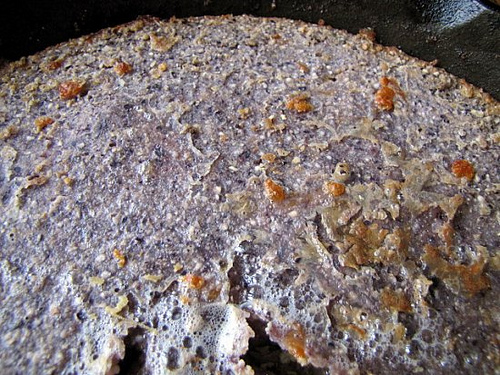 When you make your cornbread out of blue cornmeal golden brown can be a bit difficult to determine. Fortunately, when you add aged Irish cheddar cheese to the batter, it tends to float to the top bubbling into a beautiful golden brown crust. If you're really adventurous throw some jalapenos into the mix as well.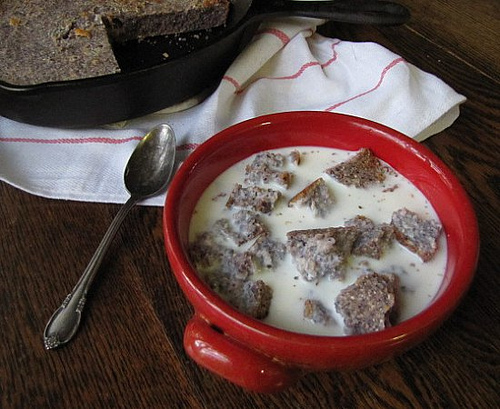 Now all I have to do is serve my dad a bowl and hope that he put's his seal of approval on it. I hope that y'all enjoy putting a twist on one of my southern loves in your kitchen soon. As always have fun playing around with the recipe and making it your own.
Love ya!
Tickled Red
PS: Bob's Red Mill nor Kerry Gold know that I tweaked a southern classic ;-) This is just me playing around in the kitchen.
[print_this]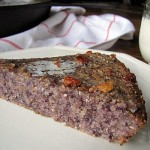 Blue Cheddar Cornbread–Adapted from my Granny's recipe
Makes approx. 10 servings
Prep Time: 15 minutes
Bake Time: 20-30 minutes (depending on oven)
*Note-This recipe is for a large cast iron skillet please adjust for your skillet size. Also if you prefer a bluer, denser cornbread readjust the portions between white and blue cornmeal to achieve your desired bread color and consistency*
Ingredients
2 1/2 cups white cornmeal
2 cups blue cornmeal (I found Bob's Red Mill in my local grocery store)
1 large egg
2 1/2-3 cups whole milk
1 cup shredded aged Irish cheddar cheese (I found Kerry Gold in my local grocery store)
4 teaspoons butter
Approx. 1/4 cup white cornmeal & 1/4 cup blue cornmeal
______________________________________________________________
Preheat oven to 350 first.
Once the oven has reached the desired temperature, in a large mixing bowl; combine the white and blue cornmeal, egg and  2 cups of milk until thoroughly mixed. The consistency of the batter should resemble pancake batter. It should run slow from your spoon. If it is too thick add the remaining cup of milk in 1/4's until the batter is just right.
Warm the cast iron skillet over medium high heat, once warmed add the butter. Swirling the butter to cover the entire bottom of the pan. Once the bottom is covered and the butter begins to bubble, sprinkle the dry cornmeal lightly covering the bottom of the pan.
Pour the cornbread batter into the hot coated skillet immediately. Add two pats of butter in the middle, place in the oven to bake for approx. 25-30 minutes depending on your oven.
Watch for the cheese to bubble to the top and turn golden, but in case it doesn't check the cornbread about 18-20 minutes in and check the top for firmness. Also use a wooden kabob skewer to see when it is cooked all the way through, the skewer should come out clean.
When the cornbread is done let it cool for a few minutes, slice and serve with butter, soup or in a cool creamy bowl of milk.
Enjoy!
Shari/ Red
[/print_this]