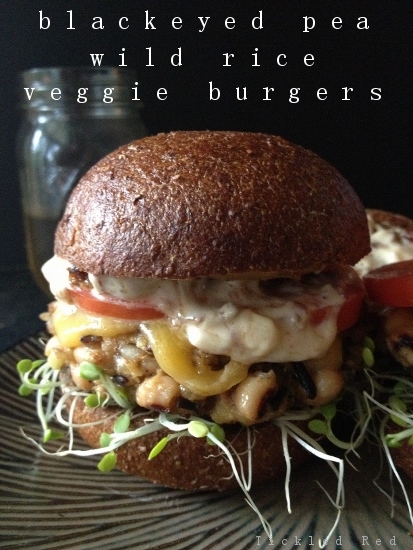 Leftovers, you either love them or hate them right. Most of my girlfriends along with a few family members are not big fans of keeping leftovers. Honestly, I can't blame them. no one is thrilled with the idea of a repeat supper. Being on the receiving end of lackluster, "Mmm…yeah…thanks mom…supper's…fine." comments is no fun at all for anyone. Plus coming up with a spin on leftovers can also leave you feeling more than a little panic-stricken.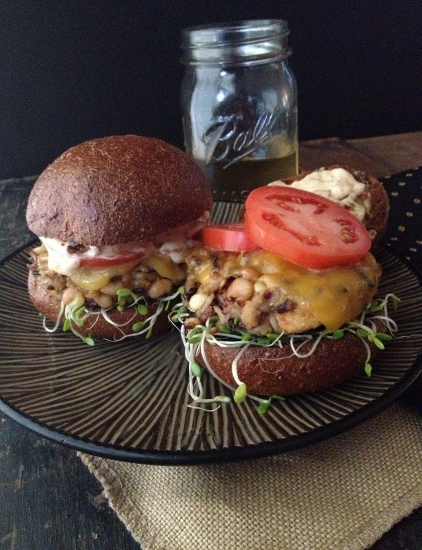 Fortunately OXO and Plated recently challenged us to come up with a quick easy vegetarian dish so we're able to share with you guys one way we creatively recycle our meal from the evening before. The most common leftovers we have hangin' out in our fridge are rice, beans, corn and an assortment of other cooked vegetables that accompanied our meal, which is where these little beauties come in. Not only do they help me clean out the crowd in our fridge but they are scrumptious and good for you. Winner, winner, veggie dinner!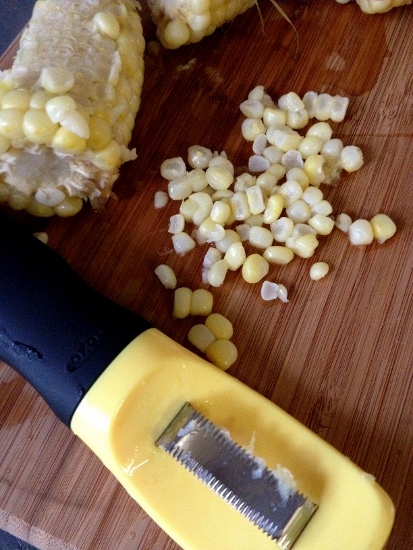 A chop here, a whisk there and few beautiful kernels of corn sliced from the cob with a Corn Peeler and you are good to go! Besides having supper ready in a snap you can easily customize the burgers to suit your tastes. Simply use the recipe as a base changing the wild rice to, oh let's say brown rice or quinoa and the blackeyed peas to black beans. Then go crazy with the spices! It's entirely up to you and your mood, aka end of the day frustration level.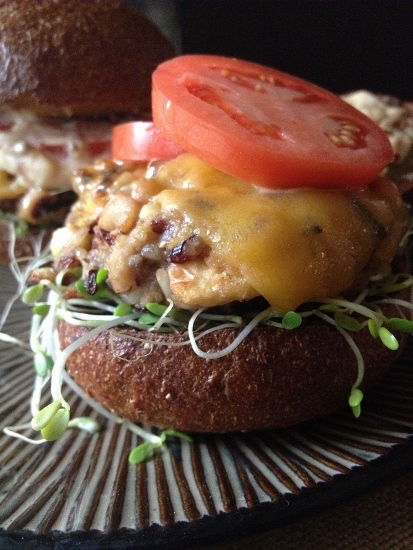 So no more moaning and complaining girls, you know who you are. Oh and those science experiments y'all have growin' way back in the depths of your fridge…MmmHmm you're out of excuses.
Well I'm off to check on the raucous in the background.
All my love!
Shari
PS: Thank you OXO and Plated for the extremely fun challenge to walk on the healthier side of life. In case y'all are wondering this was not a paid post but I did get to play with some OXO Kitchen Tools.

[print_this]
Blackeyed Pea & Wild Rice Veggie Burgers–Makes approx. 8
Ingredients
1 tablespoon olive oil
1/4 cup shallots, diced
1 garlic clove, minced
1/4 cup corn kernels & diced sweet potato mix (precooked)
2 large eggs
1 cup wild rice (precooked)
1 can (15 ounces) blackeyed peas
1/2 cup grated cheddar cheese
2 teaspoons soy sauce
2 teaspoons McCormick Moroccan Seasoning
1 cup town crackers, crushed
1-2 tablespoons olive oil
16 slices sharp cheddar cheese
8 multi-grain hamburger buns
1 package clover sprouts
2 Roma tomatoes, sliced
Directions
In a skillet coated with a tablespoon or so of olive oil, sweat the diced onions and minced garlic for approx. 2-3 minutes, just before the garlic browns. Add in the corn and sweet potatoes, cooking until the sweet potatoes break down. Remove from the heat.
While the vegetables cook, whisk the eggs in a bowl.
In a large mixing bowl stir together the wild rice, blackeyed peas, grated cheese and vegetables. Add the soy sauce and Moroccan spice, making sure to combine all the ingredients well. With a rubber spatula incorporate the eggs and crushed crackers into the bean/rice mixture.
Scoop out ½ cup of blackeyed pea & wild rice mixture, form it into a patty, and place it on a baking sheet lined with parchment paper. The patties can be crumbly and delicate at this stage. Repeat for remaining patties. Chill for 10-15minutes in the refrigerator.
Before you cook the burgers, prepare the buns and burger toppings. Toast the buns under the broiler and to with cheddar slices, remove with tongs and place on a tray.  Spread a layer of your favorite condiment on the top half of the bun, add two slices of tomato on the garlic mayonnaise. Place a pinch or two of clover sprouts on the bottom half.  Lay out the tops and bottoms of the buns on a serving tray.
Set your burner to medium heat, oat your skillet or griddle with olive oil, using a solid spatula carefully place each patty on the skillet/griddle. Cook for 2-3 minutes, gently flipping  and cooking for another 2-3 minutes until lightly seared. Cover each patty with a slice of cheddar cheese.
Remove patties from skillet, plate and enjoy!
Shari
[/print_this]