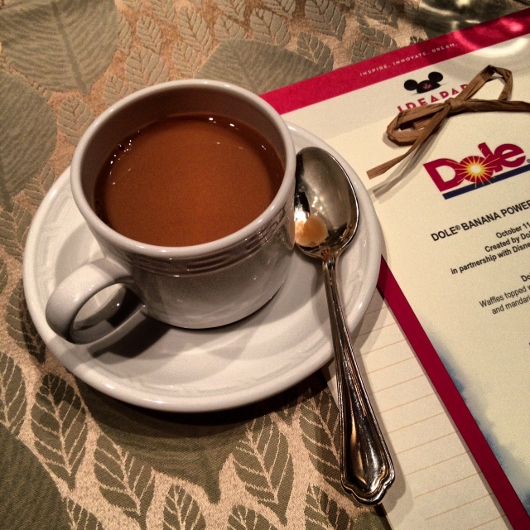 As we finish our spring cleaning/get organized session I thought that you guys would enjoy a little trip down memory lane with me. A few months back I had the delightful opportunity to attend the first ever Banana Summit hosted by Dole Foods. As always hanging out with the wonderful people at Dole was a magical experience, more so this time since they whisked us away to the land of magic aka Disneyland and the Grand Californian Hotel. I don't have to tell y'all how perturbed the guys were that they didn't get to go. Don't feel too bad for them they will have plenty of surf trips to make up for it.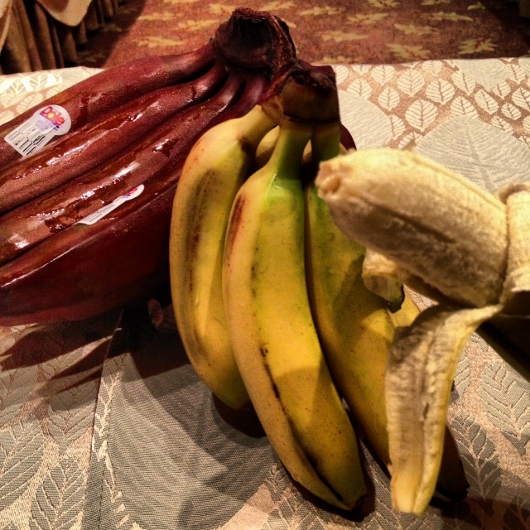 As a mom and the wife of an athlete I have always known that bananas are good for you, full of potassium and other goodies but to be honest they have never been my go to fruit, as a snack per say but now baking with them is another story, we all adore banana bread right. However, after the Banana Summit I am reaching for bananas more and more. Bless Dole's heart, for they get the closet health nut in me and are always full of fun well-informed facts. Such as…
Bananas are more than a portable easy snack they are a super food~ Full of fiber (13%), potassium (10%), manganese (15-19%), vitamin B6 (36%) and vitamin C (12-15%) they are better for you than a sports drinks. Can you tell I like numbers?
Pro-biotic Fiber also know as resistant starch which feeds the protective bacteria in your stomach, helping to stimulate immune cell production.
A natural fat burner via that same resistant starch.
Bananas come is more varieties than just yellow which I never knew. Red bananas are fruity with a subtle raspberry and apple flavor.
Banana peels can shine shoes and tenderize meat. Add a banana peel to marinating meat, and it will act as a tenderizer, gotta love that!
Told you guys I was a closet health nut. Nutrition fascinates me! PS: I would have nailed Banana Jeopardy if hadn't been for Bananarama. Next time Bree ;)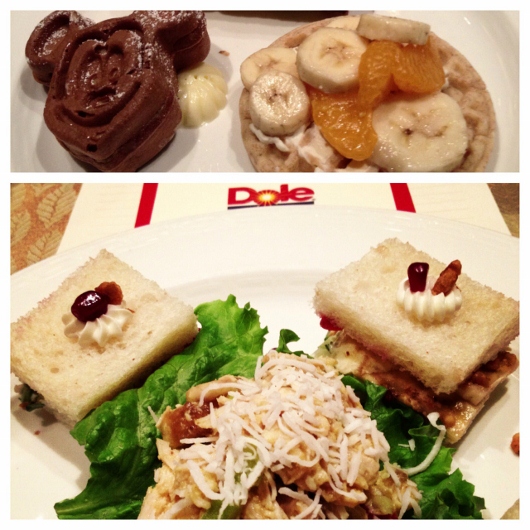 Something else that you guys might not associate often with bananas is the word savory. Bananas add a nice touch of sweetness to savory foods as you'll find in many tropical dishes. While we were at the summit we had some delicious bacon wrapped grilled bananas.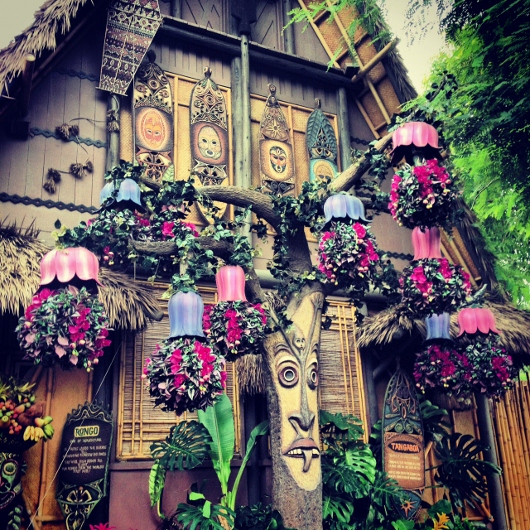 If you are wondering where Disneyland fits into the whole banana theme you'll be just as surprised as I was. Well maybe not those of you living on the west coast. Dole and Disney happen to have a 36 year partnership. That's right 36 years! Who knew. Dole sponsors the Enchanted Tiki Room and right in front of this attraction is the famous Dole Whip. I have never in my life heard of Dole Whip and am now hooked for life. It's a blissful cool ice dream of soft creamy pineapple. Would have taken a photo for you guys but I was too busy devouring every bite.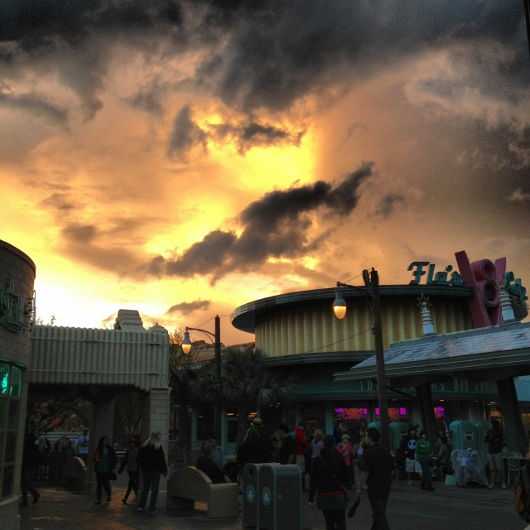 Hopefully the majestic sky over Disneyland will make up for it.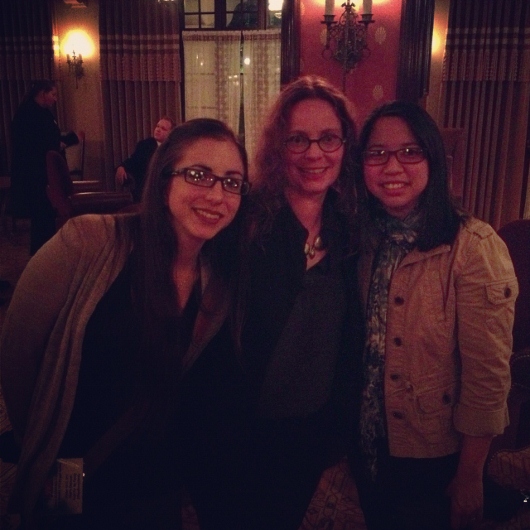 Part of the wonder of the whole experience was catching up with dear friends that I'm only able to see once a year, as well as meeting new friends. Spending time with Jenny & her sweet boys, Maria, Josh & the adorable Caleb, Kevin & Amanda, Julie, Paula, Susan, Brandi and Bree made my year.

Once we were done walking around Dinseyland, racing each other around Radiator Springs we had a fabulous dinner at Carthay Circle Restaurant. The Carthay Circle Restaurant is located on the second floor of the iconic reproduction of the Cathay Circle Theatre. They served us an amazing ceviche recipe I will be trying to recreate soon!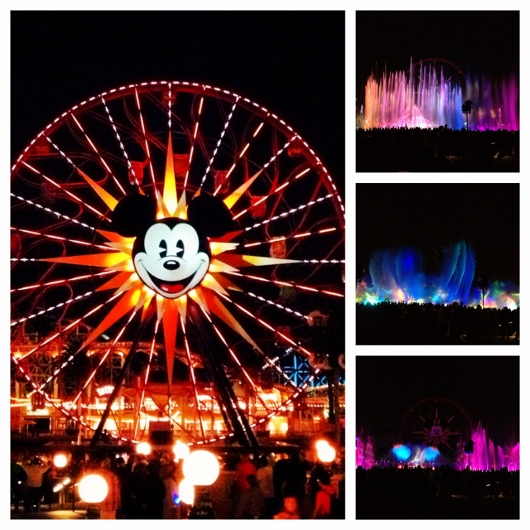 To round out the whole magical experience we closed the evening with a Light Show. When they mentioned light show fireworks was my first thought. Boy was I wrong! If you have never been to Disneyland you have to go just for this experience. It's an indescribable mix of lights, water, music and video. Simply powerful and breathtaking.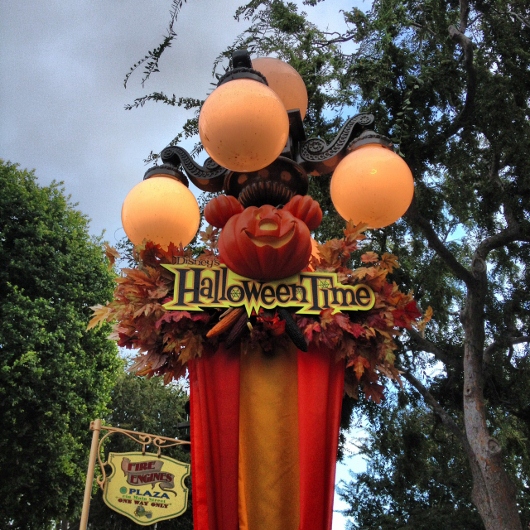 To say that a festive October in Disney with friends and good food was spectacular wouldn't even come close. Little did I know that this last trip would be the sunshine before the health storms that were awaiting in November. Thank you Dole for the ever enlightening, informative and encouraging trips that you take me on. Here is to an even brighter healthier 2013!
Looks like my trip down memory lane has to end for now, the guys are calling.
Have a great day everyone!
All my love,
Shari-Tickled Red