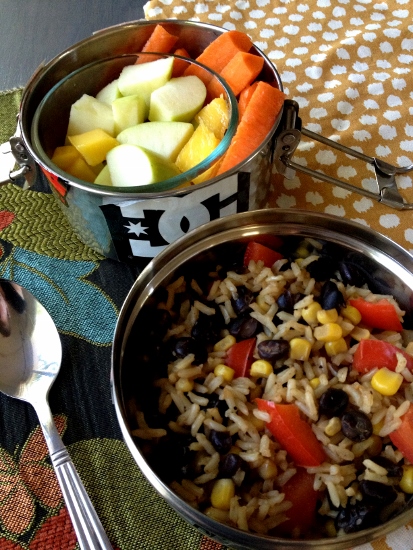 If most mornings you are frantically throwing together lunch, rushing the kids to school in your pj's, dripping coffee down your arm please raise your hand. Welcome to the Spazy Mom Club. We all have moments like this and there is no shame in them.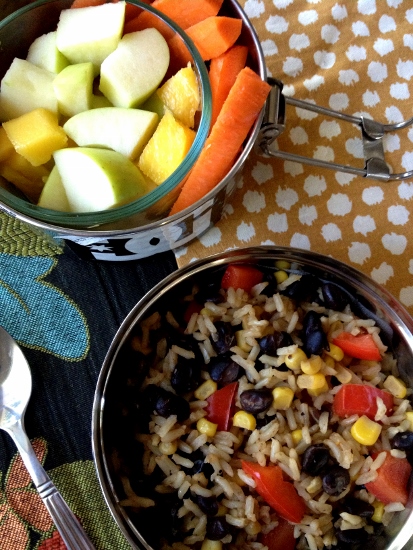 However, there are those flashes of brilliance during the week. Mornings where we awake refreshed, organized and have a full gorgeous breakfast set on the table before the kiddos groggily stumble from their beds. It's during one of these invigorating mornings that I want you to try something new for lunch other than a turkey sandwich. Trust me it is easy, as easy as 1. 2. 3. If you can scramble eggs for the family in five minutes you can make Baja Rice Salad as well. Being a surf family we adore beans and rice along with some Baja/Tex Mex flavors.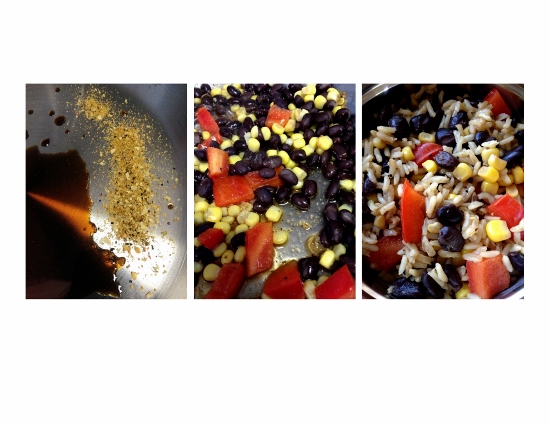 While you are making breakfast, add another skillet to the stove.
1. Toss in a little soy sauce, McCormick Cuban Seasoning, black beans, bell pepper, corn and brown rice.
2. Sauté until everything is thoroughly heated.
3. Pack in a lunch container.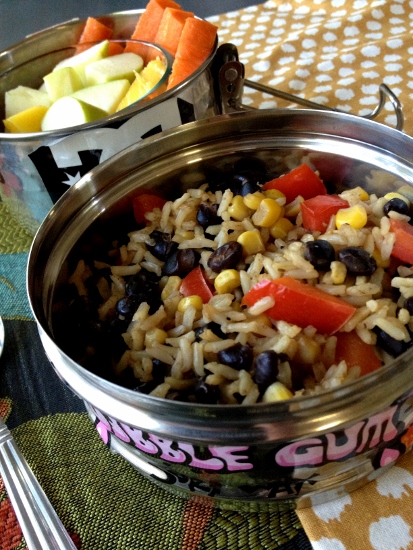 Voil! A healthy fun lunch in 5 minutes that the kids will love. Now you guys are probably wondering how I did this seeing as how rice takes more than 5 minutes to cook. Here are a few tips that save me on frantic mornings from sending the boys to school with the same lunch each day.
Keep pre-cooked rice and pasta in the fridge.
Keep pre-chopped veggies in the fridge.
Keep pre-rinsed beans in the fridge.
If I did not keep prepared ingredients handy that, I can toss together in 5-10 minutes the boys would riot after a week. They can only endure sandwiches for so long before they are begging for a change. By the way, don't be afraid to add spices and herbs to your kids lunches. If they enjoy the blends that you use for supper than make those an addition to their lunches as well.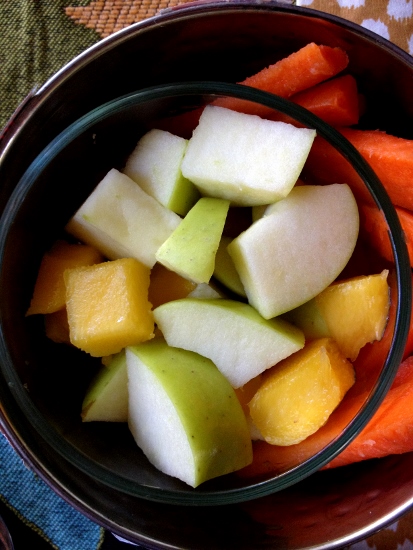 To round out your Baja Lunchbox add a small fruit salad of chopped apple and mango, along with some carrot sticks.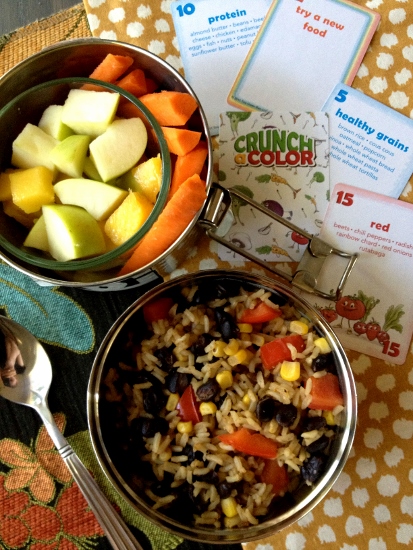 If you are looking for a fun way to teach your kids, grandkids or nieces and nephews about food, healthy eating choices check out Crunch A Color Cards developed by Jennifer Tyler Lee. By playing this game during meal times your kids will have fun choosing healthy foods for themselves. Moreover, a portion of your purchase goes to support non-profit children's nutrition programs. Love that!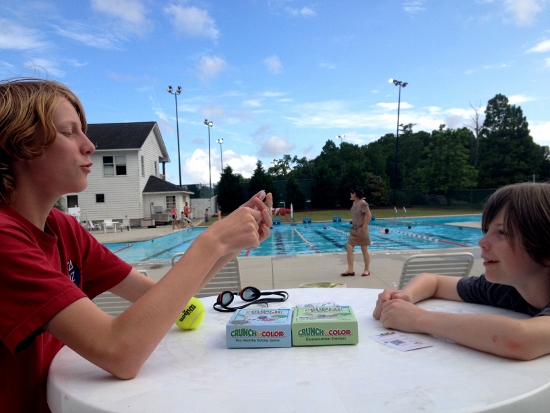 Jennifer also has a new game out that boys and I have been enjoying immensely before swim team…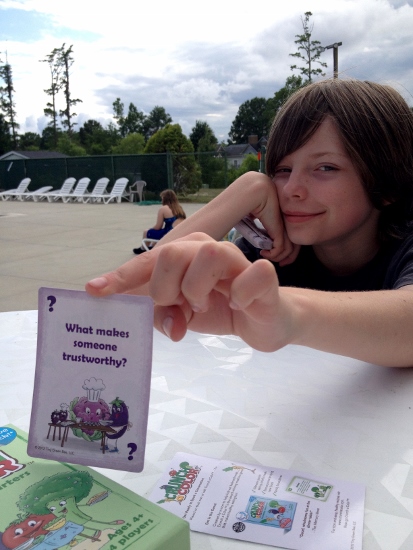 Crunch A Color: Conversation Starters. With questions such as "What makes someone trustworthy?" to "What would your dream room be?" we have had some very interesting chats, as well as a few giggles.  If you would like to know more about Jennifer check out her Recipe For Health.
Thank you so much for the Healthy Lunch Challenge Jen, we just adore your Crunch A Color Cards!

Here's to less hectic mornings and fun lunches…
All of our love!
Shari & The Boys
[print_this]
Baja Rice Salad–Makes 1 1/2 cups
Ingredients:
2 teaspoons soy sauce
1/2 teaspoon McCormick Cuban Seasoning
1/2 cup black beans, rinsed
1/4 cup red bell pepper, diced
1/4 cup corn
1 cup brown rice, pre-cooked
*1/4 cup water if needed*
In a skillet over medium high heat warm the Cuban spice blend for just a moment to open up the oils and aromatics. Add the soy sauce, beans, bell pepper and veggies to the skillet, coating the beans and vegetables in the soy sauce. If needed add a dash of water if the soy sauce begins to dry up. Combine the rice to the vegetables and beans toss well and continue to saute until all ingredients are heated, approx. 3-5 minutes. If you see the rice sticking to the bottom of the skillet that is an indicator that the rice is done.
Serve and enjoy!
Shari
[/print_this]