Photo by: John Lee (Florence)
A love for food is a passion that I'm proud to pass on to my boys. I marvel at how they appreciate food, that they now perceive the concept of "Creation leads to creativity", and vice verse. Over the past few years they have enjoyed the process that goes into what we eat from garden to plate. It feels good to know that this is a way of life that has been passed down from my grandparents, to my parents, on to me and now down to my boys. Living in suburbia has not halted this tradition, only adapted it.
Speaking of being creative with our food, do you guys remember when the boys and I were playing around with french fry flavors for Alexia Foods Reinvent a Classic Challenge? Well we have an update for you guys, our spicy Carolina BBQ Fries didn't make the finals. But that's okay because we had the best time ever dreaming up flavor combinations and playing in the kitchen together. In the meantime voting is still going on for this years finalists.
Bruschetta Waffle Fries-Spice's Bite
Thai Spiced Sweet Potato Julienne Fries-Marla Meridith
Classic Dill Julienne Fries-Fab Find Foodie
Herbs de Provence & Sweet Potato Julienne Fries- The Duo Dishes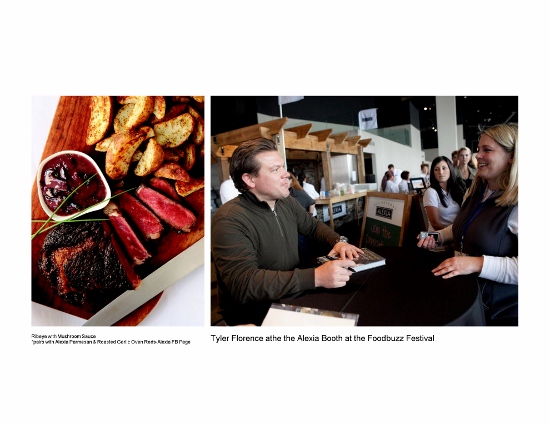 A couple of others who appreciate food and family are Alexia Foods and Tyler Florence. I know that you guys have seen Tyler creating some amazing dishes on his show
"Tyler's Ultimate"
, on Food Network. But did you know that Tyler has partnered with Alexia to create
some wonderful entrees
that pair with their side dishes? He also offers some helpful cooking tips on their website for you as well. You might also know that Tyler is a prolific writer and has written six books, one of which is
Tyler Florence Family Meal
:
Bringing People Together Never Tasted Better.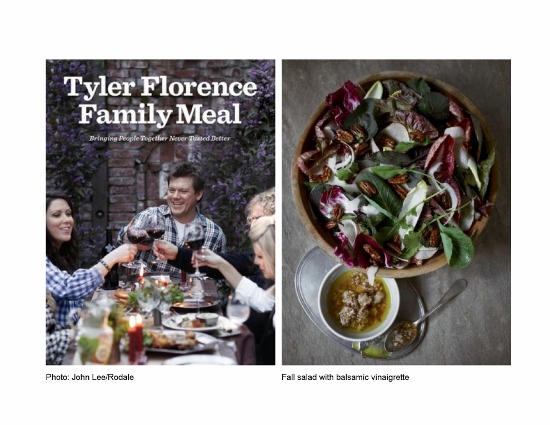 As much as I would have loved to have met Tyler Florence during the Alexia Reinvent a Classic finals, I am even more thrilled to be able to offer you an exclusive giveaway  that includes an Alexia apron, 3 coupons for a FREE Alexia product and an autographed copy of Tyler Florence's latest cookbook, Family Meal courtesy of Alexia. In case you guys have forgotten, Monday is Giving around here. I can't think of a better way start to this week dedicated to giving and family gatherings can you?
How to enter
Go to Alexia Foods, pick out your favorite Tyler Florence recipe and Alexia Fries, leave a comment telling me what they are.
Vote – Visit the Alexia Facebook page (Facebook.com/AlexiaFoods) and vote for the next fry flavor to hit stores. Come back and leave a separate comment saying that you voted.
Guess what?  All voters will be eligible to download a $1 off coupon for their next Alexia purchase
Enter to win a trip for two to San Francisco with an exclusive meal prepared by Tyler Florence himself
Giveaway ends on Friday Nov.25th 2011 11pm EST
XOXO,
Shari-Tickled Red
PS: This is not a sponsored post, simply a generous gift from Alexia Foods and who is supplying the prizes for this giveaway free of charge. Just their way of saying Thank You to all the readers for participating in Reinvent a Classic.