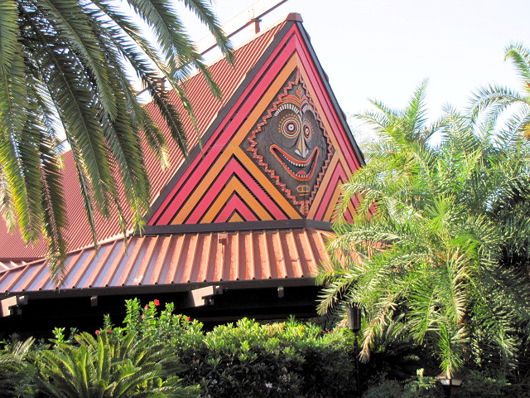 Where does the time go? It's hard to believe that this time last week the guys and I were walking through a south pacific paradise.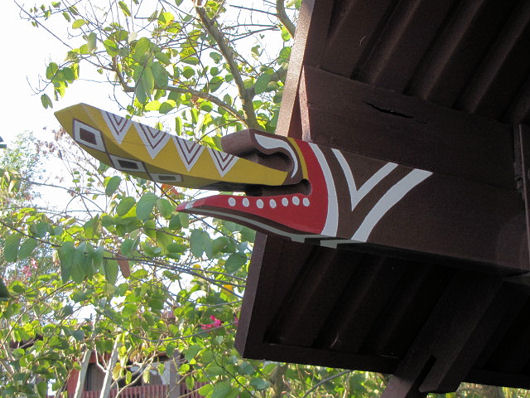 A land full of native lodges carved with rich colorful details.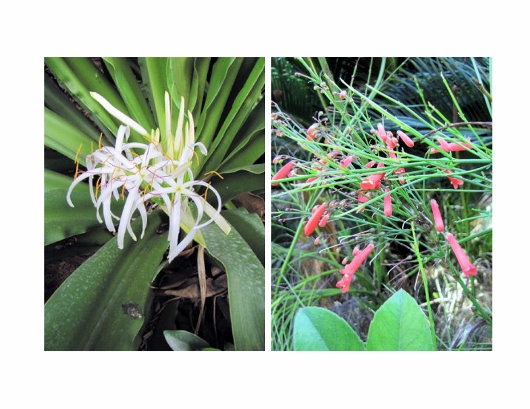 Nestled amidst lush tropical vegetation bursting with color and perfume.
A land where you were surprised by what you saw at every turn, yet still felt relaxed and at peace. We had arrived at Walt Disney Worlds Polynesian Resort and we never wanted to leave.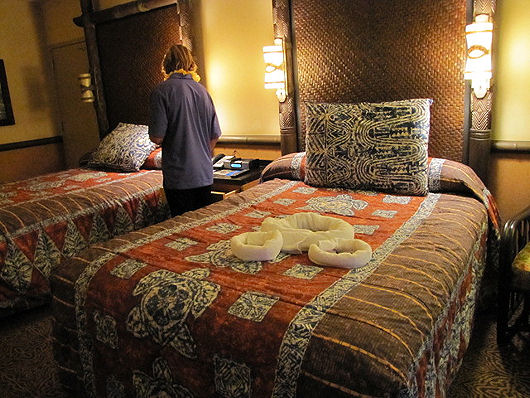 Plush intricately carved beds with batik linens awaited us after a 9 hour drive but we were far too excited to sleep.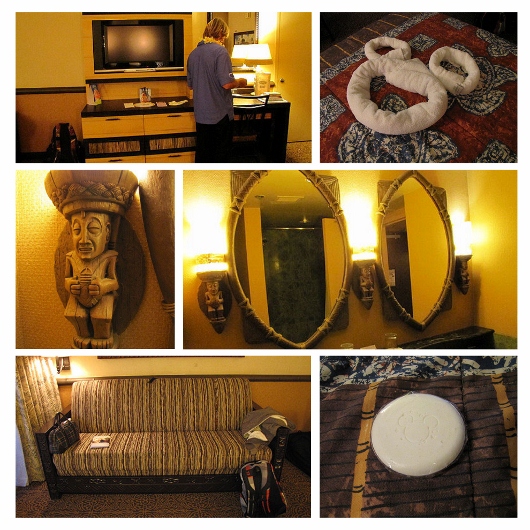 Although we felt at home among all of the tiki men in the room, the subtle little reminders of where we actually were had us ready to explore no matter how tired we may have been. There were also four very loud stomachs that needed immediate attention.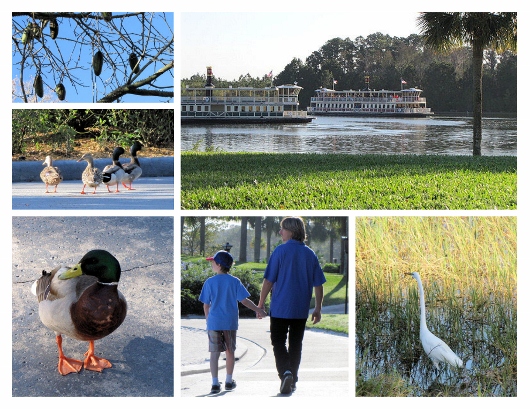 As we walked to the Ceremonial Lodge for breakfast the guys were fascinated. It's not often that the hotel we are staying at is surrounded by such serene views, nor teeming with diverse wildlife. By the way, there may be a hesitant bunny or two still peering from behind a palm frond before they cross a path.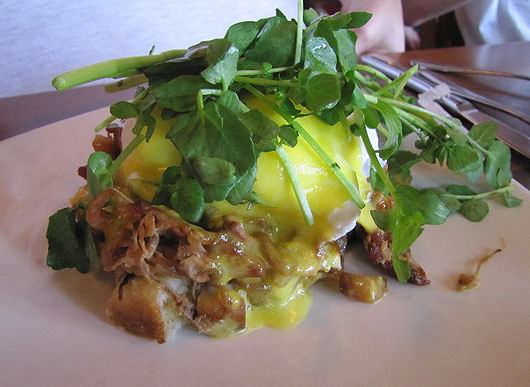 Once at the Ceremonial Lodge a stop at the Kona Cafe had us refueled and ready to go in no time. Who wouldn't be after a enjoying The Samoan? A beautiful plate of pulled pork smothered with a lush poached egg and baby greens.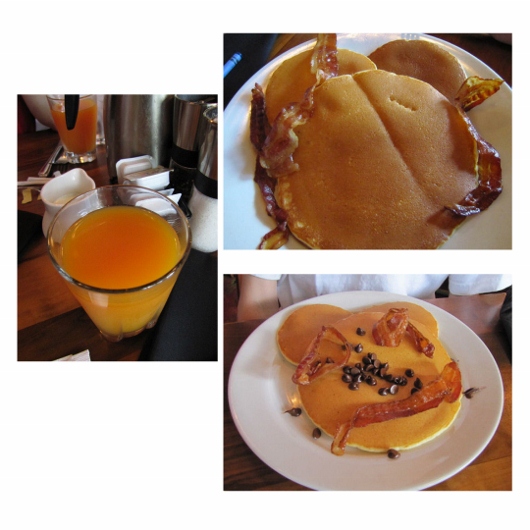 Not to mention Mickey Mouse pancakes and the best agave juice blend that I have had in a while.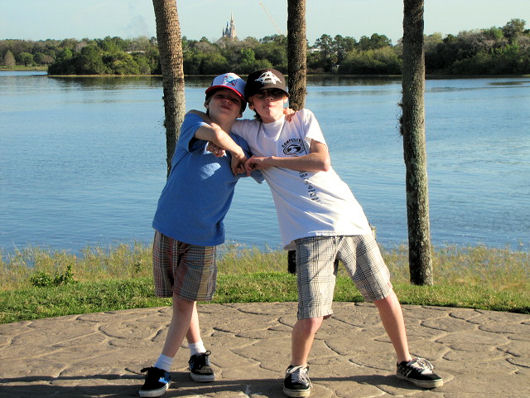 As you can see the monkeys were ready to rock Disney after breakfast. But there was still so much to take in at The Polynesian before we spent the day immersed in the parks.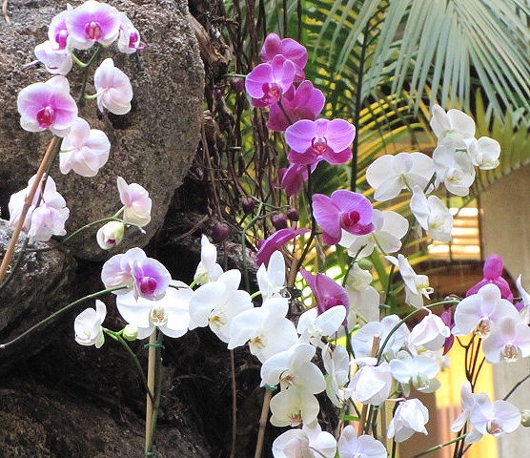 The main lodge was a grand garden in and of itself.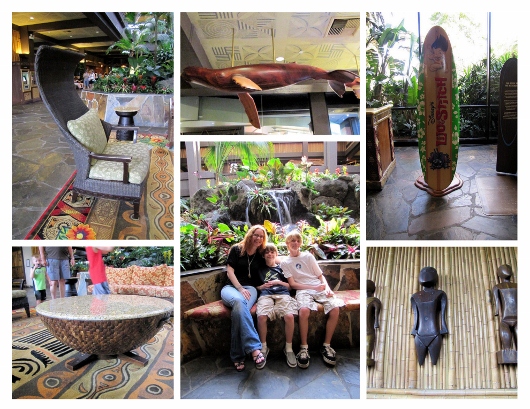 A surfers dream with two stories worth of natural stone, bamboo and majestic skylights. Filled with granite topped basket tables, surfboards and wood carvings.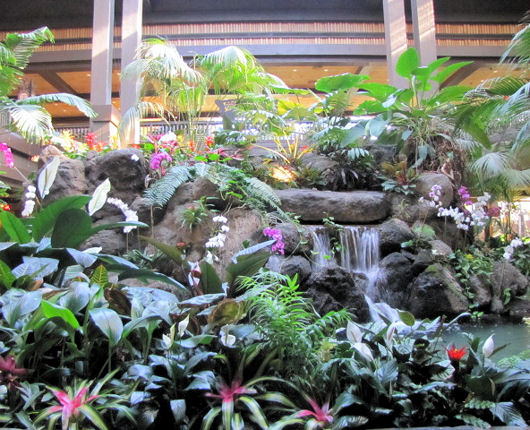 All of which encompassed a center of orchids, birds of paradise and lilies draped around flowing waterfalls. Inside and out The Polynesian seduced us into lingering.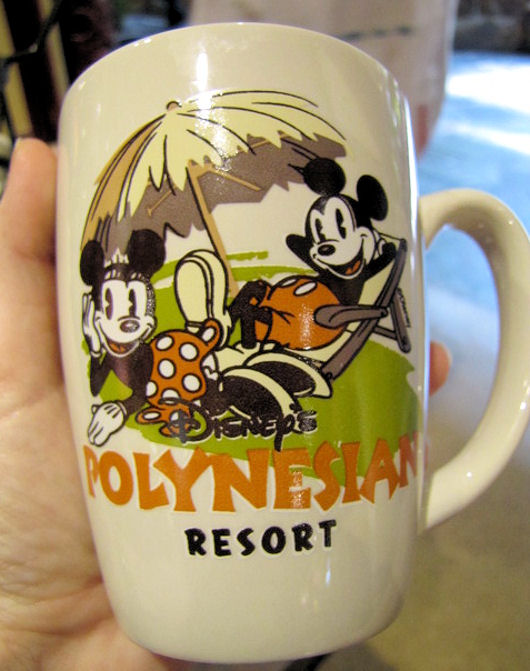 We couldn't pass up a trip to the gift shop while we were there. I definitely found a memento that suited my tastes.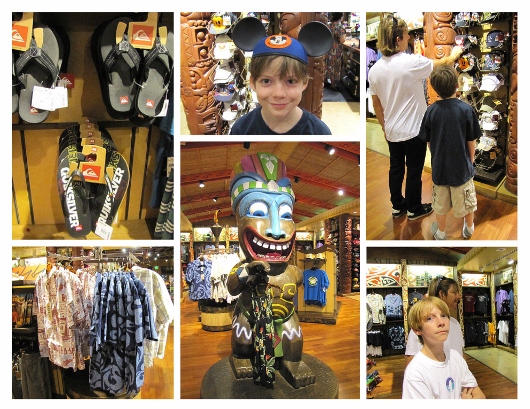 While the guys had fun wandering around trying on hats, Mickey ears and smiling over the fact that they were in familiar territory. My guys are not big on visiting stores yet being surrounded by surf brands always makes shopping less of a chore with these three.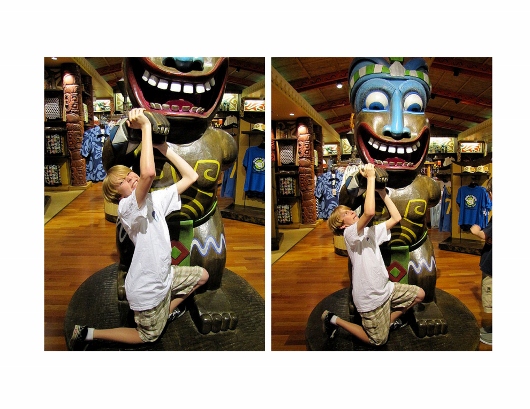 Throw in a giant tiki man for them to goof around with and you could say they actually got a kick out of the excursion.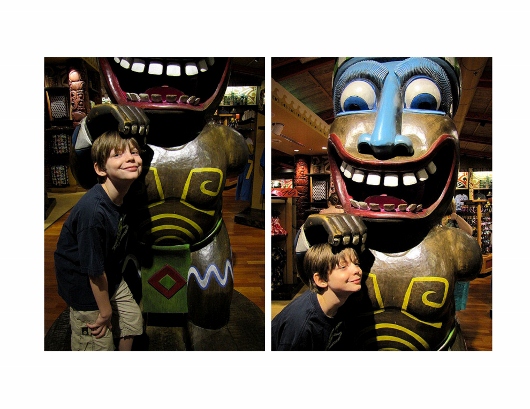 Honestly I can't take them anywhere. Okay, I'll claim them. Silly shenanigans and all.
To say that we fell in love with Walt Disney Worlds Polynesian Resort would be an understatement. It was the experience of a lifetime for my guys and being there felt a bit like home. The only drawback that they could come up with was forgetting their skateboards. The myriad winding paths called to their x-factor the minute we arrived. I have a feeling that Disney is saying a silent prayer of thanks that my monkeys were so forgetful for once.
How fortunate was it for us that the event planners of Food Blog Forum chose a resort that spoke to so many of the aspects that surround our life? We truly lucked out. I have to say though that the attention to detail at every turn spoke volumes about the wonderful people at Disney. Now matter where you choose to stay when you plan your vacation it will undoubtedly be a magical experience.
Personally I am ready to take up residence at the Polynesian. That is when the nice folks there are ready to put up with skate rats and quivers of surfboards on the grounds.
More Disney fun to come this weekend!
Hugs & Love,
Shari-Tickled Red