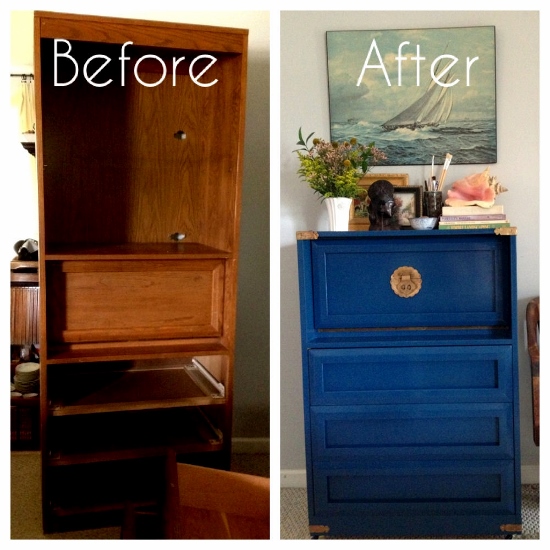 After a week and a half of sanding, dodging rainstorms, mapping out stripes and painting she is finally done! Oh did I mention re-sanding and repainting, yeah I sort of goofed on the second coat but more about that later. First, let's talk about how we went from drab to fab then on to the handy dandy DIY tips.
About a year ago, my mom generously gave us this older Thomasville secretary for M2′s room. Perfect for a little boy right, not to big, storage space on the top and bottom as well as a place to do his homework. That is until he started middle school this year. We realized that the desktop computer he was getting would not fit in the cubby, which is why he now has my desk that Surferboy made me. What were we to do about his old desk or me for that matter? I knew that I would be re-purposing his tall secretary for my workspace but I had to be smart about it seeing as how my "office" is in the living room and technically the foyer if you can call it that.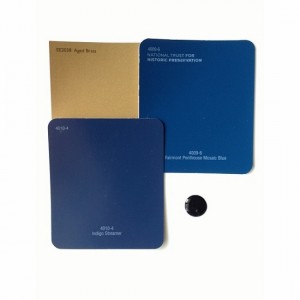 First step come up with a design for the piece that had dual-purpose entry/office.  Second step decide on a stain or color because I was not a huge fan of the original finish. Typically, when it comes to furniture I lean towards neutrals partnered with dark woods then build on color with my accessories but this time I wanted to be brave. With my love for the ocean as inspiration I came up with a color palette of navy, white, black (original desk top laminate) with brass accents.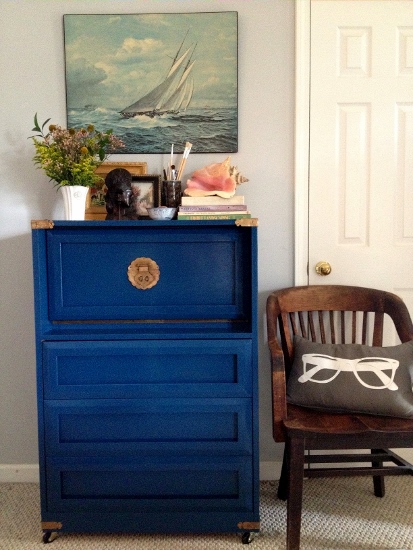 With help from you guys through Facebook and Instagram I narrowed down the paint choice to Valspars Historic Preservation Fairmont Penthouse Mosaic Blue. To be honest I would have gone with the darker Indigo Streamer (see I love dark) but since I was trying to step out of my comfort zone I went with the color y'all suggested. Thank you guys so much because I just adore the vibrant Mosaic Blue! Not to mention it's a historic color which ironically appeals to my southern nature and is right up my little nerdy alley.
As much as I could have utilized the shelving above the desk, our living room already has plenty of dark large-scale pieces of furniture so I had Surferboy cut the top off. The smaller scale works perfectly in the entrance when you walk into our living room and doesn't overpower the small space.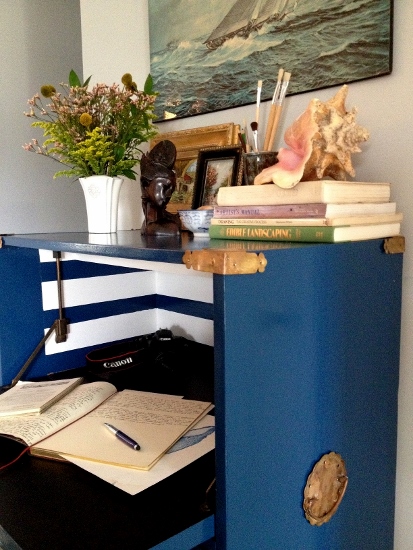 Some of you may be wondering why and where with the brass accents. As it turns out British Colonial, design is one of my favorite aesthetics. The way maritime adventurers of the 18th century were able to blend exotic pieces from their travels into cozy eclectic homes always fascinated me. Once I decided on scaling down the secretary along with the color navy the idea of a steamer trunk came to mind and you can't have a trunk without brass accents. Fortunately, I have an old wicker trunk that is falling apart so I recycled the hardware from it. The fact that handles and center piece have an Asian flare was just the cherry on top.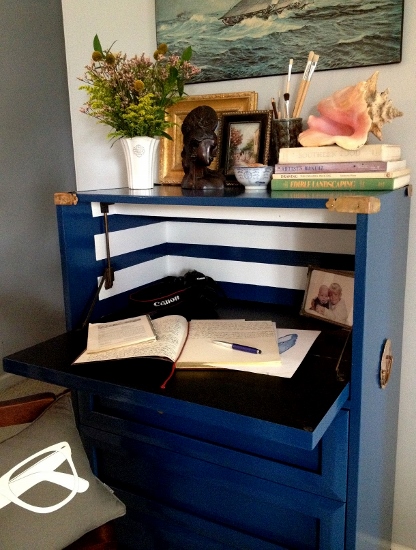 Even though I wanted a vintage vibe, I also wanted a fresh modern pop to my desk. Enter stripes. You can never ever go wrong with navy and white stripes. They are a timeless classic but that is just my humble nautical loving biased opinion. In case you were wondering the white is Valspars White Bistro.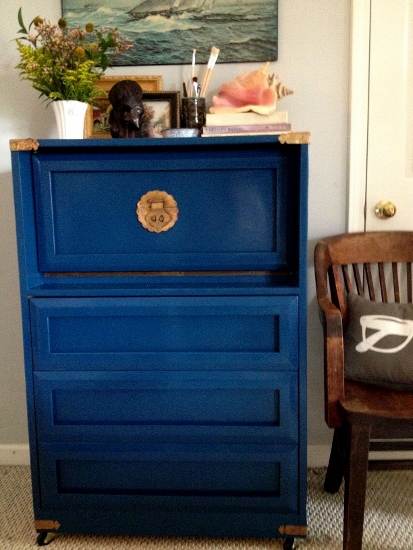 So there you have it guys, my latest DIY project with a touch of the exotic, a nod to the past and a fun modern pop. To say that I'm thrilled with the outcome would be an understatement. She was worth all the time, sore arms, chipped nails and blue fingers. Sometimes we forget how important our workspace is. With the amount of time we spend there, it should help fuel our dreams while wrapping us in cozy warmth. Simply, our creative space should inspire us not just serve us.
I can't wait to start creating new designs, recipes as well as share stories with you all from my fun new desk.
All my love!
Shari
PS: I apologize if the photos look a little off, I was experimenting with VSCOCam for the first time.